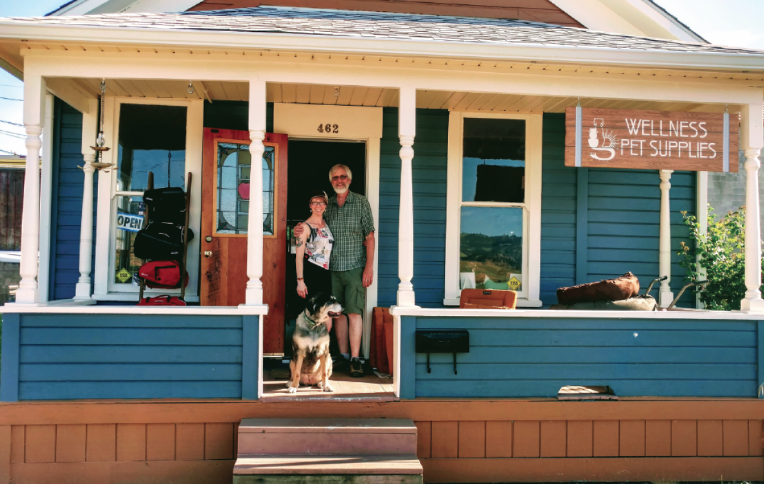 My first focus was on only raw pet food. I knew it was the most natural way animals would eat and how their systems are set up to digest food. It took me a while as I looked into more than 50 brands of dry food, taking great care in researching all food brands very thoroughly to make sure they were nutritionally sound for our furry friends. I struggled to find one that fit all the criteria needed for ultimate health. This criteria is baked over extruded (uses high heat and pressure, cooking almost all of the key nutrients out), low carbohydrates, antibiotic/Hormone free meat and responsible farming (no pesticides). Feeling discouraged I turned to Ashland's very own Roxanne Stone who is Answers Raw Pet Food's food scientist, sharing with her my struggle to find kibble that I feel comfortable selling. She said to me the only kibble she could suggest is Carna4. I came to find out that Dr. Becker, a renowned Vet, also say's in her article "Still buying kibble? Heed this warning", she recommends Carna4, "There is one dry food company, Carna4, that prides itself on using ethically sourced, humanely raised meats and no synthetic nutrients from China (unlike all the other brands). So if you must feed kibble, I suggest this brand." I spoke with the owner Dave Stauble whom I could tell was proud of the food he was making. Dave was previously working at a pet retailer for 22 years and his then soon to be wife Maria was a homeopath and the creator of Sojo's organic raw pet food. Both being foodies, worked on creating the perfect dog & cat foods: convenient like kibble, but clean and healthy like raw. Their mission is to spread the word to thousands of pet owners who need solutions to their pet's health problems that were caused by modern commercial pet food. They seem to hit just the right mix. This is a Canadian company that which follows the strict EU standards, which are no antibiotic/hormones, GMO Free and responsible humane farming. Finally I found a kibble that not only could I carry with a clean conscience but actually get excited about. Currently they have Chicken and Duck- grain free. They are coming out with a grain free fish this year that is a smaller size and easier to chew, great for every dog.
I was told by another kibble company that I was researching that they used to bake their kibble but as they became more popular they changed to extruded food. He said any company that bakes will eventually change to this style. When I relayed that to David of Carna4 he said, "Not true, we will never extrude our food."
So if kibble is the best fit for you and your furry friends come in for a free sample and try it for yourself. 
Nail Clip Day- February 4th 11-1pm $7