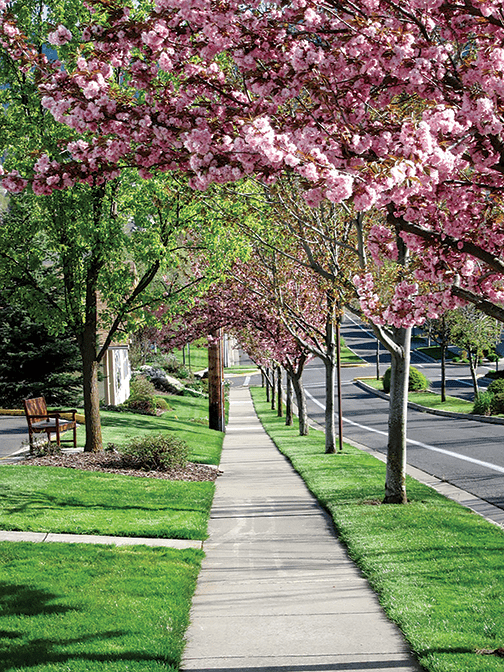 For most all of us, at some time in our lives, we sat on a hill or a mountain and marveled at the views.  We perhaps would sit in the shade of a tree and look at the night lights of a city or just take in the stars at night or watch the changing seasons and all the colors.  For some, the view may have been from the top of a building or skyscraper and the landscape was one of buildings and streets.  No matter the situation, we were in awe of the view and perhaps thought that one day we might live in a place where we had those great views all the time.
Mountain Meadows may be just the place.  Located on 27 beautiful acres on the east side of Ashland on a hillside, the community overlooks Ashland and the surrounding hills.  The clubhouse and activity center has a dining room on the top floor which provides amazing views while you enjoy your delicious meal with friends.  
Attached to the clubhouse is the Golden Aspen Building with has condominiums of various sizes and floorplans.  This building is a very sought after building as it is so close to the clubhouse and fitness center.  There are views of some kind from almost every unit – some are views of the interior landscaped courtyard and other views are more panoramic in nature.  The top floor on the south side of the Aspen building has condominiums with views you can only begin to imagine.  
Available for sale at this time is an incredible top floor, south facing condominium with just such views.  Imagine sitting in your living room watching the snowfall in winter on the city or watching the leaves change color in the fall.  Imagine sitting on your balcony on a summer evening with all of Ashland laid out in front of you to behold.  Lots of windows and a skylight let in an abundance of light and a fireplace adds to the cozy feel in the winter.  Fabulous location only a few steps away from the clubhouse and the Meadowlark Dining Room.
Curious on what the view would be from this top floor condominium in Mountain Meadows which is available to buy now?  Take a look at the advertisement…taken from the living room window of the very unit!  Oh…The View from Here.
http://ashland.oregon.localsguide.com/wp-content/uploads/2014/07/mountain_meadows_41.png
672
504
Mountain Meadows
http://ashland.oregon.localsguide.com/wp-content/uploads/2018/05/logo-1-300x76.png
Mountain Meadows
2016-07-28 14:12:31
2016-07-28 14:12:31
The View From Here...