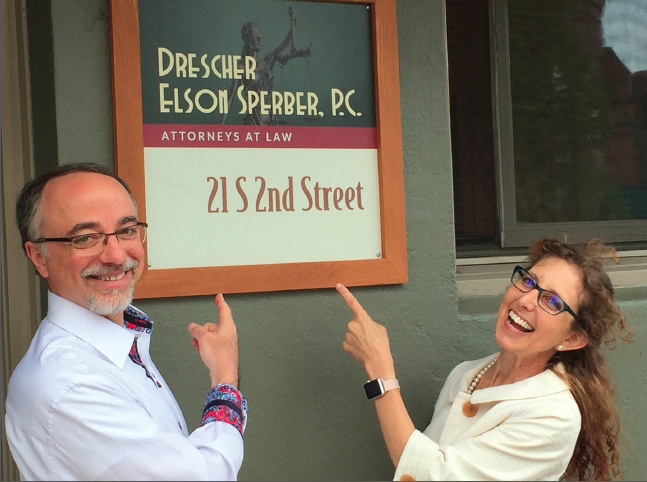 After over 40 years of practice, Allen Drescher is retiring July 1st.  Allen has chosen Cheri Elson Sperber to take over his practice and continue serving his clients as he did for so many years.  Cheri and her husband relocated to Ashland from Southern California in 2014, where Cheri had a thriving law practice.  In today's interview, I speak with Cheri Elson Sperber.
Cheri – thanks so much for speaking with us today and congratulations on your partnership with Allen Drescher and the creation of Drescher Elson Sperber, P.C.
Thanks!  It's a great honor to be chosen by Allen Drescher to carry on his law practice on his retirement!  Allen has demonstrated great service to our community, as well as honesty, integrity, and leadership.  I look forward to continuing this tradition and to be able to serve the great community of Ashland!
Cheri please tell us a little bit about your background and how you have come to live in here in Ashland?
I began practicing law in Southern California in 2001, where I was also certified by the California State Bar as a specialist in Estate Planning, Trust, and Probate Law.  I raised my children in the town of Camarillo in Ventura County, a lovely small community on the coast between Los Angeles and Santa Barbara.  While it was a great place to raise kids, it was becoming more and more an extension of Los Angeles, a place I was never interested in living.

I knew of Ashland because I had been here for the Shakespeare festival with my parents while I was in college.  It was such an amazing place and I never forgot it.  Some years later my mom and dad began coming up every summer to see the plays – I would recall the amazing time I had spent here years before and renewed my vow to return some day.  My husband, Adam, had never been here, but knew about it and always wanted to see Ashland and the Shakespeare festival.  While we were dating in 2012, we came up, fell in love with the town (me for the second time, him for the first).  The culture, the nature, the warmth of the people here – it was everything we wanted in a community and Adam and I decided then and there that someday we would live here (I guess one could say that was when we knew we would be together forever, as well!).  After seeing all of our kids off on the college route, we realized our dream and moved to Ashland in the summer of 2014.  We continue to wake up every morning and pinch ourselves to be certain this is not just a wonderful dream.  We really feel we live in paradise!
In California, you were a specialist in Estate Planning, Probate, and Trust Law.  Tell us more about that.
In California, there were certain areas of law where one could be certified as a specialist by the California State Bar Association; Estate Planning, Probate, and Trust Law was one area of specialization. To become a certified specialist, an attorney had to be practicing at least five years, show that 70%+ of their practice was in that area of law, pass peer reviews, and take a test akin to the Bar Exam but only in the area of law of specialization.  I am proud to say that I became a certified specialist exactly five years after becoming licensed as an attorney in California.

Like Allen, my practice here in Ashland will focus on estate planning, estate administration, and elder law.

I will also be able to assist my clients with a variety of other issues, such as questions about their businesses, incorporating, real estate, and general legal matters.

I am passionate about working with families dealing with dementia, cognitive decline, and the challenges of aging.  Whether it is my client, or my client's family member, who is faced with these issues, I find this work most rewarding.  I was very involved in the Senior Care Community in Southern California, teaching classes for the Alzheimer's Association and working closely with those caring for our elderly.  I have already begun making these connections here and look forward to being part of this community in Ashland.  Being a specialist in estate planning, estate administration, and elder law helps me with both my direct clients and those who help them to the fullest.
Cheri, what do you consider to be some of your unique qualities as an attorney?
I love spending time with my clients and forming personal relationships beyond what most expect to have with their attorney.  Estate planning is best thought of as a living and evolving entity (there is a reason it's called a "living trust"!); as one goes through life, parts of the plan will necessarily change.  Having an ongoing relationship with the drafting attorney is crucial in making sure things don't slip through the cracks, thereby ensuring the plan is up to date and effective when needed.  To that end, it is important to me that my clients always feel comfortable calling or emailing me with questions as they arise.  I also invite my estate planning clients to meet with me annually to review their plans, making certain they understand what their plan does and to catch any changes that may call for amending the plan.  This unique service is one of many ways I am able to connect with my clients and build that long-term relationship I enjoy so much, and which I carry forward in all areas of law that I practice.

I am fiercely dedicated and loyal.  I am also highly ethical and pride myself on my integrity. I take my job of representing my clients very seriously.  I am not afraid of conflict, I can take the heat, and I am tenacious. Having said that, it is not my role to make decisions for my client; rather, my job is to help my clients get into the driver's seat.  I will help them explore the issues and see the pros and cons of each possible choice.  Ultimately, the client must decide.  This is what you can expect from me.
You mention that you like to ask a lot of questions because people "don't know what they don't know."  Please say more.
I do ask a lot of questions.  When someone comes to me for an estate plan, or with any legal question, it is my job to help them discover all the issues and with that, all of the options to resolve them.  For instance, I often hear, "I want to leave my estate to my kids."  That sounds simple enough, but what do they want if something happened to one of their kids?  Do they want that share going to grandchildrennor back to the other siblings?  Are there any issues with the children which might affect how a particular child receives their share (outright or managed for some period of time by a successor trustee)?  Clients may not know about these issues, so how would they know the issues even exist without them being raised by their counsel?  As an attorney, I am trained to look beyond the surface and issue spot – to help the client "know what they don't know" so that any potential problem can be addressed up front.  The best way to make these discoveries is by asking questions and so I ask – a lot!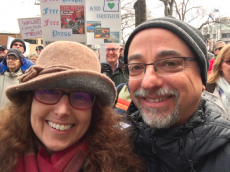 Even once a document has been created it can still take a lot of time to review in the final signing process.
Estate planning documents are legal documents and, therefore, involve some level of "legalese."  While I strive to draft them (or any legal document I prepare) as plainly as possible, there is still likely to be sections that are more difficult to understand.  Ensuring my clients understand what they are signing is as important as making sure they have addressed all the possible issues arising from their choices.  That's why I spend another good chunk of time with them when they come in to sign everything.  We go through each document and I explain what it says and what it does.  If I did my job right, my explanation will coincide with their choices.  If I did misunderstand something, I can make the appropriate changes so that the document accurately reflects their desires.  At the end of the appointment, they know what they are signing and are confident that it does what they want it to do.  My clients also know that they are welcome to contact me any time to ask questions, review their documents, or whatever else they need.  I never want my clients to be worried about reaching out to me – keeping the communication open and ongoing is extremely important, especially when working with someone's estate plan.  The result?  A perfect plan for each client, tailored to their individual needs and concerns.
Please tell us more about your communication style.
Communication is key to me.  When I ask a question of someone providing me with a service, I do not like what I call "radio silence" where days pass with no response and I am not certain they even received my question. I pride myself on responding to my client's questions promptly.  Being a good communicator also means communicating clearly with my clients.  I must be able to take legal documents and explain them in a way my clients understand.  I must be able to not only identify the issues, but explain them to my clients and help them discover possible options.  I have been told on many occasions that I am able to do all these things quite effectively, and I am very proud of that.
What types of clients enjoy working with you the most?
The qualities I look for in clients are the same qualities I look for in friends: honesty, integrity, respectfulness of others, and an embracing of our differences.  I treat people the way I want to be treated – with kindness and consideration.  And fun.  It's crucially important to always have fun.
Cheri how did you decided to become an attorney? Please tell us about the process of consideration you went through.
Growing up, we had many family friends in the legal profession, both lawyers and judges.  I was so fascinated by their command of the language – they seemed to always know just the right word to use at just the right moment, and I wanted that skill, too.  One friend in particular, Judy Kerzin, was especially influential.  She was an amazing attorney and one of the most incredible people I have ever known.  She died when I was 16, yet she is probably the single biggest reason I am an attorney today.  Her picture was on my desk all through law school, inspiring me to work hard and maintain my status as 2nd in my class.  Judy continues to influence my life daily and her picture is always in my office.
What specifically do you like about the areas of law you practice?
Estate planning fits my personality on so many levels.  In order to keep an estate plan up-to-date, it is important to maintain an ongoing relationship with my clients; something I love to do anyways.  Helping my clients solve problems is one of the most rewarding aspects of my job.  It's fun to get creative finding solutions to often complex issues, whether it is how to distribute assets to their beneficiaries or structuring an unusual lease.
Cheri, you have received many different recognitions and honors for your great work in California.  Please tell us about some of your favorite moments.
One great honor was being asked on several occasions by the probate judge in Ventura County to sit as a Judge Pro Tem when he was away and unable to take the bench.  "Judge Pro Tem" means "judge for the day" in Latin, and these are typically local attorneys who are essentially sworn in as a judge for the day so that cases may continue to be heard even if the regular judge is unavailable.  In Ventura County, it is the responsibility of the judge to choose whom they would like to sit in their place, and it's a great honor to be asked.  It was also a great opportunity to see the cases from a very different perspective and these experiences made me a better attorney.

The honor that stands out in my mind above all else, however, is when I was named a 2013 Community Gem of Ventura County.  This award was inspired by Cheryl Jarvis' best-selling book, The Necklace, the story of a group of women who collectively purchased a diamond necklace and transform a thing of beauty into a gift for their community.  The "Gemma" Awards honors 12 women each year for their commitment to their service work.  I was nominated by the Camarillo Health Care District for my role in developing the Elder Law Collaborative, which at that time had provided over 350 hours of free legal assistance to those caring for people with dementia.  I am very proud that this program continues to this day.  To make the award even more special, while I was being nominated by the Camarillo Health Care District for this wonderful honor, I was in turn, nominating my mom for the very same honor, and we were both named 2013 Gemmas!  To this day, my mom and I remain the only mother and daughter to be honored as a Gemma in the same year.
Cheri, in addition to being an attorney, you are also a very accomplished musician.  Please say more.
Music has always been an integral part of my life.  I began playing piano at the age of four, added violin to the mix from 6th through 9th grades, guitar in college, and I have always sung.

Singing is one of my greatest joys and one of the best ways to express myself musically.

I was involved in musical theater all through grade school and high school, and I graduated from UC Santa Cruz with a Bachelors Degree in Music. After a long hiatus in Southern California while raising my children, I began singing again when we moved to Ashland.

Two of the most joyous moments of my week are the Sunday afternoon rehearsals with the Southern Oregon Repertory Singers (Paul French is one of the finest choral directors I have worked with), and the Thursday evening rehearsals with Kindred Spirits (a small women's group under the extraordinary leadership of Sarah Oppenheim-Beggs).  One of the things Adam and I love most about Ashland is the wealth of cultural events, from the Shakespeare festival, to the symphony, and the many other musical offerings in this idyllic valley.
What else do you love about Ashland?
I am so glad you asked that!  I can't speak of my love for Ashland without also mentioning hiking!  Adam and I are blessed to hike every Monday with an extraordinary group of people.  Each week, we explore some beautiful area in Southern Oregon, spending time with friends, in nature.  It is our "reset" day and is referred to in our home as "Sacred Monday Hiking Day."
Are there any last comments or thoughts you would like to share with our readers?
Thank you for taking the time to speak with me today and to give me the opportunity to introduce myself a bit more.  I look forward to providing quality legal counsel to the Rogue Valley and carrying on Allen Drescher's 40+ years of service to this great community.  Starting next month, I will write a column here in the LocalsGuide focusing on common legal questions and concerns I have experienced in my career.  While I don't have crazy cats like Allen, I do hope all your readers find the articles informative, entertaining, and useful.  And who knows?  Perhaps my daughter's crazy beagle, Porthos, will make an appearance now and then!
Learn More:
Drescher Elson Sperber, P.C.
21 S. 2nd St
Ashland, OR 97520
www.AshlandOregonLaw.com
(541) 482-4935