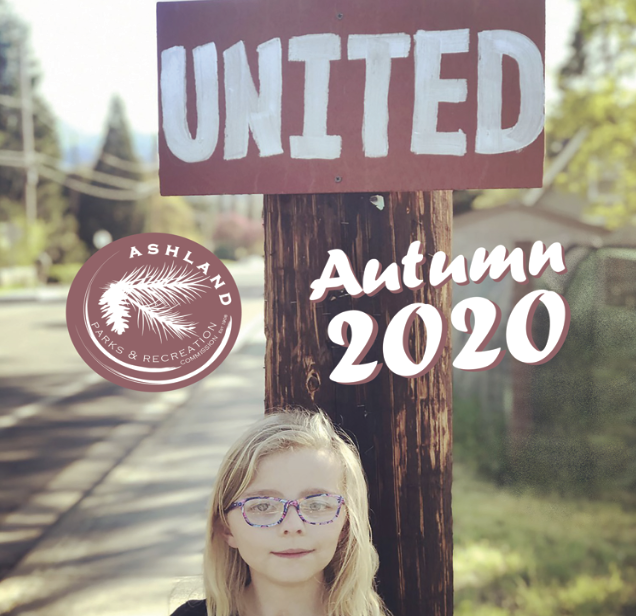 Our 2020 Autumn PlayGuide will be out by September 22, available online at AshlandParksandRec.org. Due to COVID-19, the PlayGuide will only be available in digital format. In addition, all fall programs will take place outside or virtually. We want to be able to communicate with you effectively and email is the best way to do so, especially with virtual programming and being able to send you the link to access your class! Visit ashland.or.us/Register and click on the green button, "Register Online," and follow the steps provided on our registration page. These steps will help with a smooth registration process and ensure that we have all of your necessary information. When registering, please read through the Oregon Health Authority public health guidelines that we have adopted in our goal to keep you and our staff safe. Registration will open on September 22. We look forward to seeing you virtually, or outside, this fall!
AWMF LIVE – STREAM! The Ashland World Music Festival goes virtual on Saturday, September 12. Complete info at RogueWorldMusic.org/AWMF.
Join our Senior Services Division and Providence Health and Services for, "Fall Prevention: Stay Healthy and On Your Feet," on Wednesday, September 16, 1 to 3 p.m. This free class will take place virtually. More info and register at 800.562.8964 or providence.org/classes.
Throughout this time, we have worked hard to stay connected with you! Please take a moment to check out the Find Your Space Campaign, especially the Fun Space category for ways to stay engaged and entertained (it's all free!). More at ashland.or.us/FindYourSpace. Also, learn more about other ways to connect with us at ashland.or.us/APRCstayConnected.
Remember, the Oak Knoll Golf Course is open and ready for your business! Stop in for a round of golf or a cool drink on the patio. More at OakKnollGolf.org. (Facial coverings are now required outdoors when physical distancing of six feet or more cannot be maintained.)
We are in need of volunteers and there many ways for you to get involved!
• Work independently or join a small group of volunteers to help beautify and care for our parks
• Or maybe at this time you are more interested in helping fellow community members during COVID-19? APRC and the City of Ashland partner with Adopt a Neighbor Ashland to pair volunteers with their more high-risk neighbors for shopping and errands. Visit adoptneighbor.org  to volunteer!
• In addition, our Senior Services Division has partner agencies that are seeking volunteers to help deliver food to seniors and provide rides to medical appointments.
All of these volunteer opportunities are flexible, and some meet critical needs during the pandemic. If you are interested, please contact Sulaiman Shelton, Volunteer Coordinator for APRC at 541.552.2264 or sulaiman.shelton@ashland.or.us. Volunteer with us, "It's the Natural thing to Do!"
For more info visit AshlandParksandRec.org, email ParksInfo@ashland.or.us or call 541.488.5340. Follow us on Facebook and Instagram @AshlandParksandRec and use the hashtags #FindYourSpace #InThisTogether #APRCstayConnected #AshlandParksandRec #APRC #FunItsInOurNature #AshlandWhatToDo.