Gary Einhorn has been a life long entrepreneur with thirty-five years of experience. Born in Brooklyn but raised in Rockaway Beach, New York, Gary has lived in the Rogue Valley for twenty-eight years. Gary was exposed at a very young age to the entrepreneurial lifestyle by his father and uncles who were the second business owners to establish supermarkets in New York City. Gary apprenticed and began to learn entrepreneurship at the age of 8. He eventually ventured out on his own to create, manage, and own 9 successful businesses, the first beginning when he was just 12 years old.
Three of his businesses were sold, the last one was Beardsley's Natural Foods which was established in 1988 and sold in 2006. It was a wholesale organic and specialty food distribution business now called Oregon Artisan Foods. It is 28 years young and still going strong! Gary has now served on the = Ashland Food Coop Board of Directors for 4 years. He has also been past Vice President and Chair of the Grants Committee. He was chosen last year to be Greeter of the Year by the Ashland Chamber of Commerce. He has worked tirelessly to support and encourage fellow entrepreneurs by offering advice, and aiding in complex negotiations, sales, and acquisitions. He has been a Business Consultant/Coach since 2006 and is now in private practice in Ashland. He also co-facilitates with Mona Kool Harrington, peer discussion groups of business owners for the past 9 years. He recently began his new group of 12 entrepreneurs on September 6th, 2017.
If you or someone you know is running a small to medium sized business and is needing help, then you will want to read this interview. I have personally found Gary to have feet on the ground practical advice paired with timely and pragmatic strategy. He has the rare combination of both intuitive and analytical skills. Gary is positive and tenacious. He also shares a contagious enthusiasm and proactive positivity which are of the utmost importance when dealing with potentially stressful and challenging business situations.
In my interview today, I speak with Gary Einhorn about his history and philosophy of helping hundreds of local business owners in and around the Rogue Valley. He has also worked virtually with entrepreneurs residing in Croatia, New Zealand, Hawaii, and Costa Rica.
Gary, hello and welcome to the Locals Guide!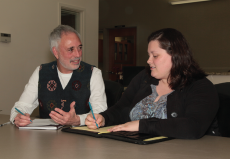 Thank you for having me. I am excited to be here and to share with all of your readers today.
Gary, to begin with I'd love for you to tell us a little bit about your life growing up. While many people may choose at some point in life to become a small business owner or entrepreneur, you grew up in a very different type of environment.
Yes, I grew up in a world of entrepreneurism. I learned A to Z about the role of an entrepreneur from my father. He was ethical, did business with a handshake,  and treated everyone with dignity and compassion. I learned how to market oneself, the role of advertising, bookkeeping, sales, and how to make presentations. Though I have a degree in Economics and Business Administration, one does not learn entrepreneurship from "books". One learns primarily from doing and experiencing entrepreneurship. My background and talent for Business Consulting is experientially based. By the way I had a minor in Philosophy and I believe that has helped me more than Economics! I am also a student of the Enneagram and lived and worked in Tailfingen, West Germany, Leicester and London, England. In Leicester I gained a degree in Knitting Technology and later owned a knitting mill producing knitted fabrics in West New York, New Jersey.
Gary outside the illusion and fantasy that individuals and society may hold around self-employment and entrepreneurism there is a harsh reality.
Yes, in my many years as a Business Consultant, I continually notice two key challenges. One, is not understanding how many hours are required to be successful as an entrepreneur. This is particularly important in the early years. When I began Beardsley's, I worked 24/7 6 days a week! Secondly, capitalization is often misunderstood or underestimated especially when in, for example, a production business. Thirdly I would say not seeking help from an experienced mentor i.e. Business Coach who can provide a road map/template for entrepreneurial success. Many start-up businesses fail not understanding the issues I have mentioned above.
As an entrepreneur you have always spent time talking, teaching and learning from other entrepreneurs. Why is this important?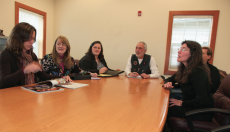 I suggest not working alone. I am not saying one needs a partnership model, but one needs to seek continual feedback and advice to see reality as it truly is. It is a continual learning process. You have to evolve and be resilient and open to change. Every situation is new and unique. This is why I do the peer discussion groups for business owners. Entrepreneurship is a lonely, often solo, journey for most people. They require companionship.
In my own experiences of receiving coaching there are often times I know what needs to happen, but just need outside verification and validation.
Having a Business Coach is important for many reasons. Namely, one needs to know if there are any red flags. An entrepreneur needs to know if they are on the right track or road. Everyone needs a road map and the road map needs to be from someone who has "been there and done that". A Coach who has experienced all of it! It is vital to have a team in place. A team that will consist of a Business Coach, Personal Banker, Business attorney, CPA/Accountant, tax preparer, insurance agent, and financial planner. This is your team of "elves" that will be there when you need their counsel. Friends and spouses are not enough. Notice why other entrepreneurs are successful and take note. Even failed business owners are better to listen to than friends with no experience. Experience is key.
Gary you have helped hundreds of businesses in the Rogue Valley. How have you made this possible? Let me say a bit more. Capitalism is all about competition. How have you found your place in a relatively small community in which competition is healthy and not dog eat dog?
This is key, and is all about integrity and loyalty. True success is about creating prosperity. People do not need to be coached in how to destroy their competition. They need to be coached in how to find their niche and do what they do better or different than others. Do not fear competition. Everyone can co-exist and prosper. I have helped others in my field and I believe there is always enough for everyone. Competition is not inherently bad. It can create more awareness and thus more business for everyone.
I really appreciate this point of view you are sharing and see it as a key reason why you really have been able to help so many people within our region. 
I am often asked for my definition of success. I would say that happiness is a key measure of success. In my eclectic consulting practice I focus on the person primarily and the business secondarily. This is not to say that the business focus is unimportant. Do not misunderstand me here. I believe that if one is happy in one's personal life then their chance of success in business is magnified. There is no separation of the business from the person. Balance in life is important. One also needs time to work ON ONE'S BUSINESS and not always in one's business. My philosophy is rooted in the wordsof Winston Churchill to his British subjects in World War ll -"NEVER, NEVER, NEVER, NEVER give up."
Gary, let's talk about the services you offer and who they are best suited for.
I focus primarily on small to medium sized businesses. They are the ones in most need of assistance. I can counsel any business, as the challenges and opportunities have a commonality to them. Whatever I need to know specifically about the business, the client will tell me.

Obviously I understand the food business the most, but I have many life experiences that allow me to understand and listen to what each client brings to the table.
Can you give us an overview of specific issues and challenge range you are working within?
Personal disclosure. This is the part I love. It is always different Shields. I advice clients on issues like how to handle employees, marketing, where and how to make presentations, (I often critique presentations made by my clients either in person or virtually like their YouTube videos for example), to buying and selling a business (I do quite a bit of this work locally). I never know what to expect. I try to understand the backstory, what is it that will most benefit my client. Often this comes up at the end of a session. I used to teach tennis professionally and I have the intuitive and analytical skills to determine what the one singular issue is that is affecting many other issues. In one of my recent support phone calls I was coaching a client on how to respond to inappropriate advances from a high paying client. Yes, this really happens. It can be a wild Peyton Place kind of jungle out there of things that can happen and they do.
What do you see as a few of the key reason you have been able to help so many people?
I would say on the ground experience. I also listen intently. I respond individually. There is never a one size fits all response on my part. I am dynamic and not fixed. I continually have to adapt to the challenges put before me. My clients trust me. I keep everything said confidential. I do not consult in a public space unless the client so wishes. I do my work in a private space away from the public's ears and often sight. Confidentiality is key. Many people know me since I have been here since 1988. Therefore I use private space to do my consulting practice.
Funny you should mention some of these points. I myself have been reflecting on the continual need for proactivity. We live in a world in which we often expect things to get done for us. You walk up to a door it opens, bills paid automatically, flip the switch and a light turns on…. but how? This type of training and conditioning is truly opposite to what entrepreneurism and small businesses is all about.
It is important for my clients to feel comfortable "blowing their own horn". They need to realize the importance of exposure and presence. They need to feel comfortable presenting. I assist them with this. I often suggest attending Toastmasters as I have for over 12 years. Do not wait for Godot for Godot never comes. Be proactive and take risks with discretion, but fear not taking a risk. It is the lifeblood of entrepreneurship. It comes with "the territory" does it not?
Gary you have been very willing to work with anybody regardless of what their means are. Why is this?

There is often a resistance on the part of entrepreneurs to seek help. It is as I have mentioned previously a very solo endeavor. There is not only a reluctance to seek help but also because it is often times a one-person business. One thus feels there is not time available to see help. The potential value of seeking assistance is great. To address this reluctance tell all of my clients that they do not need to pay me if they do not receive value from each individual session.

This means a 100% guarantee to anyone who works with me that they will receive value. At the end of a session I ask the client was this of value? Did it meet your expectations? Was it helpful? I have not had a situation where I have not been paid, but I want my clients to feel fulfilled and that I have helped them in a significant way.
Please share some recent testimonials with us.

Gary Einhorn is an incredible person and business coach.  I was lucky enough to win a complimentary coaching session with Gary in March from an event we both attended. At the time I had never met Gary, but the buzz around town was that he is professional and knowledgeable.  From that very first coaching session Gary has been essential to the growth of my business. The advice and direction he has given to me has been immensely valuable. Gary has taught me the importance of presence and exposure in my business. He prompted several changes in my routine and business that have caused my exposure and presence to sky rocket. Since March when I met and started coaching with Gary my business has absolutely grown but I think more importantly, I have grown personally too.  Gary encouraged me to join Toastmasters and has helped me to land several speaking functions. He has supported me through all my speeches and this has truly been affective in growing my confidence.  Gary is one of a kind. He is compassionate, generous, thoughtful and an expert at what he does.  He has a lifetime of wisdom that he does not hesitate to share with his clients.  I have been observing his methods, techniques and kindhearted attitude and it is no wonder he is so successful.  I wholeheartedly recommend Gary Einhorn as a business coach. Gary will not let you down, he will in fact lift you up.
Lauren Trantham,

The Woman's Photographer

—

Great! Thanks so much Gary! I have a feeling that a lot of entrepreneurs in the Rogue Valley have you to thank for supporting their success. I hope you recognize the incredible service you bring to our community.
Warm regards,
Asha

—

I own and manage two successful  business's in Southern Oregon.  My success is due in part to my business coach, Gary Einhorn. Gary's gifted analysis of my business has given me the assurance to stay the course and the confidence to manage my time efficiently. Gary is a fantastic listener and quickly reasons the issues that I find difficult to manage on my own. Gary assists me in every aspect of business management and goal setting and his professional optimism keeps our meetings productive and fun.  I am entirely grateful to Gary for assisting me to allow my business to thrive.
Murray Huggins
The Cycle Hostel – Colin Kyo Bagpipes

—

Gary at Business Consulting Services, has helped my business tremendously. He thinks outside of the box.  He has started me toward thinking outside of the box.  I am planning short term, mid term, and long term. He sees, or knows problems before they exist.  I guess, that is from many years, of developing prosperous endeavors, of his own.   He is just what I needed for All Flow Plumbing.  If you think that you need a business coach, Gary can help you, and your business.  If you do not think that you need a coach, you absolutely need to give him a try.
John
All Flow Plumbing

—

I attribute my success in building my business as a yoga teacher and yoga therapist to Gary 's coaching and business acumen.

Five years ago, I did not believe I could make a viable living being self-employed as a yoga teacher.  With Gary's guidance and intuition, my business today, is growing and thriving throughout the Rogue Valley. I know and appreciate Gary as a person of integrity and honesty. He is my "go to" person in business and I can always trust in his sound advice and support. I would highly recommend that business owners, entrepreneurs, and those in career transition consider using Gary's business counseling services. He is the Rogue Valley's best kept secret.
Sandy Dennis,
Yoga Therapist & Teacher
Inner Wisdom Yoga

—

Serial entrepreneur, hands-on business coach and effective communicator, Gary Einhorn is the real deal!
Emile Amarotico
General Manager

—

Gary has been reliable and consistent in problem solving that has helped develop my business keep in balance with values in my work life and personal life. He has tuned into what is important in the moment and holds it within the broader scope of set goals and assists in ways to weave them together. Gary is much more than a business consultant, he has a gift of reading between the lines and offers professional personal guidance. I have been inspired by his ideas of how business can run effectively with local resource and collaboration. I highly recommend Gary to help you craft a unique business that works for you.
Carlos Delgado
Carlos Delgado Architect LLC

—

Gary has been invaluable during the time of my business transformations.  His insight and intuitive guidance has cleared a path through a vast array of possibilities.  Gary is always presenting a positive side to the bumps in the road.  I feel honored to have him as a co-pilot from time to time.
Julie O'Dwyer

—

I will forever be grateful to the colleague who insisted I work with Gary with "Call him right now!" That was one of the best business decisions I've ever made…  Gary has been a consistent cheerleader, parent & best friend of both of our businesses.  Through several transitions, Gary's gentle guidance helped my husband & myself to live authentically in our businesses and find what makes us passionate about each of our businesses.  His counselling has resulted in more productive business practices and set us up for potential growth.  Almost all of my  'A-HA' moments for my businesses have happen during counselling sessions with Gary.  We would refer Gary's services to anyone who wants to get the most out of their life & work.
Emily A.P. Cox – BC Spa Lady with BeautiControl
Jim Cox – -Jim Cox Repair, Inc.  – Heavy Equipment Repair & Welding
Please tell us more about your coaching and what you are focusing on.
Marketing through exposure and presence coupled with assurance that anything is possible if one has a mindset of positivity. This requires a mindset of tenacity and perseverance and never giving up. I believe one can manifest anything with one's positive thoughts.

If I have a client who I think should give up I have no problem telling them this. It is thus a qualified Never give up. It is not easy to tell a client this, but it is imperative that I do when the situation arises.
Let's talk more about these. To begin with, what do you mean by presence and exposure?
Presence and exposure necessitates making presentations. There are many venues to present and I share them with my clients. I advise them how to present and where. I critique them as well. I share with them my experience at Toastmasters having been President 3 times and Area

Governor once. I share with them a template for presenting. It is also about talking about providing benefit to clients. People want to know the benefit of what they are receiving.
Please tell us about your peer discussion groups?
Our peer discussion groups of business owners meet for 3 hours monthly with two trained facilitators, Mona Kool Harrington and myself. There are two requirements. One is the willingness to share ones challenges and opportunities. The second is a willingness to help others in the group. Each participant gets about 20 minutes to present. Feedback from others is encouraged, but the participants decide what they want from the group. Networking does take place, but it is not primarily a networking group. We also have professional speakers chosen by the group. This is our 9th year and we just began our new group on September 6th.
How many groups a year do you facilitate and when is the next sign up?
We do one group a year at the moment consisting of 12 participants. We do not generally have two businesses that are the same for obvious reasons. Confidentiality is agreed to by the members. I am taking a wait list for September 2018. Many entrepreneurs repeat year after year. I was personally in a group similar to this for 8 consecutive years. Entrepreneurs need support and a confidential place to bring their issues. Our group template provides that.
What are some of the hopes and expectations that people have when working with you?
Many entrepreneurs are hoping that their path will be less frenetic and more directed. I lay out a road map for them to achieve success. There are commonalities that we as entrepreneurs all face. Everyone receives the road map and template. We then refine this as it is not static but ever changing. We look at what worked and what did not. We fine-tune it together.
Gary, in closure, you have had a long time of working here in the Rogue Valley. What do we need to do as a community to continue to grow and support the qualities you have helped to nurture for so long?
We need to support small business owners and connect them. Do not presume they hear "good job" from anyone. This is your community. Help one another. If you know of someone who needs help, please send them my way. My goal is to serve my community and share my experiences and knowledge base with clients.