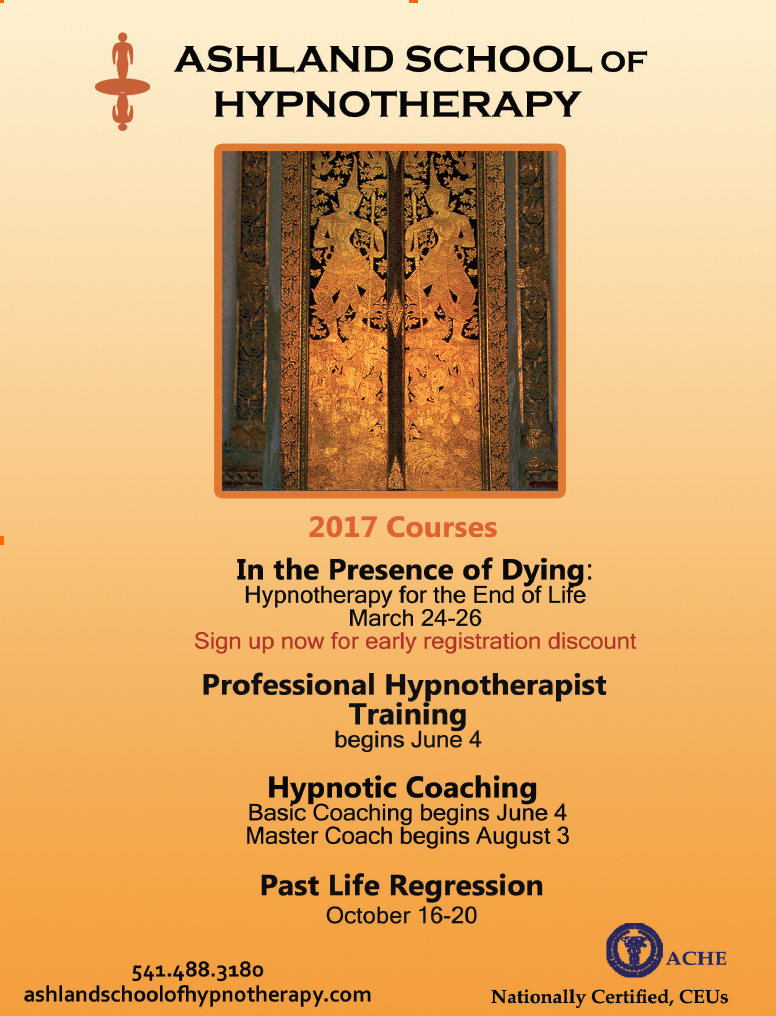 Heartfelt skills for working with people with serious illness and nearing death…
March 24-26, 2017
IN THE PRESENCE OF DYING-MEDITATIONS FOR THE END OF LIFE offers a profound way to offer the ancient art of healing companionship. Hypnotherapy provides an essential healing practice that opens the doors of possibility to provide what people most want and need during this stage of life. With hypnotherapy you can provide respite from pain and suffering, a supportive way to process feelings, to prepare for passage, and to value and enjoy the time that's available.
IN THE PRESENCE OF DYING-MEDITATIONS FOR THE END OF LIFE is for hypnotherapists, hospice workers, counselors, social workers, nurses, doctors and other health practitioners that work with terminally ill and dying patients, family and caregivers of elderly and end of life patients, and others who are interested in this work for personal and professional reasons.
Hypnotherapy offers peace, depth, sanctuary, aliveness, forgiveness, a way to explore what's beyond, a sense of dignity, of mattering, of being able to voice what's wanted, and of release.
This transformative program, IN THE PRESENCE OF DYING-MEDITATIONS FOR THE END OF LIFE, brings together, in a unique and powerful way, wise and practical techniques for the sensitive experience of being with people who are critically ill and dying. It addresses the call of those who want to develop skill and knowledge in the physical, psychological, social and spiritual aspects of this potentially profound and tender time of life.
In this training, you'll learn meditations and hypnotherapy to:
• Support a dignified, grace-filled passage
• Offer multi-faceted care that addresses physical, psychological and spiritual experience
• Explore anger, fear, guilt and denial
• Cultivate forgiveness and letting go/ being in the moment
• Support family, caregivers and friends
• Develop compassion, strength and resilience in the face of suffering
Please join us for a training that will prepare you for the life changing experience of being fully present with dying.
Rochelle Jaffe, Director of the ASHLAND SCHOOL OF HYPNOTHERAPY, has been a facilitator and trainer for WinterSpring-Center for Loss and Grief, and has worked with Hospice as a hypnotherapist, helping clients with pain and end-of-life issues.
COST: $285 by February 24, $340 until course begins
http://ashland.oregon.localsguide.com/wp-content/uploads/2017/02/Screen-Shot-2017-02-23-at-6.30.18-PM.png
1016
776
Rochelle Jaffee
http://ashland.oregon.localsguide.com/wp-content/uploads/2018/05/logo-1-300x76.png
Rochelle Jaffee
2017-02-23 18:31:57
2017-02-23 18:31:57
Presence of Dying – Meditations for the End of Life