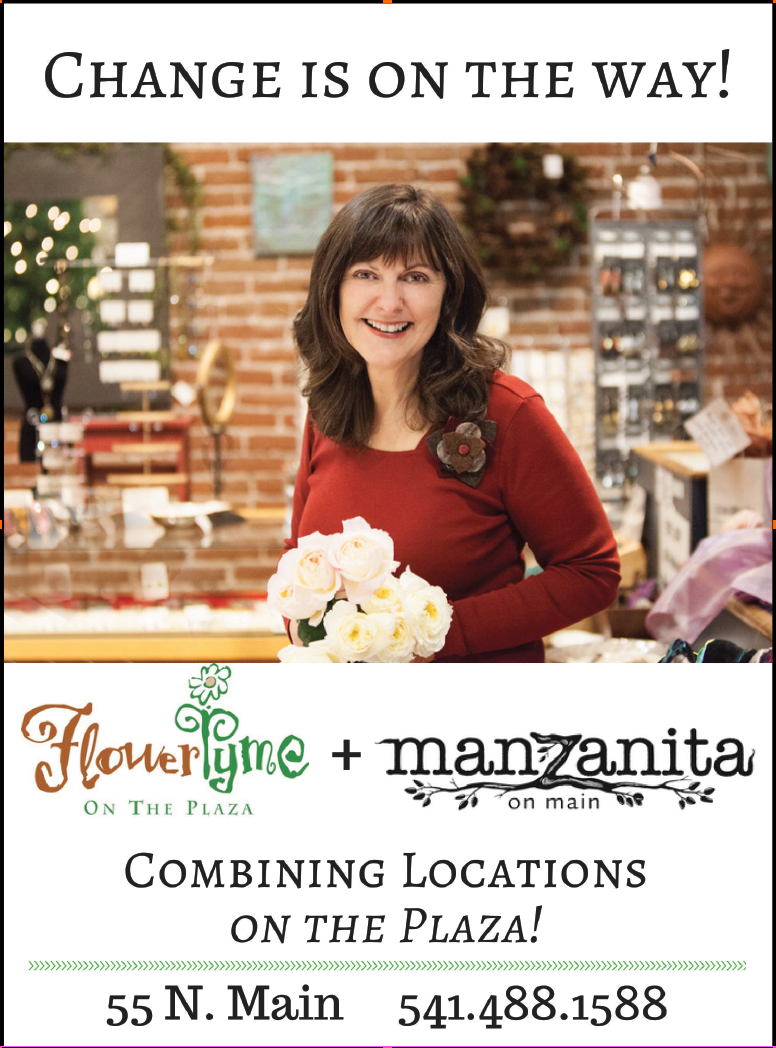 My shop, Flower Tyme, has been in its current location (on the plaza between Greenleaf Restaurant and Mix Bakeshop) since 1984!  It has been a wonderful way of life for me, allowing me to do what I love… working with flowers while also merchandising and displaying a myriad of items to create a bright and happy shopping experience in this great location. We have remodeled three times in the past 34 years, and are currently undertaking another transformation in the life of my dear shop.
As some of my faithful clientele know, 4 years ago I opened another shop just a half block away called Manzanita on Main, a home decor and gift shop. I have decided not to renew my lease there and, instead, simplify life by combining the best of Manzanita with the best of Flower Tyme at the current plaza location.  This is prompting an exciting remodel in order to accommodate the mix of merchandise I have planned!  With the vision and skill of my son, Nick David (Jefferson Woodwright), we are designing a shop with the more modern and calming ambiance of Manzanita while still maintaining the happy vibrancy of Flower Tyme.
Additionally, I'm excited to announce that the front of the shop will sport the Manzanita logo and branding and our flower business will continue as Flower Tyme, located within "Manzanita on the Plaza." Of course, my staff and I will be committed to the same level of great customer service and provide professional and creative floral design in a beautiful and happy atmosphere. Our mix of merchandise will feature many American handmade lines which are currently staples of Manzanita, including beautiful and functional pottery, unique wire animal sculptures, craftsman clocks, and hand-painted silk lamps. We will continue Manzanita's focus on home accents such as Chilewich rugs, textiles, dining accessories, and lighting. Flower Tyme's staples of quality fresh and silk flowers, garden accents, and affordable unique gifts will remain, and our jewelry department will expand to include the favorite lines of both shops.
With the magic of Nick's design skills combined with my years of merchandising, I am confident you will enjoy this renewed shop, Manzanita on the Plaza…. with Flower Tyme remaining your source for reliable, high-quality flowers.   
With appreciation for your continued support through the past 34 years, and excitement for the future,
LouAnn David