Manzanita
Engage Your Senses at Manzanita – Home and Flowers
Once upon a time… 1982 to be exact…. a young florist named LouAnn David created a thriving business on the plaza in Ashland which she named Flower Tyme. For the next 35 years the business grew and served the people of Ashland well. There was one problem, though. She began to realize that the name Flower Tyme was limiting her walk-in business. Her business had developed into a shop that offered much more than the beauty and design of flowers. So in 2017, she rebranded Flower Tyme with the name Manzanita Home and Flowers to more accurately represent the varied merchandise her shop contained. The change has been a resounding success and today we speak with LouAnn about her continued legacy here in Ashland as one of downtown's longest-running original business owners. 
Hi, LouAnn! Thanks so much for speaking with me today!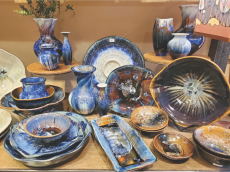 My pleasure, Shields!
LouAnn, please take us back and tell us a little more about your history here in Ashland, Oregon.
Well, when I moved here to Ashland in 1981, I had already been in the flower business for 10 years. I felt that Ashland would appreciate and benefit from the addition of a progressive flower shop, so in 1982, my former husband, Kirk, and I opened Flower Tyme. Life brings change, and we went our separate ways. But what didn't change was my passion for my shop and the desire to keep it growing. Fast forward to 2017 when I opened a second shop that I called Manzanita on Main, which was a block away. It represented my love of nature expressed through mostly USA-crafted pottery, textiles of natural fibers, metal artwork, and wooden home accessories.  Four years later in 2017, I remodeled my plaza location where Flower Tyme had been located since the early '80's, combined the two shops, and rebranded it Manzanita Home and Flowers.  Nearly three years later, the change has resulted in more walk-in traffic, stronger sales, and the positive response from my customers has me excited and re-energized!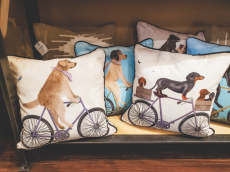 What are some of your favorite features of Flower Tyme that you kept into the transition of Manzanita?
First and foremost, I, of course, kept the fresh flowers, airplants, and our delivery service! And my customers were all thrilled that I kept Flower Tyme's greeting card section. I also kept seasonal varieties of quality silk flowers and plants as well as the ever popular sparkling Firefly jewelry and rich tiffany style table lamps.
And what are some of your favorite features of Manzanita on Main (the first Manzanita) that you kept in the transition?
It was a no-brainer to keep the irresistible crystalline Campbell pottery that I bring in from Pennsylvania. It's very popular for wedding gifts, and many of my customers acquire new serving pieces regularly. Also, one of my favorite carry-overs from the first Manzanita is our line of copper-based lamps with silk shades hand painted with a nature motif. They are stunning!  Manzanita also has continued being the retail outlet in the area for USA-made Chilewich floor coverings. But there are many new lines that I have introduced to Manzanita Home and Flowers that were not yet found until I made the change in 2017, such as the fanciful pillows designed with animal and flower motifs, and Dreamfarm, a colorful and cleverly designed line of silicone kitchen utensils.
Please take us on a tour of your store and tell us how it differs from a person's experience of online shopping.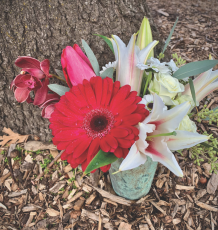 As you enter Manzanita, my hope is that you will engage all five senses which a person misses out on by shopping online. One of the first things shoppers notice is the lovely fragrance which is comprised of a mixture of fresh flowers and a line of home fragrance oil diffusers that I sell. And we sometimes even have the yummy smell of fresh baked bread wafting in from our neighbor, Mix Bakeshop! The next sensation is the sight of an earthy space with 140-year-old fir floors and 14-foot ceilings filled with a carefully curated collection of color and design displayed on expertly crafted maple wood tables (made by my son, Nick David). These include pillows, wall art, lamps, colorful placemats and table runners, gorgeous jewelry, and, of course, flowers and plants. Then engage your sense of touch by handling one of local woodworker Larry Shinerock's luxuriously smooth manzanita wood vases, or enjoy the soft feel of our very affordable cashmere scarves. The calming sound of trickling cairn rock table fountains or the rich ringing of our outdoor chimes can be heard over soft music playing in the background. And to cover the sense of taste, we occasionally sample locally-made chocolate truffles which we all love!
How has your business survived here in Ashland for 38 years?
I have a strong sense of survival! When our town would have a challenge (such as the flood of '97), or the economy would take a downturn (such as in 2008), I used my strength of operating my shop as lean as possible without compromising my vision. I always have listened to my customers about what they were enjoying about my shop which has always spurred my enthusiasm to make it even better. I would notice when a line no longer grabbed their attention so I would let it go, using the space for something fresh and new. I would adjust with trends, but not give in to trends that didn't appeal to my sense of design. I always try to find unique merchandise that gives my customers the satisfaction of finding great quality without breaking the bank.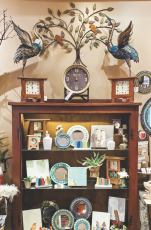 What are some of the choices you have made that represent some of these qualities?
For one, I now carry local artist Trace Taber's new line of leather tote/handbags that he handcrafts from upcycled leather and fabric. They have so much character and will last for years! I can sell them in my shop for $99 as opposed to less interesting but comparable bags that sell upwards of $150 or more. Another favorite is a newer line of earrings, necklaces, and bracelets that are made by a talented woman from Washington state who grows and preserves flower petals, then mysteriously and artistically captures them under glass. I can offer them at a price range of $25 to $55. Our beautiful line of copper table lamps with hand painted silk shades sell for $375…. so reasonable for a true piece of functional art! And our Campbell pottery that is also functional art sells from $17 to $90…  microwave, dishwasher and oven safe!
Where is your passion in the store at this moment?
My underlying passion that is always at the forefront of my daily duties is being a florist. I enjoy the way that every day is different in the flower business. You never know what design challenge will come each day as we open Manzanita and turn on the lights. It may be designing a bridal bouquet for an impromptu wedding in the park, or helping a bereaved family make it through a difficult time. The flower business is interpreting emotions and presenting them as a bouquet that will uplift, soothe, or excite the customer or the recipient. The holidays can get tough, but the busier we are, the more energy I get! The upcoming holiday on February 14th will be my 47th consecutive Valentine's Day in the business! I never take for granted the beauty of a flower and so greatly enjoy the art of floral design.
Could you imagine your shop as strictly a florist or as strictly a home decor shop?
No, I can't! One feeds off the other and I love both aspects of Manzanita! I have the best of both worlds as far as a retail shop is concerned in my opinion. In the winter when downtown is quieter, I have phone orders for flower deliveries coming in from all over the country. During the summer when flowers are blooming in all of our gardens, Ashland is filled with visitors who love to take home treasures they find in my home decor and gift part of Manzanita. I love the art of display that is the challenge of blending many lines of merchandise together to create a cohesive story for our customers to experience. I want them to leave Manzanita feeling refreshed, satisfied and excited for their next visit.
Tell us a bit about your staff!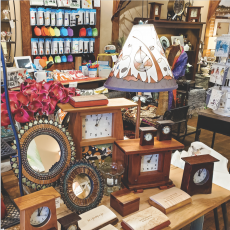 I could not have survived for 38 years without a stream of incredibly talented co-workers who have helped to make Manzanita a success. Currently, I have Amy Hoffmeister who makes my life so much easier and enjoyable as my assistant buyer by doing a fantastic job of keeping our best selling items in stock and is always so gracious with our customers. Poppy Allen is an up-and-coming floral designer who was born to be in this business! Her sense of color and design always makes our customers rave, and her customer service in all areas of the shop is outstanding. Deanna Mulaskey is a very talented and experienced floral designer whose arrangements are gorgeous. Her incredible sense of organization helps our design room stay workable, and her cheerful demeanor is a delight to our customers as well as her co-workers. And I cannot go without mentioning our on-call saviors, Misty Stone and Cindy Gross, who will rearrange their schedules at times to help us out in both floral design and customer service. And last, but not least, we are grateful for the help of my long-time partner, Jordan Parker, who occasionally takes time away from his bed and breakfast, Coolidge House, to make a special delivery run of last minute flower orders.
You have recently come back from market in Dallas. Can you tell me what you found that has you excited?
Yes! I was able to see and touch and choose from the new spring designs of Karen Lee Ballard's collection of table runners and napkins, and I am delighted with her choice of fabrics.   Also, I was excited to choose several new designs of Tiffany-style lamps to bring in…. such rich colors and intricate designs! And a new Australian line called Tooletries will be fun to present.  It's a functional but cool line of shaving and shower accessories for both men and women. They will make great gifts …. not something you'd find at most flower shops! It is so helpful for me to experience new lines in person when buying for Manzanita, as my customers also benefit by using their senses while searching for that special gift or home accent. This is what keeping Manzanita Home and Flowers vibrant and fresh is all about!
Lou Ann, thank you and congratulations on all your hard work and contributions to our community. Do you have any last thoughts or comments you would like to share with our readers?
It's hard to express how grateful I feel for having had the pleasure of spending the past 38 years as part of Ashland's downtown experience! So many of my customers have expressed their love of the old Flower Tyme, but luckily, so far, the new Manzanita Home and Flowers has not disappointed! I vow to keep looking for exciting new items, and I invite anyone who has not been in to please stop by…. breathe deeply, touch everything, take in the beauty of the fresh flowers, listen to the musical sound of our chimes, ask to sample a truffle, and say hello!
Learn More:
Manzanita Home and Flowers
55 N. Main St., on the Plaza, Ashland
ManzanitaHomeAndFlowers.com
Comments