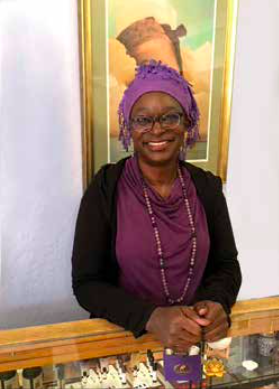 Interviews
Regina Boykins Spirit of Shakti – Supporting Your Yoga Journey
Located in the heart of the Ashland Railroad district, Spirit of Shakti is an Eco-friendly clothing and yoga boutique for women and men. If you are looking for organic lifestyle clothing or comfortable sustainable clothing to wear while practicing yoga or fitness activities, or just everyday comfortable wear, you've come to the right place. Spirit of Shakti also carries the best Eco-friendly yoga mats and meditation cushions. In today´s interview I speak with local owner Regina Boykins.
Regina, thanks so much for speaking with me today. To begin with, will you please tell us a little bit about yourself and when you first discovered Spirit of Shakti?
I was born and raised in Rochester, New York and moved to Ashland in 2008. I discovered Spirit of Shakti when I started taking classes with Paige Cogger at Ashland Yoga Center. I've been connected to Spirit of Shakti since 2009 as an employee and then in 2017 as a co-owner with Nora Coolridge and then became sole owner in mid-2020.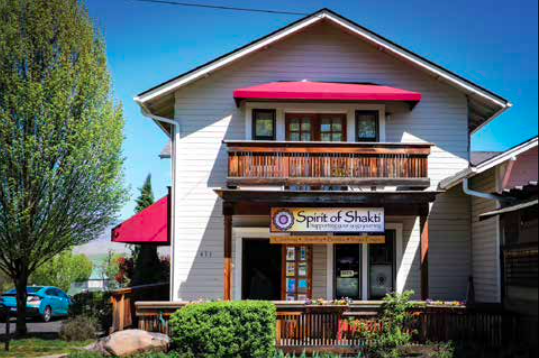 Can you explain the meaning of the name Spirit of Shakti? 
Shakti is the primordial energy, within everything. It is the dynamism and force which creates, and that which is created. Shakti is the Mother Goddess, the Mahadevi which encompasses all goddesses archetypes.
What are some of your goals for Spirit of Shakti moving forward? 
My goal is to continue to provide Eco-friendly and sustainable yoga and meditation products, as well as clothing that is healthy for the skin as it is the largest absorbing organ in the body. I am expanding Spirit of Shakti's online presence and online store. I am looking forward to providing a place for local vendors to showcase their goods, whether it be clothing, artwork, jewelry, books, beeswax candles, or organic wellness products. 
Regina, please talk about why you like to work with local vendors?
As far as the clothing vendor, I like supporting small businesses that have values that align with those of Spirit of Shakti. I also like that they use organic fabrics and non-toxic dyes, so their clothing will not be toxic to the body when one sweats or gets wet. Also, orders arrive in a timely fashion.
Serene Dussell of Blessed Lotus makes really cool clothing out of organic hemp, bamboo and soy. She also creates durable and fashionable house wear and baby clothes. I love that she drops off her orders so we can also have a wonderful social visit.
Sweet Skins Organic Apparel makes clothing of hemp and baby wear as well. The days of scratchy or shapeless hemp clothing are gone. They do hemp clothing so well, that many of my customers who never would have considered wearing hemp are coming back for more and stop in to tell me how much they love their new clothes.
The Oregon Bee Store/Peach Blossom Candles is a great vendor. The reason I choose beeswax candles is that they clean negative ions in the air. Many people don't realize that soy candles release toxins when burned whereas beeswax produces negative ions which help clean and the scent is uplifting.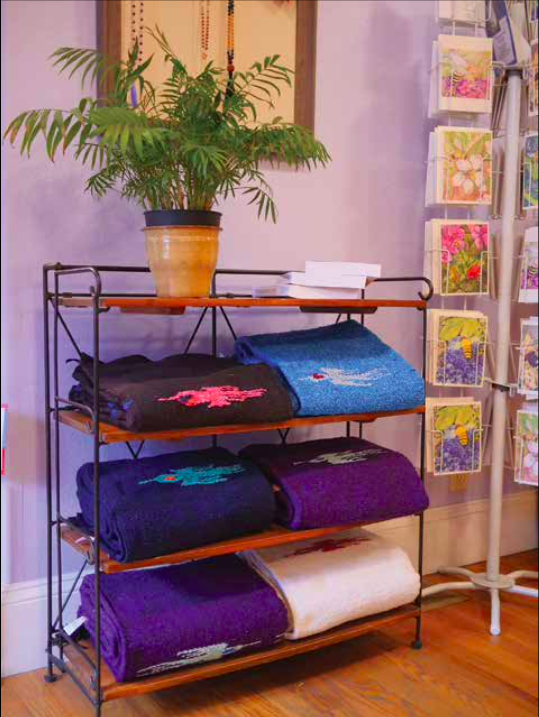 Regina, what are some of the standards of quality you look to bring into the store when choosing a product to sell?
They must be well-made, comfortable and durable from ethical companies. 
Spirit of Shakti is located in the heart of the Railroad District. The location could not be better.
There is peaceful and positive energy here. It helps that the building is shared with Ashland Yoga Center. Many popular businesses are within walking distance.
Regina, please tell us about your gardens that are out front of Spirit of Shakti and your work as a Jackson County Master Gardener.
Gardening is my soul's balm. I took the Jackson County Master Class in 2015. I recommend everyone take the class to learn about gardening in the Rogue Valley growing climate, to help you make informed choices about landscape, vegetable, fruit trees and ornamental flowers. Being a Master Gardener has been one of the most rewarding experiences and allowed me to connect with many wonderful people throughout the Valley. The vegetable garden is all organic. I share the garden with the tenant above the shop. No synthetic fertilizers are used and any pesticides we use are either organic or homemade. Depending on what was previously grown, even organic fertilizer is not needed as we plant cover crops in off season and/or mulch with alfalfa.
I edited the latest update to The Garden Guide for the Rogue Valley in 2017 and help monthly with document distribution and storage for the Board of Directors and the organization as a whole. 
The Shakti garden is prolific. The secret is to focus on feeding the soil versus feeding the plant. 
Passersby thank us for creating such a beautiful site in the neighborhood. I am passionate about regenerative gardening. I am a compost nerd, and proud of it. I enjoy giving garden consultations.
Let's talk yoga mats. What makes for a good mat?
I like the Manduka PROlite. It's one of the ones in their PRO Series. It's a good weight mat, 4.7mm thick, stable on the floor, so you always feel like you have a firm foundation.
A good mat should be:
Stable on the floor
Not slippery for hands, feet etc. (Manduka makes mats specifically for hot sweaty yoga)
Thick enough so that bones and joints are comfortable (note that sometimes you just have to use a blanket as a cushioning prop) It must be durable enough to last for years.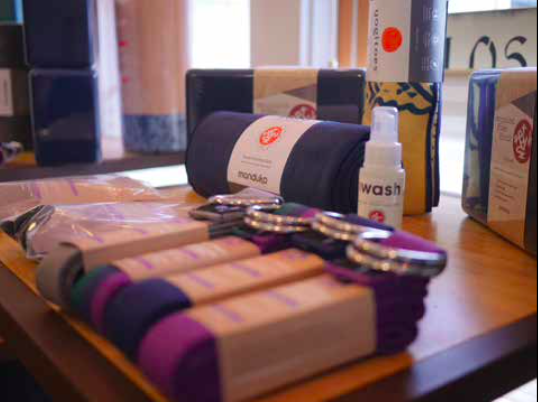 Tell us about Hugger Mugger Zafu Meditation Cushion and the Cosmic Cushion. 
Spirit of Shakti sells the Hugger Mugger Zafu Meditation Cushion. This is the traditional round meditation cushion that most people are familiar with. The plus is that it is cotton covered and filled with organic buckwheat hulls that can be removed as needed for easy height adjustments. Furthermore, unlike some other zafus, the cover is hand washable.
The Cosmic Cushion has a wedge profile which tilts the pelvis slightly forward, helping you maintain the proper forward curve in your lower back while meditating. I love mine because I feel I can sit for hours. Like the H G Zafu, it is also filled with buckwheat hulls, so that the height and density can be adjusted for comfort. I sell the version with the removable cover that can be washed.
What happens for people once they start to wear clothing made from natural fabrics with natural dyes? 
They start feeling healthier and happier, just like when people start eating healthy organic food. You feel good in them. You notice how differently the fabrics feel on your skin. It changes your perspective.
What do your customers love the most about Spirit of Shakti?
From the reviews customers have posted, they like the customer service they receive, whether it's picking out a piece of clothing or deciding on the two different styles of meditation cushions we carry. Customers appreciate the knowledge I have of the products Spirit of Shakti carries. For example, yoga mats have different performance qualities. If one practices hot yoga, one needs a mat that is not slippery and grips well, so I always inquire about what kind of yoga they practice. Customers learn and understand that I am not about selling the highest-priced items. I want customers to feel good about their purchases.
Customers also say they enjoy the energy of your store. Please say more.
Customers love the peaceful loving energy of the space. It makes for a stress-free shopping experience. There are always a lot of smiles and laughter. Sometimes customers just come in to be in the energy.
Regina, you are really great at choosing gifts for your customers and their friends and family. Tell us about it.
If it's clothing, I ask a few questions about height, body type, eye, hair color and skin tone. If the person is related to whom they are buying for, that makes it easier but I just go with what I pick up from the energy. If it's something else like jewelry or a book, I just go with what I feel. Everyone is psychic and I am a Reiki Master and a Spiritual Medium and Intuitive so I just tune into the etheric. It's hard to explain, it's just who I am.
What is your philosophy of life?
Anything that is imagined, can be. We live in a limitless universe.
Regina, thank you so much for speaking with me today. Do you have any last thoughts or comments you would like to share?
It is important to remember to be compassionate. Chart your own journey.
Learn More:
Spirit of Shakti
471 A Street
www.spiritofshakti.com
541-482-9200