Press Releases
Rogue Jet Boat Adventures The Ultimate Table Rock Adventure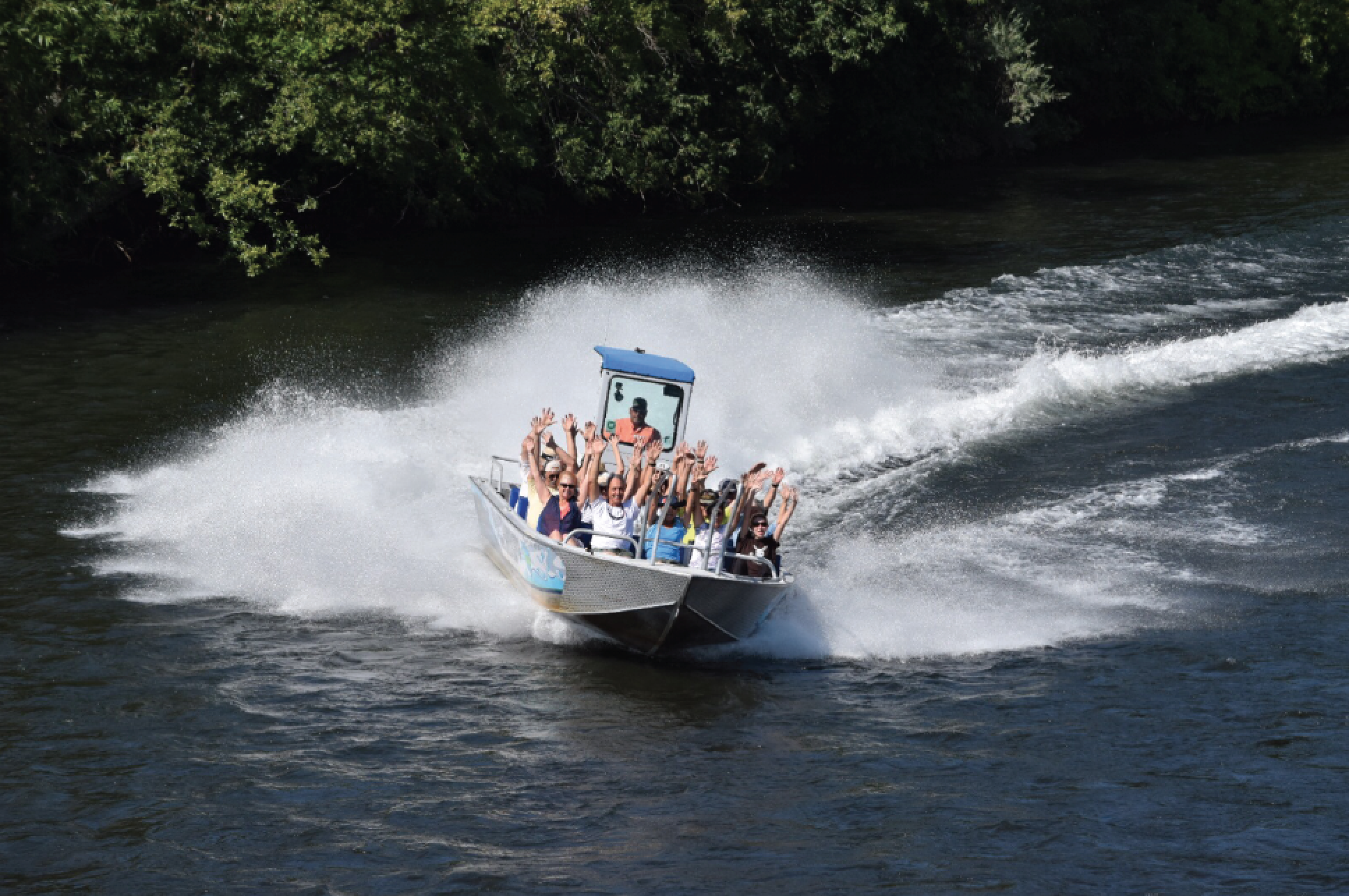 Looking for something to do that will be an unforgettable memory for 2017? Get on board Rogue Jet Boat Adventures at Touvelle State Park for an exhilarating memory making learning experience that's taken recreation to a whole new level. This jet boat trip isn't the typical Jet Boat Excursion we've all come to know them to be. Now in their 7th season, the trip is being hailed as one of Oregon's top things to do and see!
Rogue Jet Boat Adventures combines thrilling jet boat rides with educational opportunities that are safe and enjoyable for all ages. Located in Central Point, you will be amazed at how quickly you can be surrounded by some of the most natural and untouched sections of the Rogue River. Combined with unforgettable scenery, magnificent estates, celebrity retreats and deep-rooted knowledge of local history, Rogue Jet Boat Adventures is an adventure not to be missed. We spoke with Emily and Taylor to learn more about Rogue Jet Boat Adventures and the trips they offer.
Hi Emily and Taylor, welcome back! What's new with Rogue Jet Boat Adventures?
First of all, we'd like to say that our customers really are the best part of what we do! Our experience puts the biggest and truest smiles on their faces and it it such a joy to see those transformations. Our customers seem to book our experience with a certain expectation of what they will receive in return and when those expectations are far exceeded, it is such a rewarding experience for us.

This year we will expose thousands more residents and visitors to the beautiful Table Rock area and its history, culture, and ecology. Our newest addition is a new state of the art tour boat, specifically designed for comfort in mind. We have also had additional development at our private river park located under Lower Table Rock that now includes a dock system in our lake, fishing, and an interpretive panel section for our tour layover.
Rogue Jet Adventures does not provide your ordinary jet boat ride we've come to know them to be.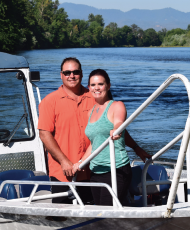 That's right… Our Discovery Tours are so much more than exhilarating jet boating with beautiful scenery. We connect our customers to the vast and amazing history that surrounds our Table Rock area. This connection, in return, has created an area awareness that is now stimulating a desire to help create the sustainable aspects of the region. Often what is  learned on the tour is new information that even multi generation residents didn't know, or if they did, they walk away knowing the importance of the historical locations as they relate to one another and where events actually took place.
What have the conditions of the river been this year and what types of boats are you currently running?
The river conditions couldn't be any better this year for all river activities. The river levels have stabilized to a perfect level that will provide a longer, usable situation for all user groups. We added a new boat this year that was specifically designed for the types of recreation we provide our customers. The river navigated on this trip doesn't allow for large barge type passenger boats which ends up creating a dynamic, more personal experience for our customers with maximum seating capacity of 18 passengers. Last summer we worked side by side with the Oregon State Marine Board, Jackson County Marine Deputies, the US. Coast Guard, and independent surveyors, to create the specialized boats that navigate this section of river.
Rogue Jet Boat Adventures is now going into it's 7th year. What are some of the key factors you see that contribute in making your trips such a memorable experience?
What our customers enjoy about our tours is the intimacy we provide. Your captain does all the narrative next to you without a loudspeaker, and by the end of the trip you feel like your fellow Rogue Jetters are all new friends. Since we take smaller groups, we can also be flexible with the experience. We are able to control how wet our passengers want to get and don't normally allow walls of water to come aboard. We've intentionally designed the boat to provide a unique way to stay cooled off, both onboard, and utilizing the river water as a controlled spray off the front of the boat. This allows us to control the amount of wetness customers experience. Keeping our customers cooled off during the trip and sending them back to their car in a comfortable way has gone over well.

Our short tour layover at the Rogue Discovery Park under Lower Table Rock is also a very exciting way to experience the trip. Our customer can look for our signature arrowheads we throw out for them to find,  are now able to fish on our private 40 acre lake, and take a look at our full interpretive panel section that helps tie in the trip offerings! It's been really fun to see so many kids catch their first fish on our river trips. We've tried very hard to create something for everyone and think we succeeded at that for sure.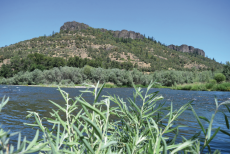 Rogue Jet Boat Adventures is suitable for all ages?
Yes they are! The boat loading process has been embraced. Unlike other loading processes we've decided to load off the front of the boat with railing and stairs down into the boat. Its comfortable, safe, and easier on all types and abilities and disabilities. Touvelle State Park has been great to work with during our company's growth and this year opened up a special loading and unloading section of parking just above our boarding area to accommodate everyone's needs. Big thanks to the State Parks!
You guys are always receiving great customer feedback. Please share some recent comments with us.
"Great adventure! Learned a lot of history right outside our backdoor that I didn't know and I've lived here my whole life. We will definitely go again! The captain was funny and entertaining, and we really enjoyed the scenery. I cannot recommend them enough."

Today we had an awesome trip. The owners are super friendly. We also learned some very interesting history facts that we did not know. Best part of the trip was during our break at Discovery park, my son caught his 1st fish. Thanks for the great memories. We will be back for sure. – Levi Gadbois

Rogue Jet Boat is the best!! On behalf of the Pear Blossom Festival Board, we want to congratulate them on being chosen Grand Marshal of the 2016 Pear Blossom Parade! Taylor and Emily bring a unique experience to our valley, increasing tourism and awareness of the Rogue Valley, and the river that runs right out our back door! Their tours are phenomenal and their knowledge of the valley and history is incredible! We recommend this trip to everyone! What a fantastic business, with wonderful people!! If you haven't booked your trip, do it now! Best experience ever! – Darcey Mann-Self, Pear Blossom President

I had such a great time today. Taylor and Emily are the best ever. I love the pace and diversity of the trip. Right number of people on the boat…good goodies and I learned so much. And I found two PLANTED arrowheads…..made my day. Go – take the trip…have fun. Reasonable price and lovely people. I will go again. – Carole Mercer
Taylor, can you give us an overview of what an average tour looks like?
You bet! Our tour departs Touvelle State Park and heads up river to Rattle Snake Rapids which is a natural navigation barrier and a great place to be parked under. On that stretch of the river we expose people to the history and locations of the, the Lupton massacre (which started the Rogue Indian War and lead to the legal formation of our state.), Camp White training locations, Teddy Roosevelt's layover, the Ginger Rodger's/ Clark Gable retreat, and now the addition of Jim Belushi's "Rogue Lair" as outlined in the TV special program called Building Belushi. Not to mention a great example of what the indigenous peoples lived in (pine plank house).

Heading down river is all about experiencing the Lower Table rock area. We have the Peace Treaty signing location of 1853, Oregon's Trail of Tears, Fort Lane, and the old Gold Ray dam site. In-between these experiences we have a 15 minute layover/bathroom break at our private river Discovery Park under Lower Table Rock, where customers can look for souvenirs, fish on our private lake, and or discover more in our interpretive panel section.
Are there any last thoughts or comments to share with our readers?
At Rogue Jet Boat Adventures we have tried to separate ourselves from a  traditional jet boat excursion that many are familiar withand instead offer an experience that is incredibly meaningful, stimulates area awareness, and provides unforgettable memories for all ages and interests. There is something for everyone at Rogue Jet Boat Adventures. Lots of laughs, hugs, and wonderful memories are just minutes away and we encourage everyone to find out what's in their backyard.
Comments