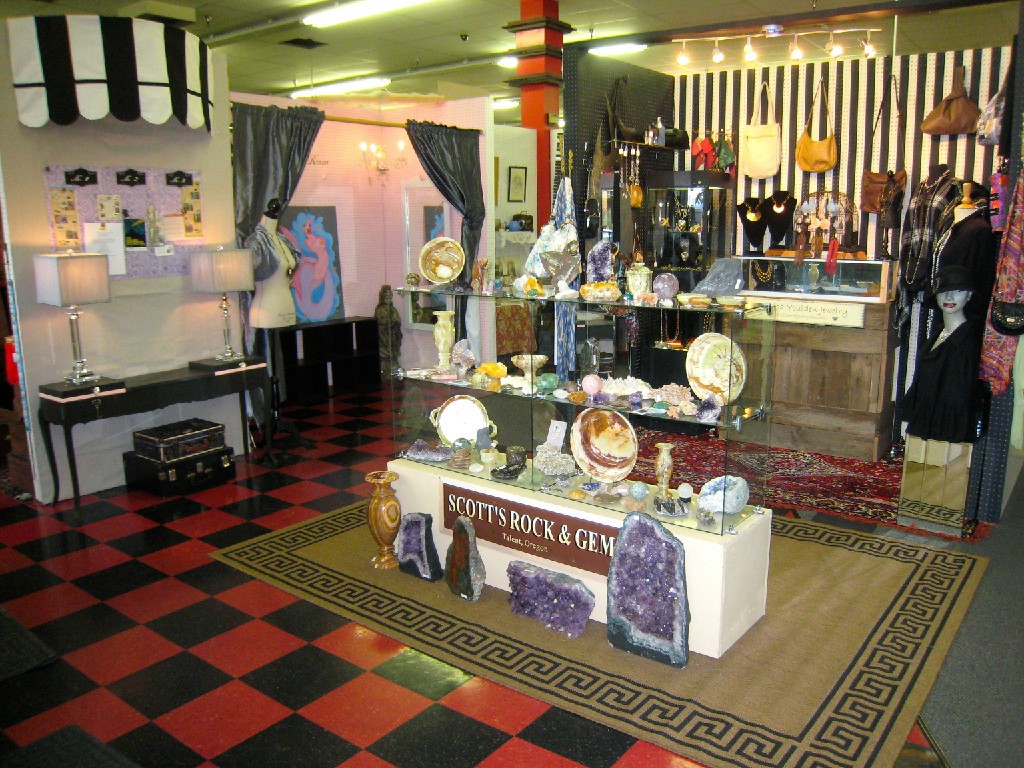 Wandering off-trail in Oregon's Siskiyou Mountains, owner Scott Blair began finding beautiful gemstones. Unknown to him at that time, he had also begun a business that would allow he and his wife Meesha to share a heartfelt connection with the natural world.
Today Scott's Rock & Gem displays an abundance of world-wide, aesthetic crystals and minerals at several locations in the Rogue Valley, and at gem shows all along the West Coast. To view collections locally, visit the Ashland Artisan Emporium, or Awestruck Collectibles in the Rogue Valley Mall. You can also shop online at scottsrocks.com, where you will find a savory selection of Scott's choice picks, as well as an online show schedule. Scott's seasonal gem and mineral shows are located as far north as Seattle and south as Los Angeles. Additionally at scottsrocks.com you can find online wholesale pricing for businesses, or read about gem hunting adventures in Scott's blog. You are welcome to visit Scott and Meesha's home by appointment for the widest selection and some face to face conversation. Call or text 541 621-2558. You can also email Scott at scottsrocks@scottsrocks.com.
During the last weekend of August, Scott's Rock & Gem hosts the annual Ashland Rocks! Gem and Mineral Show, held at the Wesley Hall, in the First United Methodist Church, at the corner of Laurel and Main Street, in Ashland. Featured is a select group of extraordinary dealers, displaying everything from fine minerals and gemstones, to incredible fossils, fabulous hand crafted jewelry, and exotic natural stone beads. On the Monday after the show, Scott leads a free fossil hunt to a local Oligocene age ash flow, where abundant leaf fossils can be found. It's a fun filled weekend for novices, families, and more advanced collectors alike.
Whether you are looking for unique home décor, garden accents, or a timeless gift, Scott and Meesha are confident you will find it in the Scott's Rock & Gem collection. Scott really does love rocks, and the essence of his philosophy is this: When you take a beautiful stone and pass it on, that goodness and beauty spreads out and keeps going. In the right moments, it could touch hearts, ease difficulty, and remind us of the world we are intimately related to. Many people could awaken from this. Ages from now, those stones we loved will still be moving through people's hands, giving people purpose, kindling desires, perhaps even changing lives. Nobody knows where this will end or how far it could go. It's something we can do to touch people's lives in the future, in a positive way.
http://ashland.oregon.localsguide.com/wp-content/uploads/2013/05/41887f1a60605a8e7dd24c6c8fc4f7df.jpg
768
1024
Ashland Artisan Emporium
http://ashland.oregon.localsguide.com/wp-content/uploads/2018/05/logo-1-300x76.png
Ashland Artisan Emporium
2017-01-26 15:08:48
2017-01-26 15:08:48
Scott's Rock & Gem