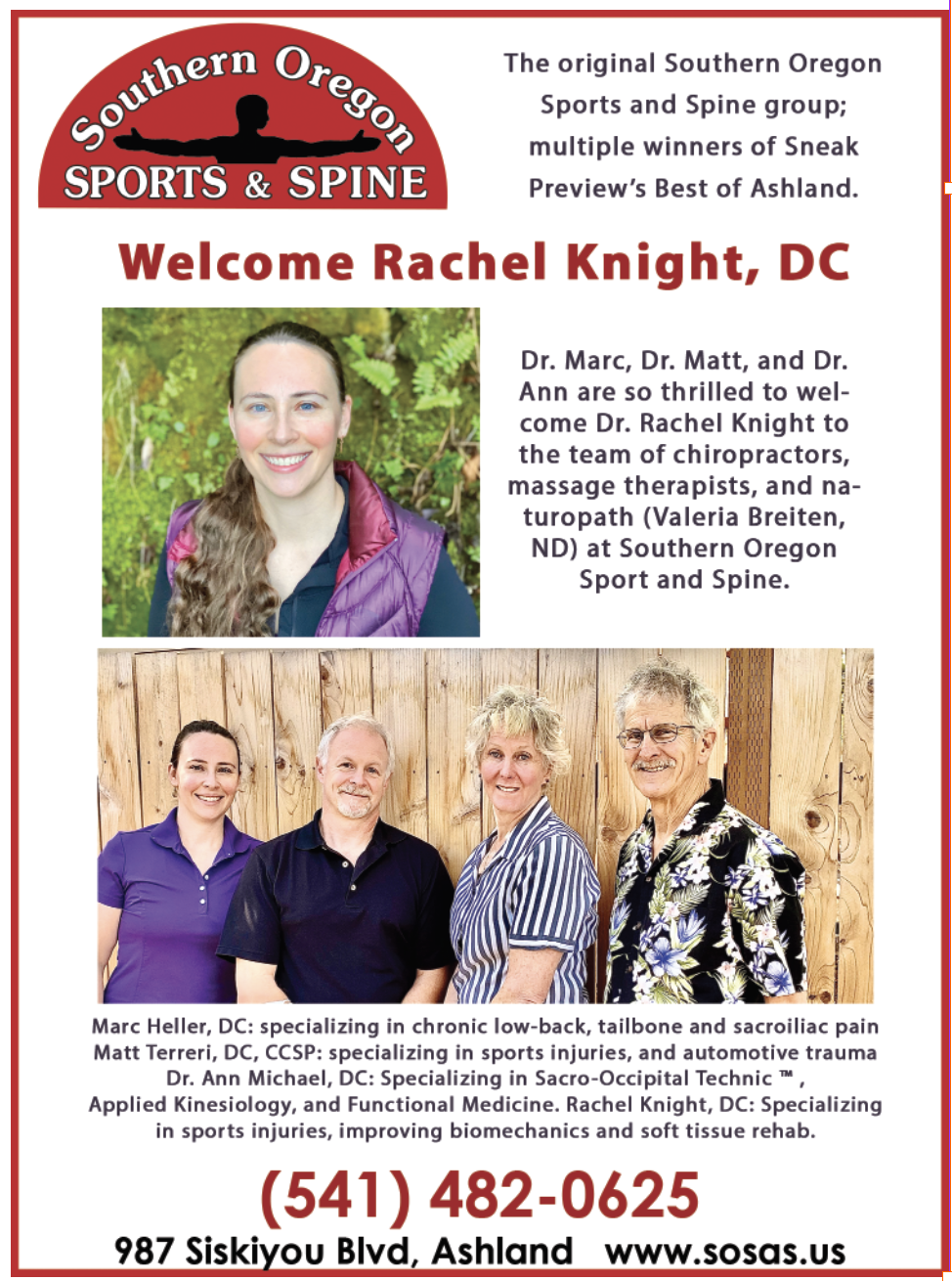 As you may recall, Southern Oregon Sports & Spine is the first chiropractic office in Oregon to offer the most advanced soft tissue healing modality available using sound waves.
In fact, our office initiated the application for board approval of this modality.
This is an advanced evidence-based treatment approved by the FDA for patients suffering from acute or chronic musculoskeletal injuries.
It has been clinically proven to be as effective or more effective treating pain than other treatment methods such as surgery or pharmaceuticals!
We are happy to announce that the newest addition of our team, Dr. Rachel Knight not only has hundreds of hours of experience with this technology, but she brings an additional pulsewave machine to the office which expands our treatment capability.
The soundwaves that these machines produce sometimes go by different names such as pulsewave, shockwave, acoustic compression wave, EPAT and piezowave. All these terms are basically the same (for those of you who wish to Google it). This high-tech machine works by emitting a high-energy pulsed sound wave that travels deep through your injured muscles, tendons, ligaments and bones.
When the damaged cells encounter the soundwave, it starts a biological cascade that re-starts first stage healing, and shuts down pain fibers.
It uses your body's existing natural healing agents such as red blood cells, growth factors and stem cells to do the healing. Unlike prolo or stem cell therapy, there are no injections. There is no downtime to you, and treatment is done in short visits at the office.
Now with the addition of Rachel, we have another expert and two different machines. One machine covers larger areas (the radial machine) and one covers very exact spots (the focused machine).
So, what does all this mean to you?
It means we have the ability to treat even the toughest cases of Plantar Fascitiis/osis, back and neck pain, foot/heel and ankle pain, Achilles tendinopathies, knee pain, scar tissue, tendon, hamstring, wrist, hand and shoulder pain (including calcific tendinitis).
Sometimes an injury is so chronic or deep that using hands and exercises is just not enough, and that is where these machines can really do the job. They have the ability to penetrate deep into your body's structures to affect changes at a cellular level.
Young or old, if you play sports, hike, do yoga, swim, bike, walk or just like to stay generally active, you have probably experienced some type of difficult pain at one time or another. If you have shoulder, hand, elbow, knee, foot, ankle, back or neck pain that is giving you trouble give us a call and see if Pulsewave is a viable option for you!
Matt Terreri, DC, CCSP is the chiropractor for the SOU Raiders. He is also a volunteer medical provider for the U.S. Olympics. 
Southern Oregon Sports & Spine provides cutting edge healing technologies. They can be reached at (541) 482-0625.