Interviews
There's a new way to do High School. It's called Early College! – Jump Education with Tom Pike and Megan Danforth
Introducing Jump Education, an educational consulting service founded by Tom Pike and Megan Danforth. Jump Education helps teens and their parents to understand the benefits of Early College and how to best access this path. In Early College, teens take classes at Community College rather than at high school and these classes are double-counted for both high school and college credit. This means that Early College teens can earn a year or two of FREE college credit while also earning their high school diploma. And, these students can continue to play sports and attend social activities at their high school if they choose. Wow… is that really possible? YES… read on.
Did you know that most teens attending Early College report that their motivation and sense of purpose skyrocket once they customize their educational paths? Attending Community College rather than traditional high school offers more classes and scheduling flexibility than teens are accustomed to. Some students choose to schedule classes that start mid-morning so they can sleep in and get the rest that research shows growing adolescents need. Many Early College teens also find their classes more purposeful since they are actually in college working towards a degree. This increased sense of purpose and independence often leads to dramatically increased motivation. Rather than just jumping through hoops to finish high school, they are excited to make meaningful progress in their lives. Does this sound like something you and your teen might be interested in?
In today's interview, I speak with Tom Pike and Megan Danforth about their own experience of enrolling their son in Early College and the formation of their new consultancy Jump Education.
Hi Megan and Tom, welcome and thank you for taking the time to talk to me today about Jump Education and your experiences with early college.
Thank you, Shields. We are excited to share the many benefits of the Early College path with everyone. 
To begin with, will you please tell us about your own story of enrolling your son Orion in Early College?
Absolutely. As a counselor and faculty member at Rogue Community College for the past 13 years, I have seen an exponential increase in high-school-aged teens in my classes and office. These teens often expressed a clear preference for their new customized path to completing high school by taking classes at Community College instead. Our son, Orion, had been doing relatively well at Ashland Middle School but he didn't like sitting in class for 35 hours a week and then having a bunch of homework to do at night (who does?!). Also getting up too early for his biological clock exhausted him. When we told him that in Early College he would only be in class for 12 hours a week and would have less irrelevant busywork than in high school, he was open to giving it a try. Orion wanted to lead a more balanced life, with free time and energy to play clarinet and piano, build things in our wood shop, and get a part-time job. He also realized how distracting the standard classroom environment was for him in middle school and thought he would appreciate the mixed-age classrooms of Community College better.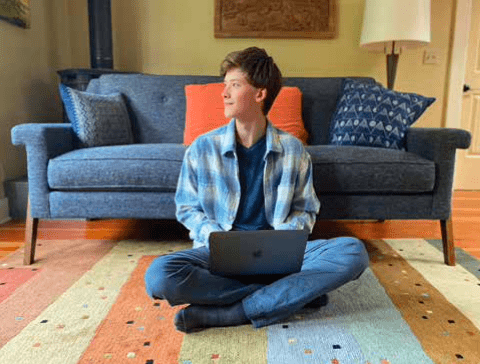 How is Orion doing now and how have things come to be after having made this decision?
Orion has thrived during the last three years of Early College. It's a remarkable difference and a significant contrast to most teen's experience of school, especially during the Covid pandemic. In middle school, he struggled to stay organized and found most of the work uninspiring. His grades reflected this. Once we empowered him to choose his own classes while also lessening the load, he began to show a genuine interest in learning and discovering his interests. He really enjoys the academic environment of a mixed-age classroom, and finds it significantly less stressful than high school. Orion has more free time to explore his passions too, such as playing clarinet and piano, and can pursue paid work that he enjoys. 
All of this is a part of his life, and he is not overscheduled. 
Orion just completed his last term at RCC and is a member of the Phi Beta Kappa honor society. He has been accepted into the Music Performance program at SOU for this spring term. By the time his same-age peers are graduating from Ashland High School, he will have close to three years of college completed, most of it for free! The best part is that he is extremely satisfied with his customized path to education and is one of the happiest and most well-adjusted teens we know. We credit a lot of his success to the balanced life that has been a result of doing Early College. 
Megan, when your family was considering making this decision what were some of your biggest fears and concerns regarding this transition?
My fears and concerns really reflected the standard ones we encounter in our conversations with parents. The most primary fear is that we will make a decision on behalf of our teen that will prevent their future success. Because of this fundamental fear, most of us follow along with what every other parent is doing, and what we did, and what we've been told is a nonnegotiable requirement for success in life; traditional high school. 
I was raised in a traditional academic family so I wrestled with encouraging our son to try something new. Tom and I had countless conversations during Orion's 8th grade year, discussing every possible benefit and risk in pursuing Early College, so I understand the internal obstacles that parents face when considering a new way for their teen to do high school. It became clear to Tom and I that the risks of attending standard high school outweighed those involved in attempting Early College; we felt that the likely outcome of high school for Orion would be deepening disengagement and overwhelm which would negatively impact his sense of self and academic results. Mental health factors are far more important to a life well-lived than grinding through the current academic and social environments of high school that aren't working for most teens. So we took the leap and are immeasurably grateful that we did. 
Tom, you have had a background in both mental health and education for many years now. What are the challenges students are having with high school and why?
A huge challenge facing high schools is that most of the teens don't want to be there. Prior to Covid, a Gallup poll of 5 million students nationwide found that only about one-third of teens are actually engaged in high school. Since Covid, the numbers are even worse. Attending a school where the majority of teens don't want to be there is not a recipe for success. In contrast, nearly all students in Community College want to be there and are invested in their success.
Another challenge traditional high school students face is the unrelenting teen drama and social pressure to fit in. A socially-stressed brain is not in the relaxed state for optimum learning. Most teens feel significant relief once they attend Early College because the teen drama they experienced in high school does not exist any longer. These students typically find the mixed-age environment of Community College a better academic and social environment. It doesn't take long for their grades and overall happiness to reflect these major improvements. 
Some teens are doing well academically in high school but feel lots of pressure to be super-achievers in order to get into a great college. They take all the AP courses they can get their hands on, play sports, are active in student government, volunteer, and earn high grades… and yet they still don't get into their colleges of choice. Why is that? Because it's really difficult to set yourself apart from all of the other super-achievers in high school. However, some of the Early College students I've worked with report that their customized path to education is exactly what made them stand out and get into their elite college of choice. 
Another challenge facing teens in high school is that many find classes boring or irrelevant and they just check out and don't do the work. Some teens that are underachieving in high school end up thriving in Early College because they choose classes that they find interesting and at a preferable time of day. 
To know these classes are directly contributing to earning a college degree results in a greater sense of purpose and motivation.
Teens who are interested in careers in the trades or allied health professions can feel like they are just jumping through hoops to finish high school so they can begin making progress towards their career. Rather than waiting until they complete high school to begin their professional training to enter these careers, in Early College they can begin working on certificates or degrees in Community College that can land them jobs much faster than if they had stayed on the traditional high school path.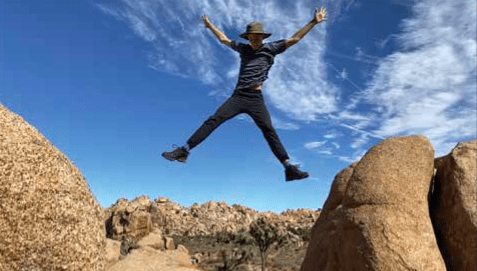 In each of your experiences, what are the biggest myths and or fears that both teens and parents hold about the topic of early college?
Tom: First, that you need a diploma or GED to attend community college. No, you don't. Second, most teens aren't smart enough to succeed in Early College. Not true at all. Third, if I pull my teen out of traditional high school and send them to community college, they won't get into a good university. Actually, I argue the opposite is true; universities are looking for self-motivated, engaged learners who are actively pursuing their passions. I've spoken with a lot of University Admissions Departments and they are very interested in applicants who have attended Early College.
Megan: The myth that I want to address is that teens' social needs won't be met in Early College and that the socialization of high school is a critical component of maturation. It's just remarkable how often parents make reference to this aspect of the high school experience as central to their teen's maturation when upon further reflection these parents reveal their own negative experiences of the high school social scene, many of which involved significant trauma such as bullying. 
As adults, we recognize that the ruthless landscape of finding belonging in adolescence often involves enduring a lot of mean behavior, learning to hide one's 'true self,' and being fearful of ostracization from a group of friends. All of this is compounded by social media, an influence that most parents never had to endure during their teen years but now contributes to epidemic levels of teen anxiety and depression. 
I would argue that it is far healthier to socialize your child in a way that reflects the broader world, becoming comfortable with having conversations with people of all ages, and learning to appreciate people who are different than you. Why do we think it's required that teens spend all their time with teens? This method of socialization, I believe, does not encourage the grounded self-confidence we hope for in our children nor does it build the communication skills necessary to engage in authentic relationships with people from all walks of life. 
Now that you have started Jump Education, how are you helping teenagers and parents?
We have a 30-Minute Free Webinar to introduce people to what Early College is and how it works. We also offer 1:1 Consultations so we can meet with families and their teens to help them understand the benefits of Early College and decide if this path is right for them. If it is the right choice, we can help families find the best way to access Early College. We can be with you every step of the way!
What are the best things that can happen with early college?
Some teens go from feeling completely anxious, depressed and unmotivated in traditional high school settings to feeling happy, confident, and motivated to succeed in the Early College setting; it can be that dramatic! Less dramatic but equally significant is the experience of countless teens who were doing "OK" in traditional high school, but were not that engaged. 
These students have been so grateful they took the leap into Early College. They feel more independence and pride in taking ownership of their education, designing it to reflect their unique needs and interests. 
Talk about the actual savings that can occur with the enrollment in Early College?
The average cost of attendance to the most affordable, in-state universities nationwide is about $25,000 a year. That includes tuition, room, and board. So, for every year of college classes that an Early College teen completes they will save about $25,000 off of their future expenses for higher education. For teens that complete an Associate Degree simultaneously with their high school diploma, that equates to about a $50,000 savings!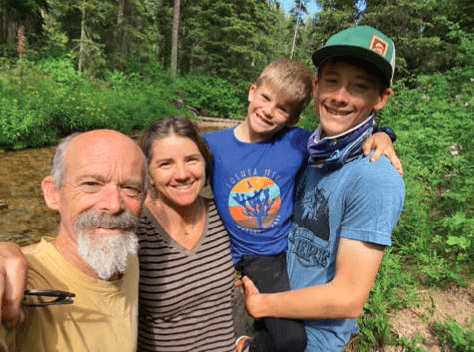 What is the most important message you need parents to hear about the opportunity of Early College?
If your teen is just surviving, not thriving, in the traditional high school setting, check out our website. Sign up for our free webinar, and schedule a 1:1 Consultation. We know that many teens are struggling in high school and are disillusioned with it all. 
Early College can provide teens with improved academic and social environments, as well as more free time for self-discovery. We'd love to talk to you about how Early College can improve your teens' life. Although this customized path is foreign to most people, it only takes me about 30 minutes to explain how it all works, and answer questions specific to your unique circumstance. At the end of your consultation, you will have a clear understanding of the process and a list of next steps. We have helped so many teens succeed on the Early College path. Let us help you!
Thank you so much for doing this interview with us today about this important topic. Do you have any closing thoughts or comments you would like to share with our readers? 
Thank you, Shields, for the opportunity to discuss this extremely important topic with your readers. We are passionate about improving the lives of teens, and so many are struggling right now. We look forward to connecting with families who are interested in this new way to do high school. 
Learn More:
Jump Education
www.jumpeducation.com