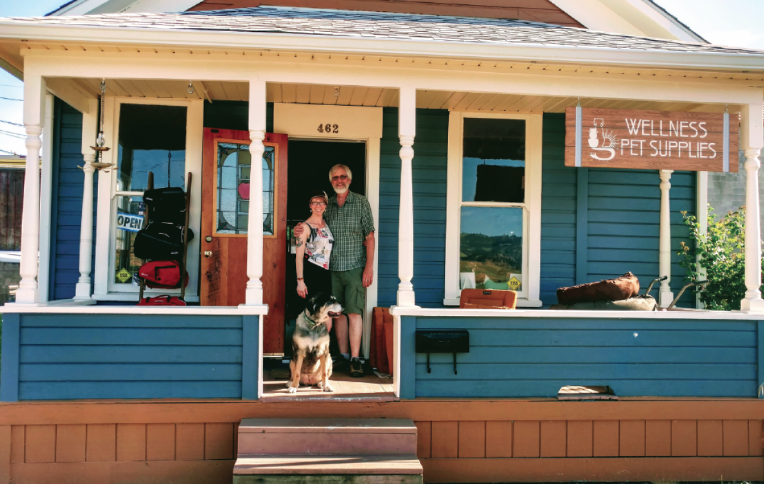 First Friday
Join us on November 3rd for 1st Friday's Art Walk from 5pm to 8pm. We are hosting Ommy, a local artist. 
Nail Clip Day
We teamed up with Land of Paws for an inexpensive nail clipping day on the first Sunday of every month from 11 am to 1 pm for $7. The next nail clinic is on November 5th. There was an error on the date for October which we are very sorry for any inconvenience that may have caused.
Neutricks for Cats/Dogs
An exciting new approach to healthy brain aging for the senior pet.
Based on the success of the protein "apoaequorin" (originally discovered in jellyfish) in canine trials, Neutricks developed two new supplements to support your pet's cognitive health with a unique approach for both dogs and cats. Neutricks for Dogs has been formulated as a tasty chewable tablet that dogs love. Neutricks for Cats is available in a great tasting fish flavored sprinkle.
Our dog Lola at age thirteen developed worsening cognitive dysfunction and after one month on Neutricks, her behaviors improved dramatically! Wellness Pet Supplies is proud to recommend Neutricks.
About Neutricks
Neutricks is focused on the discovery and development of novel supplements to provide support during age-related changes in memory, cognitive performance and related issues of aging pets. Neutricks is backed by research that shows it helps support brain cell health.
Just like people, animals can experience mild memory problems associated with aging. A pet that seems strangely distant, confused, or disoriented, may be a candidate. More than 28 million pets (dogs and cats) in the U.S. have canine mild memory issues. Independent research and veterinarian testimonials have reported that Neutricks® has positive benefits on animals with mild memory issues.
Better primary medical care has led to longer-lived dogs and cats, and a subsequent increase in the prevalence of senior mild memory issues. In a study at the University of California-Davis, 62% of 11- to 16-year-old dogs showed signs in at least one category of memory impairment. In a survey of pet owners, nearly half of dogs age 8 and older showed at least one sign associated with mild memory problems. The Veterinary Journal published a recent study of pets seen by veterinarians in whom they estimated that 14.2 percent of older pets presented with mild memory problems yet only 1.9% were addressing the problems.
Neutricks® can help you cat or dog age more gracefully.