Interviews
Ashland Artisan Emporium 7th Annual Anniversary Party and Storewide Sale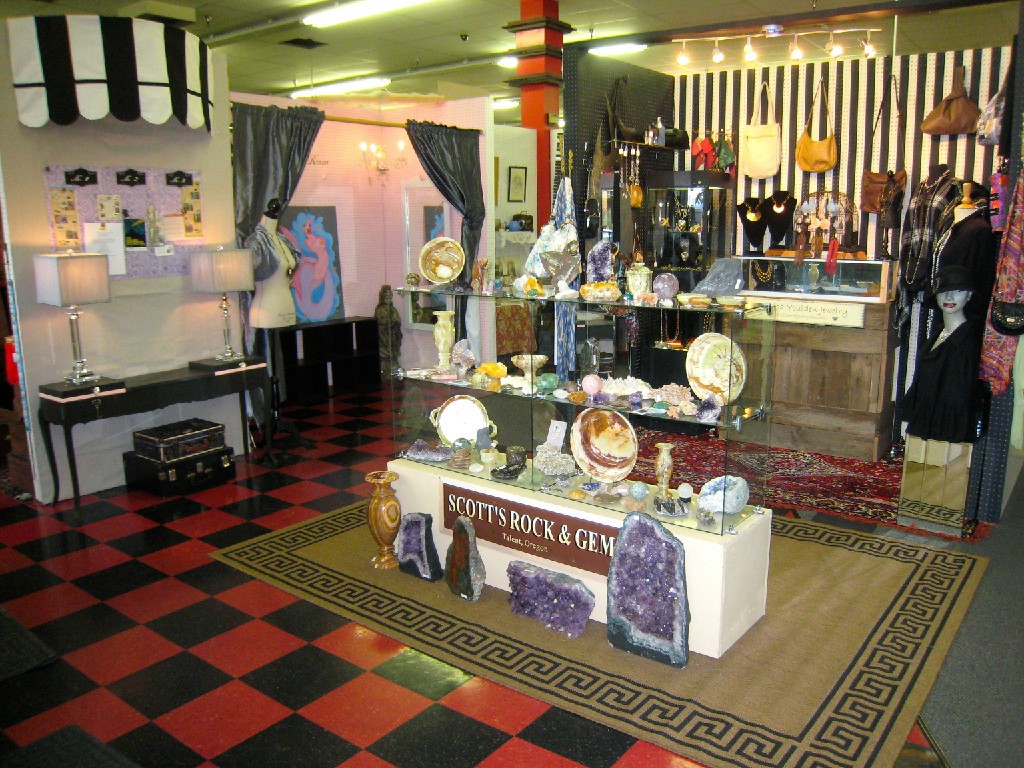 You are cordially invited to Ashland Artisan Emporium's 7th annual anniversary party and storewide sale on November 18th, 2017. Help them celebrate their 7th year in business with 15% off everything in the store, one day only! This is arguably their most fun and favorite event of the entire year. The Emporium plays host to over 160 unique and local vendors. In today's interview I speak with Michelle Christian about her vision for building a community of local artisans that is both supportive and inspiring for everyone.
Michelle, thanks so much for being here today and congratulations on the success and growth of the Ashland Artisan Emporium.
Thank you Shields! It's always fun to talk to you and I am so excited to have reached our 7 year mark in business. To me, this has truly been a labor of love and the growth we have experienced over this span of time has been life-changing and so inspirational. I am so grateful to this community for making this work!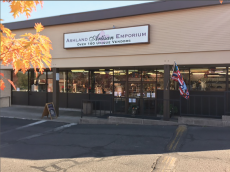 Michelle, please describe the Ashland Artisan Emporium to us in your own words.
This place has become much more than I ever expected it to be. Seven years ago we opened on a wing and a prayer and soon after opening, my father passed away, making the journey that much more difficult. Today we have grown into a collective community of local artisans, collectors, and just genuinely lovely and talented people that want a professional place to sell their wares. There are two parts to the Emporium, the selling side and the shopping side – which are symbiotic. Along the way, we have been able to streamline our processes, making it easy for people to shop and sell. There are so many vendors selling so many varied items that you honestly can find something new every day. There are many "craft malls" in the United States, but each one is unique. We pride ourselves on hosting the finest vendors and always being clean and organized, professional and friendly. Ashland is so full of creative talent that all we really have to do is create a platform and they do the rest. What you see in our store represents your friends and neighbors, and the love and passion they have for what they bring here. It's so exciting to see the daily changes!
You also offer consignment for furniture. How does that process work?
This aspect of the business has really taken off over the past few years. In the beginning we were just going to leave some open space in the back, but people kept asking us to sell furniture for them. So, it just grew organically from there. We accept any great furniture that is clean and in good condition. We ask people to send us pictures of the pieces that they want to sell, and if it is approved, and if we have room, we will take in any piece for 90 days. When it sells, we keep only a 25% commission which is the lowest commission rate of anywhere I know. We do work with the customer on pricing, so it keeps the prices realistic for everyone. If you have something to sell, just email us a picture! Ashlandartisanemporium@gmail.com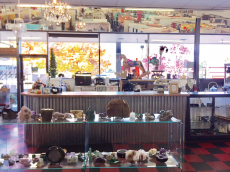 You guys really seem to have created an inspired and unified community. How have you gone about achieving this?
We owe that all to the wonderful people that are involved with the Emporium! Community has always been the most important part of our vision. My father saw a need for something like this, and he just had a feeling it would be well received by the community. He's the real reason this is here to begin with. I was given an opportunity, which could've died along with him, but it was the support and encouragement of the community that wouldn't let that happen. I have such a feeling of tremendous gratitude towards my vendors and employees for that. I want everyone to feel welcome and appreciated, this includes vendors, shoppers and employees. To create a functional and successful business, we also need to be streamlined, organized, cohesive and easy to communicate with.  My staff   is instrumental in helping me implement policies and procedures that make this place what it is. This has been the biggest change over the 7 year period, learning what works and what doesn't. I must especially give my manager, Anna, the glory in making the Emporium work as well as it does. She has figured out ways to take an idea or a goal, and make it function. There are many ins and outs of managing over 160 vendors and keeping on the same page. She's been able to take us to the next level. There is always room for growth and improvement, and being open to change is so important.
Michelle, in what direction do you to see things moving for the Emporium?
Well, I just see things getting better every day! We keep choosing amazing vendors – and that is really what makes the Emporium so varied and fun. Over the years we have managed to always maintain full capacity with a waiting list. The waiting list isn't really a "waiting list" anymore, because we are now only picking those special people that are willing to commit to maintaining a great booth. If someone wants to be a vendor they now must "apply" with a short application process which includes showing us pictures of inventory and display ideas. Gone are the days when we could take on everyone that wanted to vend, we are striving to maintain a level of quality that the public can see and appreciate each time they come in! So, yes, it is harder to get a booth now, and that was a hard change to make – but it is only in the best interest of the vendors spending money each month on rent. We want everyone to be as successful as possible, and that means weeding out some of the clutter that doesn't necessarily lend itself to a high quality shopping experience for our community.
Many of your vendors have now been with you for many years. What's kept them there?
Well, it takes a special person with an eye for style and a passion for their projects to keep up the level of excellence that we have been able to expect. It also takes relationships, based on respect and kindness. We have made friendships here, our priority never has been to "make a lot of money" – it's always been about the people and the experience, allowing each other to create and have fun. Making money is a byproduct of that. We truly care about the vendor experience. We try to be as accommodating as possible, so everyone is able to create and be successful! I really do enjoy coming to work every day and meeting new people and conversing with vendors that have been here, short term or long term. I have made close friends and relationships with the people here. I always try to lead with kindness and I strive to be as friendly and open as possible to everyone that comes through the door. This attitude comes from a place of gratitude in my heart. I realize I am lucky to be doing this, and it's all because of those amazing customers and vendors that keep coming back.
In addition to the high quality products you carry, what are other areas do you place special attention to cultivating every day?
Kindness! Like Ellen DeGeneres says, be kind to one another. It's pivotal in all things, especially business. People can walk through our doors in a bad mood and it's our goal to change their attitude for the day. Life is too short, and there are too many bad things going on in the world to drag around a bad attitude! We must hold each other up, it's our human duty to be kind and understanding. We are all just doing our best every day, and everyone is fighting some sort of battle. My greatest joy comes when someone tells me that they were able to walk the aisles and forget about their worries for an hour. I have vendors going through major health issues, and they can come here to work on their booth and feel "normal" for a minute. Honestly, that's what keeps me going every day. In the first few years, when I was naïve and young, and grieving for my dad, the only thing that kept me coming back every day where the people here, the comments of encouragement and praise – people thanking me for having a place to create and sell. It really has made it all worth it! I really only seeing us getting better and better each year. We have come a really long way and I am so proud of what we offer now.
Michelle, tell us more about the party and sale.
This is THE event of the year. Every year we celebrate having made it another year! We bring in live music, food and wine. We invite all the vendors and the whole community. It is a celebration of success, but also a way to say THANK YOU to the community and to our vendors for getting us this far. EVERYTHING is on sale, 15% OR MORE off every item for the day. This is the only day of the year that we do this and it's always our busiest day. People come to buy Christmas presents, which we love to see. Keeping shopping local for the holiday season is really important because it keeps your money local and working for your community. Shopping here supports your friends and neighbors. And generally, shopping here will get you items that have already had another life, so you can feel good about not adding to the deluge of newly manufactured items. That is really important to us. 

This year we have invited the Ed Dunsavage Trio back. They will be playing from 1 to 3 on November 18th. We will also be providing wine, cider, coffee, and all sorts of goodies for the community to enjoy. We look forward to this each year, especially as we roll into lucky number seven!
That sounds great Michelle. Lastly, is there anything else we should know about the Emporium and what's happening there?
I really want EVERYONE in Ashland to come check us out, if you haven't already! We are STILL getting people coming in for the first time that will say "Wow, I didn't know this was here!". The downtown shops are more visible to the people coming in for plays, so it's been a challenge getting those visitors uptown to the shopping center – but once they do, they are hooked! We see annual visitors coming back now. Stopping in is a must-do for anyone that wants to see what Ashland is all about. We truly are a community spot. We have free Wifi and comfy seating, AND tons of great parking. Oh, and always a kind word and a smile. We are open every day in the Ashland Shopping Center next to Dollar Store. Oh, but sorry, we don't have a public restroom! Love you guys and thanks for letting us be here! Don't forget to shop local this holiday season.
Learn More:
Ashland Artisan Emporium
1670 Ashland St., Ashland
541-708-0577
www.ashlandartisanemporium.com