Interviews
Rogue World Ensemble – Heads South with Ballet Folklorico!
Locals Guide talked with Val Rogers, Executive Director of Rogue World Music, and Victoria Snow Mountain, Founding Director of Ballet Folklorico, about their upcoming performance.
Val, you've been Rogue World Music's Executive Director for about a year now. How's it going?
Val: It's going great! We're continuing to widen the circle of collaboration with other arts and culture organizations. We had a great experience with Unity Drum and Dance for our Africa-themed concert last spring. And for our Southbound concert coming up on February 2nd & 4th, we're thrilled to be collaborating with Ballet Folklorico! With accompaniment by local SOU faculty "Duo Flamenco", which is Grant Ruiz on guitar and Terry Longshore on pe rcussion, this show will be a special treat.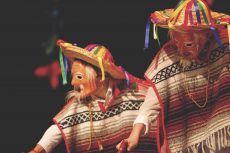 Wow! That does sound exciting! Tell me more about it. Why is it called Southbound?
Val: Well, it's wintertime and at this time of year I think a lot of us dream about taking a vacation somewhere to the south, somewhere warm and sunny. So, in this concert we're taking a virtual vacation through songs and dances from southern regions including the American South, the Caribbean, Mexico and South America! We'll warm folks up with sweet harmonies, perky rhythms, colorful costumes, and especially with the warmth, beauty, and expressiveness of the cultures of these regions.
What can folks expect to see and hear at this concert?
Val: A lot of fun stuff! We have a couple of entertaining blues numbers, one with body percussion, plus a couple of upbeat gospel tunes from the American South, an entertaining calypso song recorded by the Dicey Doh singers of the Bahamas, a song with lyrics by a famous Cuban poet and music by a Chilean band called La Muralla (The Wall) which we learned from the La Pena Chorus of Berkeley CA.  We have a song from Uruguay about everyone's hands coming together, one from Peru, and even a couple of songs from West Africa because, as we know, West African musical traditions are a huge influence on the music of this entire region.

But the centerpiece of the concert are the songs we are we are performing with Ballet Folklorico. These include a recently composed piece called "Cantare," which means "I Will Sing". It's so fun and easy, we're going to get the whole audience singing on this one and maybe dancing too! There's one from the Mexican state of Michoacan called "Cara de Pingo" that has a driving rhythm and lyrics in Purepecha, one of the regional indigenous languages.

There's also a couple that folks will recognize, including "La Bamba," and "La Llorona," made famous by Joan Baez.

Victoria: "Cara de Pingo" is a well-known song in Michoacan and the dance contains some of iconic cultural symbols of the region, such as butterflies. The Monarch Butterfly Biosphere Reserve is a World Heritage Site in Michoacan. So, the dance is a typical scene with little girls as butterflies and little boys dressed as old men with canes buzzing around on the stage, and everyone comes together at the end.

"La Bamba" of course is a world-famous song everyone will recognize. But I challenged the Rogue World Ensemble to sing this song in a more traditional style rather than in well-known rock 'n' roll style and they've done a fantastic job! Because of that, we can perform the traditional wedding dance that typically goes with "La Bamba" where the newlywed couple ties a ribbon into a bow with their feet. In Mexico, this song is part of a cultural tradition that leaves a lot of room for improvisation and for people to make up their own verses often humorous ones, and I think the choir is doing a great job capturing that feeling. It's going to be really fun!

And then "La Llorona" is a traditional song from the region of Oaxaca. It is translated as the "weeping woman" and the story is about a woman who lost her children basically due to poverty. It's more of a legend at this point, and not so much a literal story as a symbolic one. Our artistic director has choreographed a lovely dance for two women to this beautiful a cappella arrangement that the women of the Rogue World Ensemble will be singing. This is a really special piece for everyone.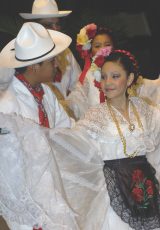 Sounds like you've got a lot to offer in this show. And there's a lot more for folks to enjoy at two related events that follow the concert, right?
Val: Yes! Because song and dance are two of the most powerful pathways to connect to another culture, we offer opportunities for participation for folks who want to explore more. We're doing a Community Choral Sing on Tuesday, February 6th where we will teach some songs from the Southbound concert. All the materials – lyrics, scores, and part-recordings will be available ahead of time on our website, rogueworldmusic.org, so folks can preview the songs beforehand if they wish. Because our mission is building community and cultural awareness, we want singing in harmony, singing in community, even singing in Spanish, to be more accessible for more people. And on Saturday, February 10th we have an international community folk dance event that features a couple of Mexican folk dances taught by Ballet Folklorico. These events invite folks to go beyond witnessing a performance to literally step into another culture, however briefly, through movement, language, and song.

We believe these activities are one way to widen the circle of belonging in our multicultural community.
How did your two organizations get connected?
Victoria: I've been a fan of the Rogue World Ensemble for many years I am also a choral singer in Women With Wings, so when Val called with the idea of collaborating on a concert I was immediately interested. I know the Ensemble works diligently to honor each culture that they represent in their musical programs. I thought the idea of choreographing and dancing to choral accompaniment sounded very intriguing, as well as challenging. While in a traditional setting, the dancing would typically be woven in with singing and instrumental playing, we mostly dance to recorded accompaniment here. So, the opportunity to be backed up by a full mixed voice choir plus instrumentalists is very exciting! Thanks to the resources Rogue World Music is bringing to this show, the dancers will get to experience even more of the community feeling that's at the heart of this tradition, and I think that's a pretty special gift Rogue World Music is giving us.
What's your take on this collaboration Val?
Val: I am inspired by how complimentary our missions are. Our mission is building community and cultural awareness through world music and dance, and Ballet Folklorico's mission is to empower youth through dance, and educate as cultural ambassadors in our diverse community. So, by collaborating, we're generating synergy that boosts both of our missions! We want to showcase, not only the beautiful artistic work of Ballet Folklorico, but also the community-building work they're doing through their school that trains young people and provides an opportunity for them to develop their cultural identity and their artistic expression.

I understand you collaborated on some fundraising for this project as well, right?

Val: Yes, we worked together on two grant proposals, one for the City of Ashland, and one for the Oregon Cultural Trust. I'm very pleased that we were awarded both of those grants in support of this project.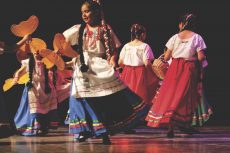 Congratulations! What do you think impressed the grantors about this project?
Val: I think the artistic collaboration and cultural bridge-building aspects appealed to the grantors.

Artistically, it's been quite a journey for the Rogue World Ensemble to master some of the stylistic aspects of this tradition, especially the songs that will accompany the dancers. We've really appreciated learning more about the stories and traditions associated with the songs.

And it's a real thrill to be learning to sing them with enough integrity and expression to inspire the dancers!

Victoria: It's a great collaboration. We perform in lots different settings, but we've rarely choreographed with a musical partner. It's given us an opportunity to expand our creativity.

Val: And with the high levels of friction and discord our country is suffering with right now, we could really use a little bridge building. This project is one tangible way we can intentionally create and share a positive celebration of harmony between groups. It's a small but important step we can take to increase familiarity and conviviality across cultures.

And, as usual, we will give folks a chance to move beyond just witnessing a performance and invite them to try a song or step with us and experience a taste of another culture directly.

Victoria: It's been an incredibly rewarding experience to witness so many youth develop pride in their traditions, confidence in their abilities, and discipline in their characters through Ballet Folklorico. And I think our work, as cultural ambassadors, will always be important. But it's time to pass the torch. We have a great board and a new Managing Director, so I'm confident in the future. I grateful for how this project has helped me stay in touch with creativity even as I close this founding chapter with Ballet Folklorico. It's a special project to end on and I hope everyone comes out to enjoy it with us!
And Val, where do you see Rogue World Music headed?
Val: I see us headed in the direction of more creative collaborations and expanding our performance, education, and participation programs to serve more of the Rogue Valley! As it happens, our longtime musical director, Shaun Garner, is also retiring from the Ensemble after this show. Shaun's musical leadership has set us on a course of artistic integrity that we intend to continue pursuing as we search for a new musical director. We hope everyone will come out and make this a great send-off concert to remember!
Learn More:
Rogue World Ensemble
2305-C Ashland Street, #421
Ashland, OR
www.rogueworldmusic.org
Val Rogers: (541) 206-3326
valrogers@rogueworldmusic.org