Interviews
Posh Organics – Skincare, Boutique, Spa
Posh Organics is an Organic Spa and Retail Store located in downtown Ashland that carries a variety of organic skin care cosmetics and hair products.  It is locally owned by mother and daughter team Jeanne Walcher, and daughter, Alicia Walcher Croft.  All products at Posh Organics are carefully selected for purity, potency and freshness.  Skin care products range from Eminence, John Masters, four mineral make-up lines including Jane Iredale, La Bella Donna, Gabriel and ZuZu, as well as nail polish from Karma Hues and much more.  Posh Organics is passionate about both health and beauty and have found that an actively organic approach to skin care is the most effective way to enhance your vital radiance.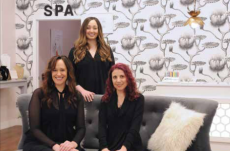 Hi Jeanne and Alicia, thanks for taking the time to speak with us today and congratulations on three years with Posh Organics in Ashland.
Thank you. And a huge thanks you to Ashland and our Southern Oregon Community for supporting our spa and retail store since we opened three years ago.   We have many long-time customers that schedule repeat or monthly facials and love to be educated on the newly released Eminence and skin care products.  We are truly thankful for their loyalty and are so happy to be in Ashland.
You describe Posh Organics as both a skin care boutique and spa.  Please tell us more about how you have structured the design of the store. 
The front retail part of the store was newly renovated three years ago when we first opened. This space has an open feeling with light colors, shelves and tables full of organic and local products. The store has great lighting, spacious displays and sofas to sit and relax.  Each product has a sample for you to try while you roam the store to see the newest in organics.  We have a makeup bar where our four makeup lines are displayed and applied by our trained estheticians.  The back section of the store is where we have the spa.  Both spa rooms are decorated in a relaxing motif and invite you to relax as you are treated to a facial with Eminence products made in Hungary.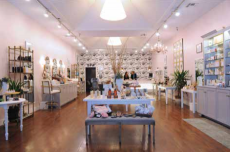 As an organic skin care retailer you are proud to be the largest Eminence retailer in Oregon.
Yes, Posh Organics is the only store in Oregon that carries the entire line of Eminence, which is quite a large inventory of products.  Because we are such a large retail store selling to both local customers and website customers (www.poshorganicsashland.com ), with quick turnover of products, we are able to guarantee the freshest Eminence products available.  When you buy Eminence at Posh, the products you are purchasing are only a few weeks old as we reorder weekly to restock our inventory. Our products are kept indoors at room temperature to guarantee that our organic products are the freshest.  We receive special attention as a large retailer with regular visits from the Eminence trainers and Cosmetic reps, keeping our staff educated and up-to-date with the newest information.  Our Eminence trained estheticians are always available to give advice during our store hours.  With website orders there is no sales tax or charge for postage!  We try our best to compete with large companies by offering a gift with purchase and always guaranteeing a fresh organic product from Eminence.  We can assure you that our Eminence products are fresh from the beautiful organic gardens of Hungary.
Those are some important points you are making.  On top of shopping local, I would love to talk about the experience and care that goes into all of your customer interactions.
Since Eminence has so many different products for all skin conditions, we encourage customers to ask questions and interact with our estheticians who are trained and knowledgeable about skin conditions.  Our staff loves to educate our clients about the most effective or newest ways to combat aging skin, sensitive skin, or even how to maintain healthy normal skin types. What's the best way to treat teenage or adult acne? How can I diminish the appearance and problems with my rosacea, or the red spots on my face or skin?  Estheticians will review what you have been using and recommend what you can do to help remedy your skin care concerns. We love the new way Eminence has labeled the ingredients on all their boxes. It's refreshing that you don't need a magnifying glass to see the ingredients.   All herbs are listed as well as the benefits you receive from them. There is no other product on the market that is so customer friendly!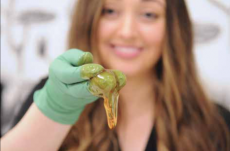 Let's talk about the spa side of Posh Organics.
Our estheticians have been working with Eminence for a combined 27 years and have dedicated many hours learning Hungarian facial massage and other muscle relaxation techniques.  They consider themselves "Eminence junkies" and are truly in love with the work that they do.  If you haven't had an Eminence facial, you are missing out! Lymphatic drainage, brow lifting, and toning and tightening are just some of the amazing benefits of our facials at Posh.  Included with our facial massage, you will enjoy arm, leg and foot treatments with the finishing touches of hot stones.

Full body treatment wraps are also offered by our estheticians.  These involve exfoliation, detoxification, stimulation and hydration of your entire body.  And yes, hot stones are also involved in this treatment!

Our spa also offers full body sugaring and waxing.  Although many people are familiar with waxing, more and more people are becoming interested in sugaring as a method of hair removal.  Sugaring is an ancient hair removal technique using a paste made from sugar, water and lemon.  The paste we use is completely organic.  Unlike regular waxing, the paste is laid on your skin against the direction of hair growth and then quickly removed causing less breakage and less chance for ingrown hairs.  Alicia is excited that she has just received her certification in Portland for full body sugaring
I did hear that you offer a side-by-side facial. Please say more.
The side-by-side facial is one of our most popular services at Posh.  We offer two facial beds in one treatment room, with two estheticians, of course.  Facial treatments are a very relaxing and fun experience when you share it with someone you love. So whether you are married or a couple, a parent with a child, two siblings, or just friends, come and enjoy this facial experience.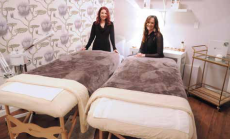 Jeanne, over the past 13 years you have been very involved in the community and love having the opportunity to share Posh Organics with the community at large.
It has always been important for me to support my local community and help in any way possible.  When we moved to Ashland in 2003, I joined the Ashland Kiwanis and quickly found myself immersed in the Ashland community and schools.  In 2008, I initiated the Ashland Monster Dash Run for Education along with Susan Bacon of the Ashland Schools Foundation and Ashland Kiwanis.  This past year the Monster Dash and Monster Ball made over $26,000 for teacher grants in the Ashland Schools.  In addition, over the last 10 years I have also been a very active Kiwanis advisor to the Key Club students at Ashland High School.  It's fun seeing the high school students get involved with community service and being part of what makes Ashland so great.

Having Posh has really allowed both Alicia and myself another outlet to become involved in the community in another way.  Because our community has supported us, we have been lucky enough to be able to work with about a dozen local charities a year. 
Alicia, over the course of the past three years of the launch of Posh, you have had your hands pretty full.  Many of our readers and your customers have met your son, Carter.  How is he doing?
Carter just turned one in November and he is so much fun with his laughter and smiles. He really has grown up at Posh.  As a baby, he spent many hours at the store in his pack and play, in his carrier, or being held by our customers when I needed an extra hand.  I think this has really contributed to his love for meeting new people and being social.  Now that he is walking, or should I say running, when he does come to the store, he loves to rearrange the inventory. I just love how much our customers stop by to see him or watch my newest video of him.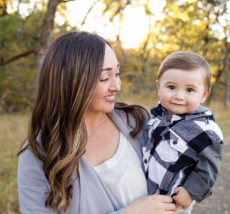 Tell us about your staff.
We consider ourselves incredibly lucky to have the team we have at Posh.  There is such a level of care and respect between everyone as we consider everyone family.

Besides being a truly educated esthetician, Diana is a local mom who has been working for this location for 8 years.  She has attended years worth of Eminence training with a background in massage therapy.

Danielle is also a local mom who came to us from Brookings, Oregon.  While in Brookings, Danielle had her own Eminence esthetics practice for many years.  She recently continued her education and became an advanced esthetician.

Penny who, you guessed it…is another local mom and has worked at this stores location for 7 years.  She is very passionate about overall health and is a Pilates Instructor in Ashland as well as an Eminence connoisseur.

Our staff would love to meet you! Come in to say hi and see what we are all about.  We always have testers and samples available for you to experience.
Learn More:
253 E Main St.
Ashland, OR
541-488-4418
poshorganicsashland.com/