Interviews
Ashland Colon Hydrotherapy, Celebrating 13 Years in Southern Oregon
Colon Hydrotherapy is a safe, gentle, and effective cleansing process that removes waste from the large intestines by introducing warm, filtered water into the colon through sanitary, single-use tubing. The three key actions for colon hydrotherapy are 1) hydrate the intestines by safely and comfortably deliver water to irrigate the colon, 2) activate peristalsis of the colon, 3) evacuate the contents of the large intestines. This process leaves most people feeling refreshed and revitalized. Best results are achieved by combining colon hydrotherapy with good nutrition, hydration, plenty of rest and exercise.
Ashland Colon Hydrotherapy provides a safe, compassionate, and professional environment with every session. Each client is pampered with essential oils and a tranquil environment to promote relaxation and enhance elimination. In today's interview we catch up with owner and I-ACT Certified Colon Hydrotherapist, Sarah West to learn more about the benefits of colon hydrotherapy.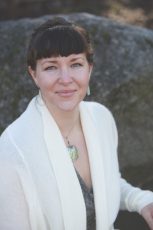 Hi Sarah, thanks and welcome back to Locals Guide.
Thank you for having me back. After my interview last year I received a great amount of interest in colon hydrotherapy. As a practitioner with over 13 years of service in this community, I have much to share about the advantages of colonic irrigation. I've since included new services here at Ashland Colon Hydrotherapy which I'm excited to share with the Local's Guide readers. In addition, I have expanded my clinic space to the beautiful Hidden Springs Wellness Center.
Please tell us about the new changes since our interview last year.
Last January, when I expanded my practice to the Hidden Springs Wellness Center, I employed another style of colon hydrotherapy called the Angel of Water Open System. This equipment implements a gravity-fed system of colonic irrigation. The Hidden Springs location also has other detoxing adjuncts such as the Far Infrared Sauna and Detox Steam Bath. I now have two locations here in Ashland. The North Main Office, which I've been operating since 2005, and at the Hidden Springs Wellness Center. Both locations have their own unique benefits.

Tell us more about what's offered at both locations.
At the Hidden Springs location, I offer a Detox Steam Bath and Far Infrared Sauna, and at the North Main location there is the Amethyst BioMat and Ionic Foot Bath to use as an enhancement to your cleansing experience.

The Detox Steam Bath, located at Hidden Springs, is a powerful detoxifying adjunct one can use with the Open System colon hydrotherapy session, or as a wonderful cleansing modality all on its own. The Detox Bath uses Sacred Clays from Crater Lake, plus Black Beauty Clay which combines Ocean Magnesium, Himalayan Salts, Humic & Fulvic Earth, Activated Charcoal, Vitallite, and Ormalite to induce deep detoxification through the skin. Epsom Salts and Dead Sea Salts are added to enhance relaxation. Each Bath also includes a myriad of Essential Oils to further assist in relaxation, anti-inflammation, and cleansing of the body to create an unparalleled detoxification experience. There's also the Far Infrared sauna available for use after the colonic or Steam Bath. Far infrared saunas have been widely used for their superior detoxifying effects, as well as relief of aches and pains, improved circulation, skin purification and deep relaxation.

At the North Main location, where the Hydro-San closed system unit is located, there's the Amethyst BioMat as well as the Ionic Foot Bath. The Amethyst BioMat, an FDA approved medical device, is filled with a million tiny amethyst crystals, emanating a rich heat to the muscles that produces an increase of circulation to the area of the body it's applied. It's included with every Closed System session, or you can use it on it's own for one hour sessions. The Ionic Foot Bath is a special modality I've used for myself, and clients, for over 12 years. It's a non-invasive way to bring balance and harmony to the body. Many clients have reported feeling energized and light immediately after the use of the Ionic Foot Bath, and have reported that symptoms such as aches, pains and seasonal allergies go away for several days or even weeks after.
Sarah, after the success of your interview last year was there any question in particular that you kept receiving?
The most frequent question I receive by far is the difference between the Open System and Closed System colonic units. Since 2005, I've worked with Hydro-San Closed System colonic equipment at the North Main office. Now that I have the Angel of Water Open System, many potential clients are curious about the differences between the units.

The Closed System uses a speculum, which has two tubes attached, one that delivers a gentle steam of purified water into the colon, and the other tube which carries waste out. The client lays in a comfortable position as the warm water is gently infused into the body. When they feel a strong urge to release, they relax as much as possible to allow the waste to be expelled easily into the tubing, passing through an illuminated screen so they may see what's coming out.  The Open System is a completely different experience. The client is in a reclining position as the purified water is gravity fed to the colon through a thin rectal tube. They hold the water as long as is comfortable, releasing into a basin below as needed, which then flows through an illuminated tube for the client's viewing.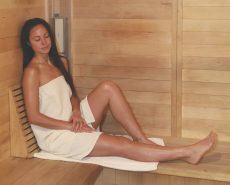 Is one unit better or more effective than the other?
No, both colonic units are equally as effective, it's just a matter of personal preference for each individual client. I encourage clients to call before their first colonic if they want to discuss in further detail about the two types of equipment. In my years of experience, I know to ask the questions that can help one decide which system may be more suited for them. Ultimately, it is their choice.

"The serene atmosphere and professionalism Sarah maintains makes this intimate service both relaxing and comfortable. The intake process is thorough and caring for newcomers like myself. I highly recommend Ashland Colon Hydrotherapy Center."- Maria, F., 46, Web Designer, Yoga Instructor
When you were introduced to colon hydrotherapy what did you first think of the idea?
I was VERY nervous about my first colonic. I didn't know what to expect being that it is an unusual modality and no one I knew had ever done it before. Now as an experienced hydrotherapist, I've seen roughly 1,500 clients over the years and I've never had one new client who wasn't nervous about their first colonic. In our culture, talking about the functions of how our bodies eliminate is a taboo subject in general. Many people have the idea a colonic is going to be a smelly, noisy, painful experience, however, most of my clientele are pleasantly surprised that the process is much easier and more comfortable than they initially anticipated. I explain to each client before their first session what they are to expect, as well discuss any questions or concerns they may have about the procedure. I understand that a person can feel vulnerable, so I take great care to listen and invite them to talk candidly about their bowels and overall health goals.

"My first visit to Ashland Colon Hydrotherapy was a pleasant surprise. I anticipated a somewhat embarrassing experience since this type of procedure can be awkward (especially for a male), but this was simply not so. Sarah West is a charming, gracious, and wholly professional practitioner who provided a gentle, relaxing and pleasurable experience. I immediately felt better after the colonic cleansing and the issues I tolerated for several months were gone – wow! I write this for those of you who are still deciding whether a colonic cleansing might be beneficial or if you are wondering if the procedure is worth the benefit. I strongly suggest you contact Ashland Colon Hydrotherapy and make an appointment as soon as possible. Why tolerate ill health and uncomfortable symptoms when relief is hours away? I highly recommend Sarah West and encourage you to place your emotional wellbeing and comfort in her care." -Bill, Shady Cove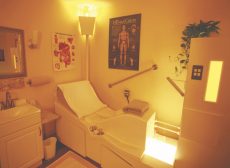 How are you working with your clients to create a thoughtful and safe environment?
I make each appointment a tranquil comfortable service where the person can feel at complete ease to relax, release and fully let go. I want every client to feel rejuvenated and thoroughly cleansed after their visit, so I give great attention to detail both to the individual and the environment of my office. As the colonic is in process, I hold space for what a client needs. Some love to chat and talk about life, and others like to ask questions about health, wellness and nutrition. There are also people who prefer to be in a meditative and quiet space for their own inward contemplation. I meet a person where they are, and I strive to be aware of what they need for support.
What are the goals of your clients?
Everyone has a different reason to get colon hydrotherapy, but the one goal everyone shares is to achieve vibrant health. I feel very blessed to live in a community like Ashland because many of my clients already know and believe in the benefits of colon irrigation before they set foot in my office. Many also know the benefits of regular cleansing of the body, and the most important place to begin in the cleansing journey is with the colon. I also have clients who are navigating serious health issues who use colon hydrotherapy as an adjunct to their wellness protocol.

I see people with constipation, Lyme's disease, GI issues, migraines, heavy metal poisoning, parasitic infections, chronic fatigue, insomnia, leaky gut, systemic candida infection, mold exposure, and other maladies. However, many clients have no health issues at all, nor are they on a cleansing protocol, but are wanting to change their diet and lifestyle. Others are letting go of a habit that no longer serves them. Colon hydrotherapy may also be used as a preparation for colonoscopies.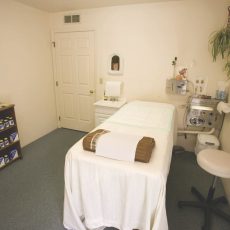 Colon hydrotherapy actually has a very long history in existence, please say more.
Many believe colon hydrotherapy is a recent invention, but it actually is an ancient modality, used for thousands of years by people of some of the greatest early civilizations in history. The first recording of colonic irrigation is in the Eber's Papyrus, an ancient Egyptian text dating back to the 14th century B.C. The 5th century B.C. Greek historian, Herodotus, stated that "The Egyptians, clear themselves on three consecutive days, every month, seeking after health by emetics and enemas for they think all disease comes from food." It was believed that enemas were a gift from the Gods to the Egyptians. Hippocrates, known as the Father of Modern Medicine, recommended enemas in his work "On Regimen in Acute Diseases". Ancient Hindus, Babylonian, Assyrians, even ancient Nigerian tribes regularly practiced colon irrigation. In the middle ages, irrigation of the colon started to increase in popularity among the wealthy and the royal. The Renaissance saw the height of colonic popularity, as the 17th century was also knownas the "age of the enema". It was in vogue especially among the Parisian aristocrats.

Some would even give themselves 3-4 enemas per day believing it was essential to good health. Louis the XIV was reported to have over 2,000 of them in his life, at times even having visitors during his cleanses. The use of enemas had waned significantly by the mid 18th century, and it was Dr. Kellogg in the early 1900's that reinvigorated the used of enemas. The early 20th century saw the birth of the mechanized colonic equipment, which would evolve to the modern apparatus used today. The popularity of natural-hygiene, raw foods and alternative methods of healing were also on the rise in the early 20th century. The movement continues to this day, many being inspired to live longer, healthier lives using natural, holistic means to achieve the greatest level of potential health.

"Colon hydrotherapy is a much recommended healing therapy for detoxing…. though it is a much reacted to form of cleansing in American culture. That's unfortunate, because I know from experience it is incredibly beneficial. Sarah is the consummate professional; as well, she possesses a trust-worthy countenance for such a process… knowledgeable, relaxed, and lovely. I have done colonics several times across the country, and Sarah is a jewel of her profession. I highly recommend her services, you will feel so much better having done so." Christine,  Ashland, age 55
Sarah how can our readers take the next step to learn more and or setup an appointment with you?
The easiest way is to visit AshlandColonHydrotherapy.com to both learn more about the services provided as well as to set up an appointment. Or call anytime 541.201.0500.
Learn More:
Sarah West, Ashland Colon Hydrotherapy
1651 Siskiyou Blvd. Ashland, OR.
541-201-0500
www.ashlandcolonhydrotherapy.com