Silverwood Designs, owned & operated by Jule Silverwood, is now based in Ashland! Jule has a BS in Horticulture, is certi?ed both as an Arborist and an Aesthetic Pruner. Passionate about shaping plants and designing gardens since 1980, Jule's experience has ranged geographically from Portland to the SF Bay Area. She sees a garden as a dynamic, living space that embraces and comforts people, rejuvenates the soul and expresses its owner's personal culture. Her practice of aesthetic pruning is a creative process that shapes people's experience in their gardens.
With its foundation in Japanese garden pruning, bonsai and arboriculture, aesthetic pruning incorporates visual art and design principles to work with plant material within its unique setting. Due to the universality of its approach, aesthetic pruning bene?ts all situations and garden styles.  aestheticprunersassociation.org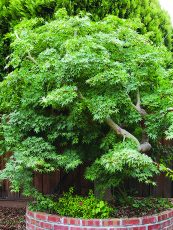 Jule, thank you for speaking with us today, and welcome to the Locals Guide. I know many of our readers are very excited that you have relocated your business to the Rogue Valley.
Thank you, Shields. I'm happy to be here. Ashland is very welcoming. It seems I'm ?lling a niche that's been looking for my blend of skills. I look forward to inspiring my new clients and other professional gardeners as I share my commitment to high quality horticultural service.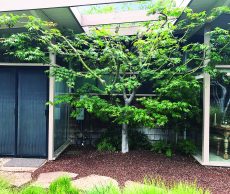 To begin with, I'd love for you to explain what's unique about your approach to a garden, given your orientation as an Aesthetic Pruner.
I work at the intersection of horticulture, garden design and arboriculture — a unique combination of experience and training that I've gained over the past four decades. I have the horticultural knowledge regarding how plants renew their growth, their cultural requirements, and their botanic names.

Understanding tree biology and plant architecture, I work to optimize the health and beauty of shrubs and garden-scale trees (up to 15 feet tall) within the given design parameters.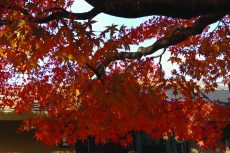 How did you ?rst start learning about aesthetic pruning, and who have been some of your inspirations in pursuing this career path?
After over 20 years of practicing ?ne pruning, I discovered the Aesthetic Pruning program at at Merritt College in Oakland, CA. This training  elevated my work and opened a deep, fascinating new world to me. I studied with Michael Alliger, Dennis Makashima, Yuki Nara, Bill Castellon, and others. My mom supported my business endeavor and encouraged me to follow my passion. My colleagues in the trade respected my skill and recommended me to their clients.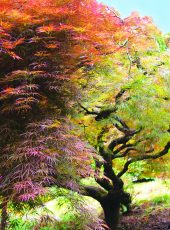 Pruning has existed in the Rogue Valley for a long time. But, it seems you are bringing something really different.
Actually, it's not so different from what the pear growers are doing. I admire how they re-leader the branches and keep the tree focused to a central leader. What's different is that I apply these size-control techniques to ornamental species. I take the time to feather the ends of branches, keeping interior branching healthy.  By working from coarse to fine to create smooth transitions from the larger structural branching out to the branch tips, I promote proper branch and canopy taper, while giving the branches a natural finish and creating visual ?ow.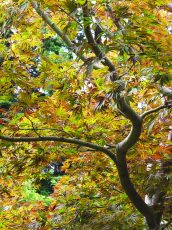 Tell us about the Japanese design influence in your work.
As an aesthetic pruner, I am inspired by how the Japanese master creating a natural feeling of grounded transcendence in their gardens and architecture.

Rhythms of form create the feeling of infinity. Revealing the essential shape and movement of a tree, we build upon a pattern that is repeated, with variation, at ever smaller scales. The repetition of horizontal branch layers has a calming effect on our nervous system, imparting a feeling of peace.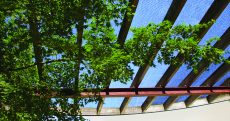 How do you continue to increase the depth of your knowledge? 
Garden tours with the APA, Garden Conservancy and AAUW are my favorite way to stay inspired. Giving slide presentations and demonstrations requires me to synthesize what I've learned in ways that clarify things for me, as well. I'm studying Japanese-style pine pruning with a specialty nursery in Portland. I go to bonsai society meetings and visit botanic gardens. While studying Japanese maple cultivars, I've become interested in the Japanese language and culture.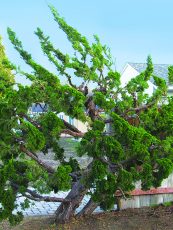 You're now taking on new clients in the Rogue Valley. When is the best time for people to give you a call to get started on their projects?
Now! Winter is the season when we can take the most liberty in changing the architecture of a tree. Larger cuts are less stressful for the tree when it's dormant. When I begin working in a garden, I usually find there is much deferred maintenance to correct through renovative pruning.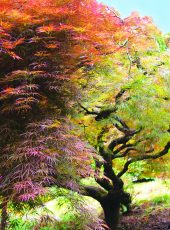 What kinds of properties are you interested in working on?
Wineries, hotels, and restaurants often have specialty plantings that require the skilled hand and artistic eye of an aesthetic pruner to cultivate the feeling and experience the business owners want for their customers.

I enjoy working with landscape designers and architects of residential and commercial projects. I listen for the feel and function they intend for the landscape, and endeavor to cultivate this over time as I shape the trees and shrubs.

I also work directly with homeowners who may engage me to care for one special tree or their entire garden.
Jule, your clients have a real appreciation for your work. Please say more.
My clients appreciate good design, are committed to the long-term vision and evolutionary process of crafting a living art form. Many have been with me for over 20 years. They love their homes and want to cultivate a personal sanctuary. We've become friends and often share a glass of wine, a meal and good conversation in the comfort of their garden.
Many of your clients have worked with you for decades. Can you please share a recent testimonials with us?
My favorite clients are open-minded, have an artistic eye, are down-to-earth and committed to regular pruning to keep things looking their best. They appreciate what my expertise brings to their garden. People who love horticultural variety, are plant collectors and good gardeners are particularly enjoyable to work with.

"Jule has aesthetically pruned six large ornamental shrubs in my garden for over ten years. They are easily the most well-proportioned and beautiful shrubs I have. She is thoroughly professional, giving close estimates, explaining her vision for each shrub, and consulting with me when alternatives arise in the details. Watching her work, I sense the same serious focus that sculptors bring to their materials."

-—Jeff Winslow, Composer/

       Engineer, Portland, OR
Learn More:
Jule Silverwood
Silverwood Designs
541-841-8364
julesilverwood@gmail.com
www.julesilverwood.com