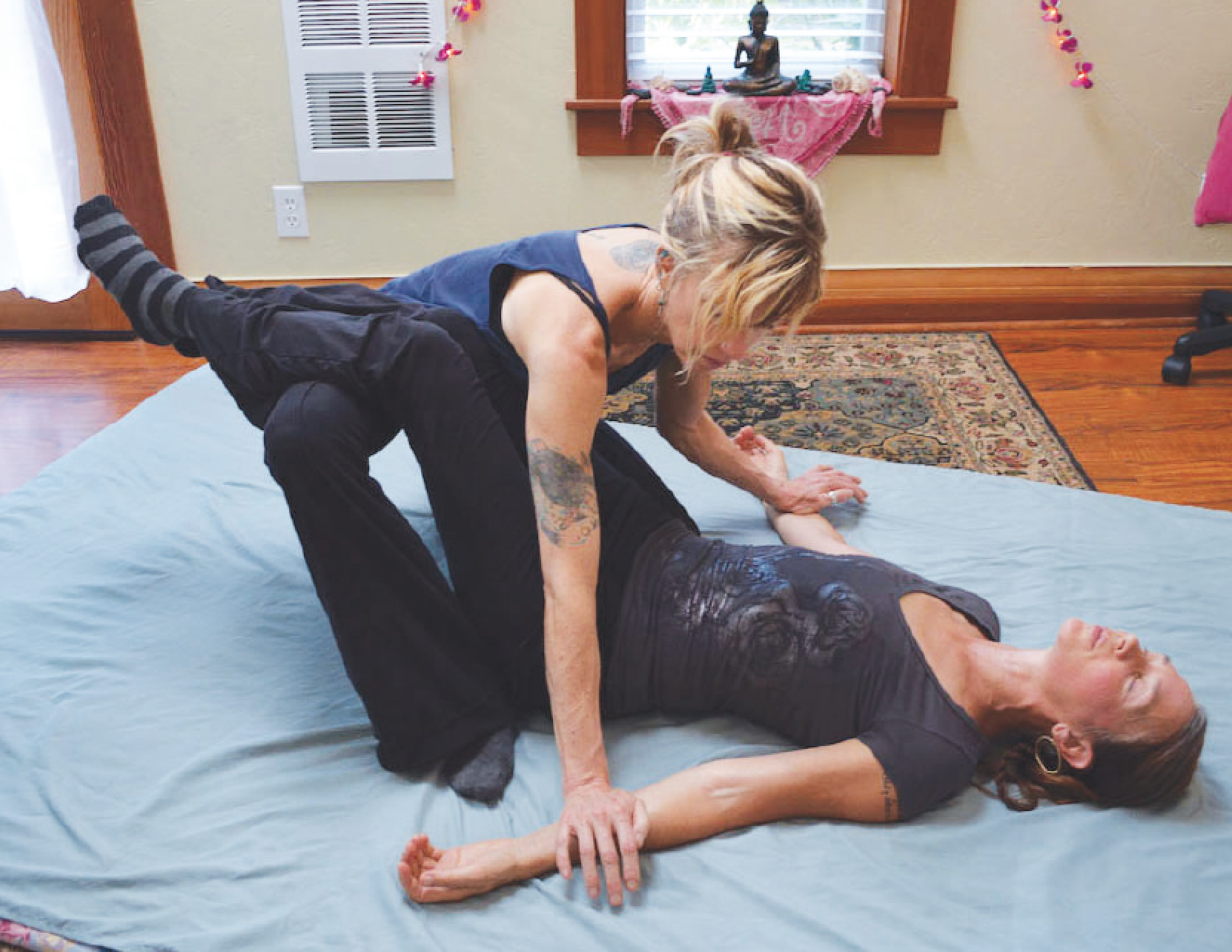 Interviews
Karin Kiteley, LMT  Infinity Healing Arts and the Art of Being Present
Karin Kiteley describes the unique essence of her work to be in the dedication to the practice of Being Present that she brings to each session. For the past 13 years, licensed massage therapist Karin Kiteley has worked with hundreds of local clients in an on-going basis to help them achieve deep states of healing and relaxation. Her career as a hands-on healer began more than 22 years ago. Karin is formally trained in Shiatsu, Breema®, Reflexology, Swedish/Deep Tissue, Acutonics® and currently practices a blend of these modalities, tailored to what is presenting within each individual session. The experience of a session, relayed by many of her clients, is that it 
resembles the feeling of dropping into infinity, the name Karin so appropriately chose for her URL, dropintoinfinity.com. 
In today's interview, I speak with Karin about her busy practice here in Ashland, Oregon. We also discuss the evolution of her practice and how she best serves her clientele.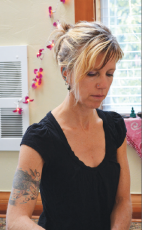 Karin, hello and welcome back to LocalsGuide.
Thank you! I'm glad to be here. Gratitude to my clients and the community. I'm excited to share again here in this forum.
Karin to begin with, what is new with your practice?
My newest addition is a 90 minute Breema®/Massage Session. This unique configuration of a session offers a body-centered, seated meditation that helps bring the mind to connect to the activity of the body through eyes-closed focus on the breath and the natural weight of the body sitting, then movement meditation of learning Self-Breema exercises. I also offer this combination with receiving a floor Breema treatment after the meditation and Self-Breema exercises, done on the floormat over a comfortable layer of clothing, depending what the client is looking for in their bodywork experience. A simplified description of this modality is that its kind of like having yoga done 'for you', and of course people can go to my website to read more about it.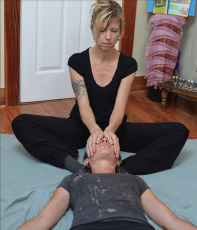 Can you talk more about how the aspect of Breema® prepares your clients for their bodywork session?
The meditation/Self-Breemas can assist in bringing the mind out of the memories about events that happened before entering the room or any expectations about the future post-session, to coming to the atmosphere of the room in the present moment. These steps of the Breema practice can be profound in preparing the client to receive the table or floor massage, already in a more self-propelled balanced state than when they walked in the door. All day long, we are constantly thinking about the past or the future, and this can be very draining to the energy, both physically and mentally. Bringing the mind to be with the 'is-ness' of the present moment through mind/body connection gives an immediate freshness of feeling whole and centered, if even for a few breaths. Clients who have received this session have reported wonderful results that carry into their life outside of their bodywork appointment. 
Karin, what is inspiring you to start sharing more Breema® self-care with your clients?
I have recently become a Breema Instructor (I have been a student of Breema since 1995) offering workshops periodically in town, and these sessions are a wonderful way to get a taste of the practice that has also been described as an 'art of being present', with a sort of mini one-to-one class. It is my desire that it will deeply influence how they live in their day-to-day lives outside of bodywork sessions. A home meditation practice can nourish many aspects of the life. Not that the client necessarily has to take 'Breema' in as their specific practice, it is simply the path that I have chosen and so I am inspired to share it with the community. This is not my first intention, but it could be a side-benefit of these sessions. Breema is a practice of self-understanding and a teaching that brings more profound harmony to my life, and though I can offer insight into the principles that provide a framework for the practice, it is always up to the individual to truly discover the reality of its benefits for themselves, which is the nature of the teachings in general. 
Karin, your clients really appreciate the success that you have personally experienced via your own work with Breema®. Please say more.
Yes. I live the practice that I teach, of course. I work diligently every day, for as many moments as I'm conscious of it, to bring mind/body connection into all that I do. Even if I am in a very 'unbalanced' state, bringing my mind to connect to the fact that the body is breathing is a tool that offers me a way to regain a deeper sense of harmony and well-being. This may sound quite 'simple' at first glance, but it proves to be very challenging, an effort that I am extremely grateful for in my experience of existence. Specifically, while I'm working with clients, Breema's guidance through the principles and the basic tools of 'body has weight and body is breathing' create a focused opportunity for being present with the recipient. In that atmosphere, there is a level of support for both the client and myself, in a unified experience that is very nourishing, very healing, to body and mind.
Please talk about the sanctuary feeling that your healing space has to offer.
Starting with the garden through which the client passes before entering the room, I work to create a peaceful sanctuary for my clients that gives their nervous systems every opportunity to let down, let go and breathe, thus opening to whatever healing their physical form is moving through. The atmosphere is alive with exploration of the truth of each moment through my own practice of Breema, enhancing the actual surroundings and the conversation or body therapy that may take place. I believe this offers a sense of grounding and ease for the client. Additionally this is embellished by the use of a Biomat on my table (or on the floor during a Breema bodywork session), a mat filled with crushed amethyst crystals that is neutral in temperature or warming and provides penetrating healing for the whole body system via far-infrared rays about 6" up into the body while lying on it. Studies show that far-infrared light stimulates the production of healthy cell tissue, which can promote faster, more complete healing processes. Far infrared therapy also encourages the elimination of cellular wastes and toxins. As well, while lying on it, the nervous system gets an almost immediate relief that offers deep relaxation.
You have named your business around a feeling that is often described by your clients when working with you. Please tell us more.
Since the beginning of my trainings with Shiatsu many years ago, I have had responses from people saying that they 'don't usually fall asleep during massages,' but during sessions at Infinity, it seems to happen nearly every time. This is not an aim of mine as a practitioner, it just happens, more often than not.
You have an exceptional return rate with your clients. Why is that?
Generally, when someone receives my work, they wish to continue and so book again. I cannot say for certain what their experiences are. I am humbled and grateful for their steady interest in what they find for themselves at Infinity Healing Arts. I offer packages of 5 sessions, for 60, 75 or 90 min sessions, knocking off $10/visit. This has proven to create a very steady flow for my business, and clients feel cared for with an on-going structure that they can depend upon for their self-care.
How do you see your own work and mastery of the craft continuing to evolve?
Between evolving as a student and instructor of Breema and the on-going interactions with clientele, I am perpetually learning and bettering myself. Living in gratitude is an enormous part of my focus and practice as well.
Please share some recent testimonials with us.
"With Karin I found a touch that is compassionately therapeutic. What makes her special, is her 'presence'.  Her presence is an intuitive calming glow. She is not only an exceptional massage practitioner, but possesses the insight to impart the experience of the 'present moment'.  To my delight, she teaches techniques to discover for yourself 'this presence' through the practice of Breema. I can wholeheartedly say Karin has given me both her therapeutic touch and her wisdom…which has changed my life."  ~Tom Jacobson

"I've been enjoying Karin's healing massages for a year now, and recently I started practicing meditation after attending a seminar. I shared my new found enthusiasm with Karin at my next appointment and that's when she offered to guide me through a Breema experience prior to my massage, to connect body and mind and thus "emptying "my thoughts of the day so to speak. The experience was truly amazing!! There were less thoughts competing for my attention. I was totally present for my massage and enjoyed every therapeutic moment." ~Minita Brinkley
Learn More:
Karin Kiteley, LMT Lic# 9377
Infinity Healing Arts
www.dropintoinfinity.com
541.482.4188