Interviews
Wellness Pet Supplies Green and Clean to Keep your Pets Keen
If you're one of many people in Southern Oregon with beloved family members of the furry and four-legged variety, you'll be glad to know that Billie Jo Vinson has got your back. When she opened her holistic pet supply store in a charming cottage on A Street in Ashland's Historic Railroad District in June of last year, she had a feeling pet-lovers would be receptive. Boy were they ever. As Wellness Pet Supplies celebrates its first year in business, we're pleased to learn of the store's overwhelming success and the enthusiastic reception Billie Jo has received as Ashland's preferred natural and holistic pet care resource.
Congratulations Billie Jo on your one year anniversary! How are things shaping up at Wellness Pet Supplies as you enter your second year of business in Ashland?
Thanks so much for asking. It has been such an honor to be a business owner in Ashland. Once I had the idea to open the store, my husband and I were looking for a community that we were excited to live in that would be receptive to holistic products for pets. We were living in the Bay Area at the time and I'm from Portland originally, so we were both big fans of Ashland. My experience as an herbalist combined with my years spent as a pet care professional made opening a natural pet supply store such a logical next step. Ashland is a community full of people who want to treat their animals with as much care as they do themselves, so we had a feeling we would fit right in.
And it sounds like the reception has been overwhelmingly positive. Tell us what you hear from your customers.
It's really true. My goal was to create a business that made a difference in the lives of animals and people. The feedback we're getting tells me we're doing just that. I really do have the very best customers. Every single day, I hear some version of the same message, "We are so glad you're here! Thank you for doing what you do, and for the unique way you are doing it." It's really gratifying to know that we have resources and information that make a positive impact in the lives of so many pets in our area.
It's not an exaggeration to say that pets can be the cause of enormous joy for their owners when life is good as well as considerable worry when it's not. For so many of us, these precious beings are like children! We're happy when they're happy and boy is life challenging when they're not. I find the issues people tend to have with their animals are surprisingly similar. So many people are seeking answers to the same questions and they don't even realize it. That's why I love what I do. I'm in the business of helping people help their pets live happier, healthier lives. From my perspective, it's a pretty awesome way to spend my days. I honestly can't imagine doing anything else at this point. It's an amazing feeling to know that when customers leave my store they have a little more hope about what's possible for their pets.
Wow, so you say that the challenges pet owners face are surprisingly similar. Give us a few examples.
I'd say that the most common complaints people come in seeking help with can be divided into two categories: physical and behavioral. Physical issues tend to be related to skin, digestion, and pain associated with aging and arthritis. Behavior issues are often related to anxiety. The great news that is that these problems can frequently be resolved with improved nutrition and supplementation. My background is in herbology with additional training in nutrition, so I bring a wealth of experience in using herbs and whole foods to treat a wide variety of physical and behavioral problems. I have personally researched all of the products that you'll find on the shelves thoroughly for quality, consistency, and sustainable business practices. I spend hours each week seeking out research from animal scientists and new information to deepen my understanding of proper nutrition for animals of all kinds. Passing this vital information on to my customers is what it's all about.
I can't count the number of times an owner has come into the store distraught because their vet has told them there is nothing more to be done about their pet's declining health. They are hopeless hearing that it is time to say goodbye or rely on harsh medications such as steroids. At this point, they come in seeking hope and ask my advice on the off chance that I have ideas about natural alternatives. And often I do. So many of those animals are still alive today simply because we improved their diet or found an herbal supplement that supported their symptoms. One dog recently was diagnosed with incurable cancer. After helping his owner choose a regimen of fermented goat's milk, mushrooms, CBD oil, superfoods (algae and chia seeds), and raw food, his tumor is shrinking. I am constantly amazed by the power of these safe, natural products.
I understand that your store is pet-friendly and that dogs are the most common visitors. Do you have anything to share that cat owners might like to know?
You know, it's funny. My dog Lola and cat Jack are at the store with me every day and are often happy to greet customers and their pets. It's easy to look at the Treat Bar and all the dog-related products on the shelves and think that the store favors dogs, but the fact is, I'm actually a cat person at heart. Cats are really sensitive animals, so paying close attention to changes in behavior can be really important when trying to solve their issues. Most people don't realize that kidney failure is one of the most common and most preventable health concerns for cats. The dry cat food that is available on the mainstream market can be incredibly taxing on a cat's kidneys. As true carnivores, cats absorb water most readily from their food source rather than from the water dish. Dry food just doesn't cut it when the kidneys get stressed. Behaviors like peeing outside the litter box, frequent urination, and incessant crying can often be related to urinary tract infections which can lead to kidney issues. A change in diet to a wet or even raw food variety can make all the difference in improving the quality of life of a cat. As I always say, "You are what you eat and what you don't excrete!"
It must be challenging to find pet food brands that meet your high standards.
It's not easy, but thorough research makes all the difference. I always begin by contacting the companies directly. I think it's much more common for retailers to rely on distributors to advise them on which brands to carry, but that just isn't good enough for me. It's very important to me to make a personal connection and to ask for straight answers to my tough questions. I don't just want to know that the animals sourced for the food were raised sustainably and humanely, but I want to know that their food was grown sustainably as well. I follow the food chain all the way down so that I can feel 100% confident that the pets who will be eating these foods will be getting only the very best nutritional value out of the food. I also seek out information from independent, third-party food testers such as the Clean Label Project so that I can verify the claims made by the companies I want to support. And these tests aren't just a one-shot deal. They test products multiple times so that consistency and quality can be evaluated over time. I double and triple check the facts on every single product so that I can offer my customers the most natural and healthy products on the market today.
Wow! That's really impressive Billie Jo. Tell us about some of your current favorites.
Carna4 is a brand I am absolutely passionate about. They produce kibble pet food with the highest nutritional values currently available on the market. The meat is 100% humanely raised and meets EU standards, which are far above organic standards here in the US, with no hormones, GMOs, or pesticides at all. They also use sprouted seeds which act like a predigested probiotic which is a fantastic support for skin, digestion and autoimmune issues. This brand was recommended to me by two raw food companies as well as by Dr. Becker, a well known holistic vet. If dry food is the option you are looking for, this is one of two to seriously consider. Grizzly Pet Products is my second.
Grizzly Pet Products started their business because they found that there was an enormous amount of waste in the processing of wild Alaska salmon for human consumption. By developing partnerships with these businesses, they were able to locate their facilities in close proximity to the processing plants, putting high-quality discards to use in extracting salmon oil for use in their pet food products. I love the resourcefulness and sustainability at the heart of this business. Providing nutritional products that support the health of pets is their bottom line. This is really important to me as well.
Answers Pet Food is at the very top of the list for me. This company is so impressive. They make fermented, raw food that goes above and beyond any standards of quality I have seen yet. All ingredients are sourced from Amish farmers in Pennsylvania which means they are as clean and sustainable as they come. The animals are never confined or stressed out in any way. They live their entire lives on the farm and are treated with the greatest care and respect. That matters a great deal to me. Roxanne Stone, a food scientist and resident of Ashland for years, is a partner in the company. I was introduced to her by a distributor who knew we lived in the same area. She is a wealth of knowledge and a big supporter of the Wellness Pet Supplies. Answers' number one goal is to put your pet's health first. I cannot speak highly enough about this model business.
I've heard you mention your competitive pricing. Are there people who assume that the products you carry are unaffordable?
It's interesting. High-quality products usually do cost more. It's often true that you get what you pay for, especially when it comes to nutrition. But I really want people to understand that taking the very best care of your pets does not have to be cost prohibitive. So many of my customers have really dramatic stories to tell about the enormous vet bills, or the multiple surgeries, or the expensive medications that their pets have been taking for years as they try to find solutions to chronic health issues, often to no avail. I can tell you that it is a heck of a lot cheaper to upgrade the food you feed to your dog or cat than to let their health suffer and then chase symptoms with pharmaceuticals. It's really common for people to cycle through a variety of food brands on a quest to find solutions, with very little knowledge to back up their choices. This is super expensive and can lead to even more digestive difficulties for dogs and cats. That's where I can help. Nutrition, herbs, homeopathy, flower essences, oils, mushrooms, and superfoods are just a few of the safe, natural, and affordable alternatives available to you. And in the end, prevention is a lot more affordable than treatment! My goal is to end this expensive and emotional roller coaster by providing education, support, and guidance in making choices that fit my customers' lifestyle, values, and budget. This is not one size fits all. We all want the same thing—happy, healthy pets, but we don't all get there in the same way. There are so many options. My role is to help find healthy solutions that fit.
Stop by the store and check out the amazing deals we have on a daily basis and be sure to inquire about our Loyalty Card program and bulk pricing options to get the very best value. A lot of the staple products on our shelves are priced specifically to stay competitive. Shampoos, toys, bagged treats, leashes, and collars are priced as low as possible so you don't have to shop around.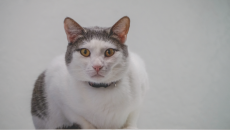 I understand you've got some exciting events coming up at Wellness Pet Supplies. Can you tell readers what they have to look forward to?
Party – On July 14th, we'll be celebrating our one year anniversary all day at the store from 10am – 6pm. We will have delicious food, live music, wine tasting, free samples, raffle prizes, and even a pet photo booth. Bring the whole family, including your pets!
Nail Clinics – The first Sunday of every month we host a nail clinic for cats and dogs. DiDi and Andrew from Land of Paws set up shop in the back and create such a sweet and cozy atmosphere. It's really relaxing. They even use soft lighting and essential oils to help the animals stay calm. It only costs $7 and you don't need an appointment. Please note, however, that because of the holiday weekend this month, the July clinic will be held on Sunday, July 8th instead.
Lecture Series – Twice a year we hold a special lecture on an important pet-related issue. This fall we will be hosting an event all about cancer and pets. We invite local experts to come and share their knowledge. Stay tuned for more information.
What else would you like readers to know?
We've got some really exciting plans for the future. Coming soon will be our delivery service. Call to place an order and we will happily drop it off. This option will be available for Ashland customers this summer and we'll expand to Talent, Phoenix, and Medford as soon as we are able.
We're also setting our sights on an exciting expansion down the road. We have plans to grow Wellness Pet Supplies to include physical therapy for animals as well. We'll be partnering with a local vet to provide access to hydro tubs, laser light therapy, massage therapy, and even chiropractic services. There is such a need for this level of care in our area and we are really excited to make it a reality.
Can you share some testimonials with us?
"I can't even begin to describe how grateful I am for Wellness Pet Supplies! They carry one-of-a-kind products & brands that have been researched inside-out by the owner and cannot be found at any other pet shop in the area. When I told the owner I was interested in switching over to a better food option for my dog she was more than helpful – giving me samples, information, and talking with me about options as long as I needed – and then didn't put any pressure on me or ask for a thing in return. It's obvious the owner not only cares tremendously for animals but is also very much committed to sharing information and bringing the best products for our pets to the community. And what else…you'd never guess that this shop is totally affordable. Yep. I was shocked too. Healthy options for our pets, at a low cost too?? Too good to be true? I also thought so, but it's for real!"     – Amy Schlotterback

"Wellness Pet Supplies is a wonderful, boutique-style store where you will find the very best, highest quality products for your pet. My Shepard, Taz, loves the dog treats and the flea spray. That says a lot considering his acute sense of smell and pickiness in what he likes! Billie Jo offers great advice and exceptional customer service!"     – Lloyd Canty

"I will go nowhere else!"     – Dan G.

"Great pet supply store, friendly, helpful owners. I'm happy to support this store."   – Anne Wolke
Learn More:
Wellness Pet Supplies
462 A Street, Ashland
(541) 930-2576