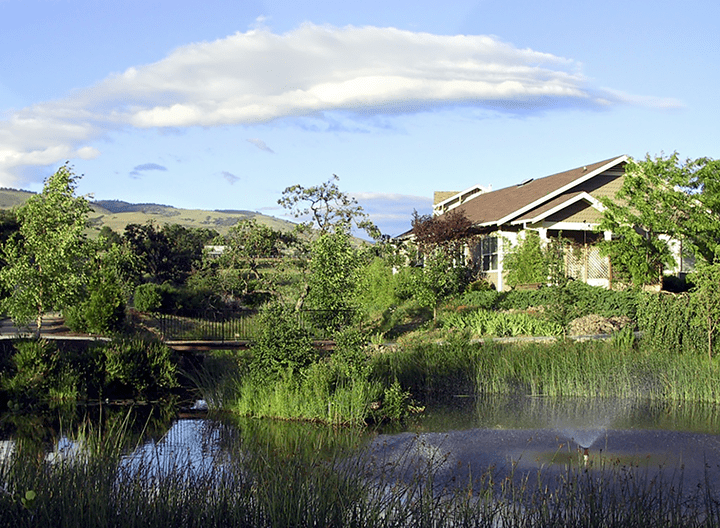 Mountain Meadows is an award-winning 55+ community in Ashland.  Voted the "Best Small Active Retirement Community in America" by The National Council on Senior Housing and The National Association of Home Builders", Mountain Meadows is thoughtfully designed and solidly constructed and located on 27+ acres of beautifully manicured landscaping and trees.  The residents of Mountain Meadows enjoy year around scenic views of Mt. Ashland while being only minutes away from downtown arts and entertainment.  Residents take great care and pride in the community, and ownership of a home or condominium is what makes the community unique.  There is a fitness/wellness center with indoor pool, clubhouse, dining room, community garden and 4 acre park with pond – all amenities that residents call their own
The homes/condominiums are all Craftsman style with attention to details.  There are raised dishwashers, elevated electrical outlets, phone jacks in bathrooms, slightly lower cabinets, extra wide hall ways and interior doorways and much more.  All properties are pre-wired for cable, phone and high -speed internet.  There are low step in showers with built-in seats and hand held shower heads – there are so many things here that help residents stay in their homes longer.
Ownership is one of the best things about Mountain Meadows.  Owners enjoy quality built homes/condos and can sell them, leave them as part of their estate to their heirs or even rent them through Mountain Meadows Realty property management located on site.   This community is owned and governed by the residents themselves.  The residents say "We Own It, We Run It, We Love It!
  Residents are engaged in committees; fitness and wellness activities and many serve on the board of directors for one of the various associations in the community.  They are artists and authors who share stories through their work.  They are master gardeners; they turn the community garden into a masterpiece of color.  There is always something happening here!
We call it "freedom". We all have a desire to be independent and the design and layout of Mountain Meadows helps residents with their individual independence and freedom.  As a resident, you are free to choose in so many aspects of your life – stay in your home and hire housekeepers, pet walkers; hire caregivers to assist as you require it – all the while you remain in control of your life.  The goal is to encourage individual independence and a higher quality of life. Isn't it time you find out more about Mountain Meadows?  You really do Deserve the Best!