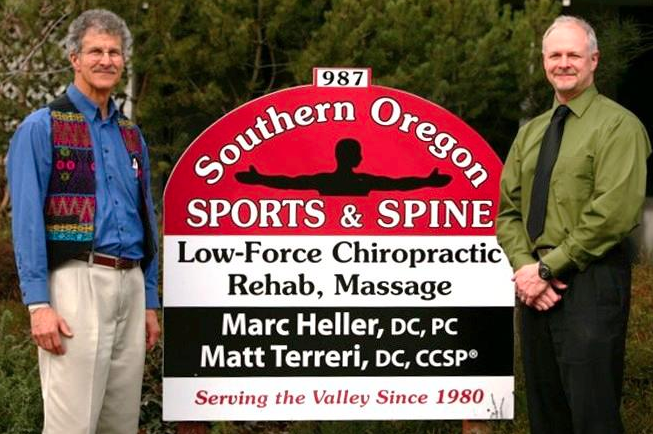 Have you ever known change was coming and that it would be good for you but it meant you had to let go of something first? For better or worse, this seems to be applicable to so many aspects of our lives. Whether it's beginning a new endeavor, moving, or finally deciding to make that change you have known is needed.
My last month of practice here in Oregon is May; change has come for me too. I have been a part of the team here for 5 years now and I can whole-heartedly say that this is the best office I have ever been part of in my 20+ years of working experience. The team here is more like family – a family that genuinely cares about each other, the patients, and the highest standards of care.
The chiropractors here, Marc Heller and Matt Terreri – it is impossible to know which is greater: their hearts or their intellect. They practice through listening, critical thinking, teaching, and gentle, effective treatment methods – always leaving ego aside in the interests of the patient. I am a better chiropractor for having had the opportunity to be able to work with and learn from doctors of their caliber.
Dr. Marc has an amazing ability to unravel complicated, stubborn cases. After nearly 38 years of practice, he has such a wealth of experience to draw from that he frequently discovers that magic piece, usually something that the patient can do for themselves. He is an excellent communicator and teacher, not only with patients but with practitioners too. Patients fly from all over the world to see him right here in Ashland.
Matt is passionate about continual expansion and refinement of his skills in chiropractic overall and sports medicine specifically. He pursues extensive education in Active Release Technique. He trains and treats with the best of the best at Olympic training centers every year. It is no surprise to me that he is the Southern Oregon University team sports chiropractor. He is passionate about safely helping people and athletes return to their activities of living and playing.
Fortunately, Dr. Cody Moss has joined the office and will be taking over my practice. He is an excellent chiropractor as he has similar high standards of care, experience in rehabilitation and low-force chiropractic techniques. Read more about Dr. Cody in the near future.
The staff and therapists at the office are extremely good at their jobs, and as a result the office is a genuinely excellent place to work and receive care. The goal of this office is truly to educate and set patients free of their pain, not create dependency on passive, long-term care.
While our family is excited about this big change to Wisconsin, I will miss my dear coworkers and patients at Southern Oregon Sports and Spine, and our larger community here in Ashland. I will miss even more my favorite personal chiropractors, Marc and Matt, who have helped me be able to keep up with my kids, husband, and dreams in our active lifestyle.
Yours in Health, Heather Escobar
http://ashland.oregon.localsguide.com/wp-content/uploads/2016/11/Screen-Shot-2016-11-23-at-12.01.58-PM.png
434
653
Southern Oregon Sports and Spine
http://ashland.oregon.localsguide.com/wp-content/uploads/2018/05/logo-1-300x76.png
Southern Oregon Sports and Spine
2018-04-25 13:10:40
2018-04-25 13:10:40
Yours in Health