The Siskiyou Challenge is right around the corner and there is still time to participate either as an athlete and or as a volunteer! Now in it's 9th year, the Siskiyou Challenge serves as an annual fundraiser for Rogue Valley Farm to School, a non-profit dedicated to providing hands-on farm and garden education programs for school children and connecting farms to schools to create healthier school meals. In today's interview I speak with Rogue Valley Farm to School executive director Sheila Carder about the upcoming event. LocalsGuide is proud to be a 2019 sponsor of the upcoming challenge and we invite the community out to participate and support this great event!
Hi Sheila, thanks and welcome to LocalsGuide! 
Thank you! We appreciate the opportunity to share our mission and letting more people know about the Siskiyou Challenge. Thanks for being a sponsor!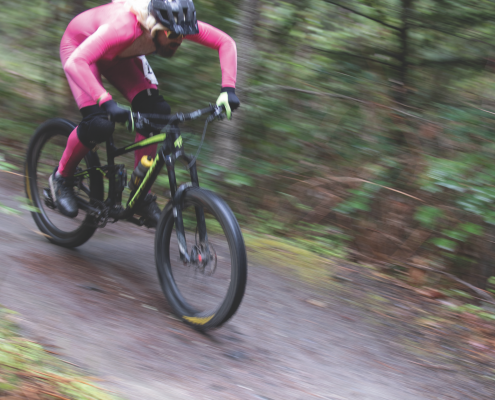 I know you have been working hard to get ready for the 2019 Siskiyou Challenge. What do you have in store for us this year?
Well the race is in it's 9th year, so we have become a well-oiled machine. (Ha, ha – it's still a ton of work to put a race like this on, but we absolutely love it!). The race will have 6 legs and it starts and ends at ScienceWorks Hands-on Museum. First leg is a cycle race from ScienceWorks out to Emigrant Lake, then the 3K kayak across Emigrant and back (thanks to Rogue Rowing Club for helping us with that leg every year!), then back on the bikes for a 30K cycle out through the farmlands and up to Lithia Swimming Reservoir (Kiwanis Club of Ashland adopted that leg last year and does a great job keeping cyclists safe!).Once you get to the reservoir, hop off the bikes for a 6K trail run through the forest, then the 13K Mountain Bike race through the watershed, and finish up with a 6K run back to Scienceworks. Whew! Needless to say, many people opt to do the race as a team, but we have some couples who signed up for a crazy, romantic weekend, just the two of them running the race, and we have some soloists who travel from all over for the race!

Some of the great things we have lined up this year — fantastic music and a Health, Fitness and Outdoor Adventure Expo at ScienceWorks from 10-2 for everyone to enjoy. There will be great homebrews from Common Block Brewing Company, delicious organic food from Fry Family Farm; a new medical tent with a fancy dancy medic on a bike up in the woods to make sure everyone stays safe, great t-shirts (as always), Sunday Afternoon hats (awesome) and some fantastic prizes — including a Momentum River Rafting Trip for two for the Solo winner! We have amazing sponsors, like Piccadilly Cycles, Mountain Provisions, Siskiyou Massage, NW Raw, Ahimsa Gardens and more who provide fabulous prizes. We also have a great volunteer celebration sponsored by Gil's. Best of all, I'm happy to announce, we have prizes for the Costume Contest again this year! Plus a special Youth and Masters division!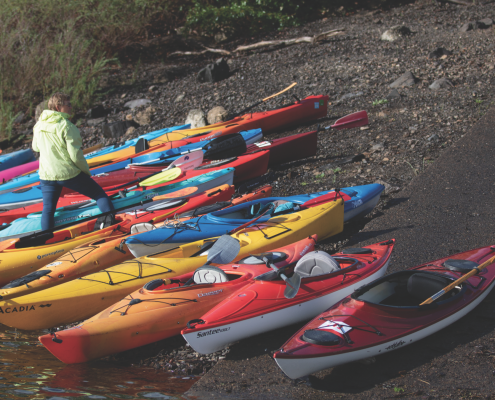 Sheila, I would love for you to tell us more about Rogue Valley Farm To School and the role it plays in our community.
Rogue Valley Farm to School is celebrating its 10th anniversary this year, which is hard for all of us to believe. We've been providing farm tours and school garden education programs for more than a decade, bringing school children from Jackson and Josephine Counties out to farms where they have a chance to meet a local farmer, learn about how food is grown and harvested, harvest food themselves and even cook a delicious meal that they all sit down and eat together! Our programs have been so successful, we started building partnerships with schools. We work together with schools to build a culture of health, providing weekly garden education programs, teacher professional development and more. A big part of our work is connecting schools with farms to increase the amount of fresh, local food served in school meals. This year we have been working with other organizations across the state to increase funding for schools to buy locally. The new Farm to School Bill will hopefully provide $8.5 million for schools, organizations, and farmers to work together to provide healthier meals and education programs in schools for our kids.
Now in it's 9th year, how does the event continue to grow and evolve?
Every year we've changed things just a little to keep improving the event for athletes, their friends and family, the community, and all the volunteers who make it possible.

This year we are working on building the Health, Fitness and Outdoor Adventure Expo. This will be at ScienceWorks and it's great for the community waiting to cheer the athletes across the finish line. Fry Family Farm will be bringing their delicious food and Common Block Brewing their beer and root beer (served in the special Siskiyou Challenge commemorative glass). We also have some other new additions, but we'll keep those as surprises!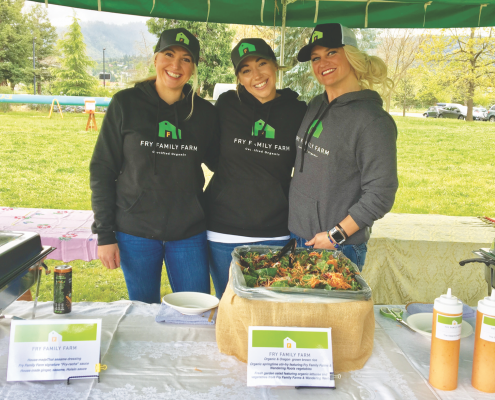 Sheila, please describe the spirit of the event to us.
The event is a fantastic community celebration. It's also a great way to remember and experience the amazing outdoor activities we have in this region. One of the things that made me feel really happy was learning that a lot of the businesses who have teams love the event because they see how great it is for their employees – folks start training earlier each year, everyone has a great time – it's a huge community celebration. Darex is one of our fantastic sponsors and every year they have at least two teams – this year they have three! And the law firm Huycke, O'Connor, Jarvis, Dreyer, Davis & Glatte is another dedicated sponsor and they always have great teams, often with a great spread of ages in the athletes! And I have to say, those costumes. They are the best. I love seeing what folks come up with!
Right now you are now actively recruiting teams. How does one create a team and then get signed up?
Signing up is easy – go to siskiyouchallenge.org, scroll down to Register Now, then select the size of the team – 1 to six members, click on the link and start registering.

If you don't have a team, we can help, our Siskiyou Challenge facebook page lets you connect with other athletes to form the perfect team. Otherwise, bribe friends and family, they'll thank you later!
Can you give us an overview of the challenge?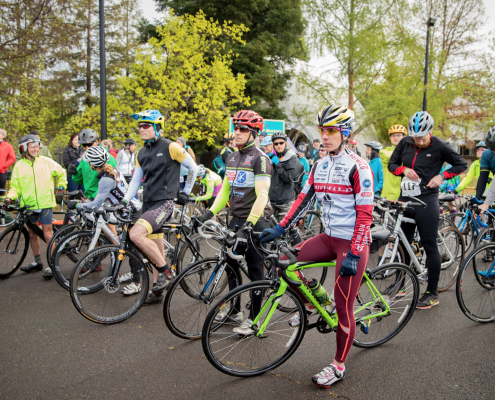 The Siskiyou Challenge involves five sports: road cycling, kayaking, trail running, mountain biking and road running. Each leg has its own challenges and rewards. Overall, the race incompasses more than 46 miles and it is the ultimate cross training event. It's also a fantastic way to be out in the incredible outdoors cheering on your friends and family.
When exactly is the event? Where does it start and end?
The race starts at ScienceWorks on Saturday, April 27th, 2019. Athletes should be there by 7:30am for the pre-race meeting as the race starts at 8am. It finishes when all of the athletes have crossed the finish line, generally by 2pm. Most of the teams finish between 12-1, and the awards ceremony starts at 12:30pm.

For friends, family and the community who want to see the athletes cross the finish line, the Health, Fitness and Outdoor Adventure Expo runs from 10am-2pm. Food, drinks and music are available, and it's a great way to learn more about all our region has to offer.
Do you need to be a hardcore athlete to do this race?
Not at all. Athletes range from 14-70 years old, from hard core ultra marathon athletes to people trying it for the first time. For athletes that come from the Seattle, Portland, San Francisco Bay Area, Sacramento, Grants Pass and beyond, our sponsor Ashland Hills Hotel & Suites has set aside some great rooms at super reasonable prices so you can make a weekend of it.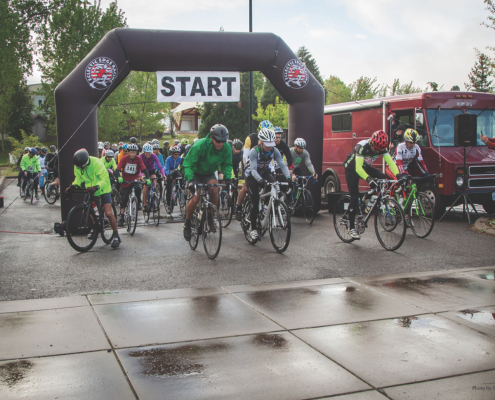 What have been some of your favorite memories from past year events?
Well, the pink onesy team from Sunday Afternoons is pretty unforgettable — not to mention that they were great athletes. One of my favorite memories we captured in our video was when a mom hops off her bike to give her waiting toddler a kiss. I am also amazed by the soloists. It's so inspiring to see them race every leg — and often come in ahead of the teams!!
There is also a costume contest which is incorporated into the challenge. What happens there?
The costume contest is a great tradition. We are happy to say we have prizes again this year for the best costume. Original ideas and home-made getups (we had The Pollinators last year who were amazing!) are always highly appreciated and get extra bonus points. Athletes need to design their costumes to be able to wear throughout the race, and to be able to easily handoff the relay bracelet/anklet, and have a number pinned to the front. Also, be warned, weather has ranged from bright sunshine to pouring rain, so you have to be prepared for all kinds of conditions.
In addition to recruiting teams you are also actively looking for event volunteers.
The Siskiyou Challenge could NOT exist without the support of our amazing volunteers. Signing up is easy — just go to siskiyouchallenge.org and click on Volunteer in the top bar. That will take you to a form that helps us know what role might work best for you. Once you submit your form, you will hear from us and we're off to the races! It's super fun. We have volunteers who come back year after year, and boy are we grateful!!
How much money is being raised for the event and then how are these funds being applied to different local needs?
Our generous business sponsors make it possible for us to host the race, and all racer fees go towards supporting Rogue Valley Farm to School education programs. Our programs get kids out into gardens, learning about how to grow food and keep healthy. The funds also help us work closely with food service providers to connect them with local farmers, and increase the amount of fresh, scratch cooking in schools.
Tell us about the Rogue Valley Farm to school tag line, "Racing Towards a Stronger Food System". What does this mean to the Rogue Valley?
One of the main goals of Rogue Valley Farm to School is to support and build a strong, healthy food system in the Rogue Valley. That means supporting local farmers, encouraging children and families to purchase healthy, locally grown food and finding ways to make sure our region thrives. The Siskiyou Challenge raises money to do all of this, plus we'd like to think that it reminds people from all over what an incredible place the Rogue Valley is, and that it is a great place to visit all year around. The City of Ashland and AllCare are two important sponsors of the event, and I think it's because they know how important is to create a healthy, thriving community.
In addition the challenge you will also be hosting a health and fitness expo. Please tell us about it.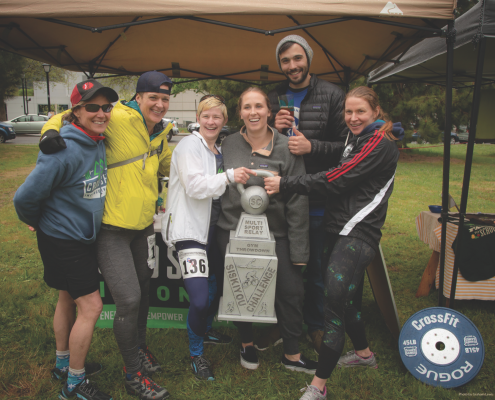 The Health, Fitness and Outdoor Adventure Expo has evolved for two reasons — one we wanted to make sure there were crowds of people cheering our athletes across the finish line, and secondly, we live in such an amazing region, we wanted all of the businesses and organizations like AllCare, Lithia 4 Kids, REI and NW Raw, that provide ways for folks to explore the outdoors, get healthy or stay fit to have a chance to reach out to the community — and we wanted people to realize all the ways they can enjoy health and fitness. Rogue Valley Farm to School is committed to creating a healthy, thriving Rogue Valley, and developing an expo that highlights all that folks like the Medford Food Coop and Ashland Food Coop and so many others are doing. It seemed like a natural evolution of the race.
All in all you have a great celebration planned with great food, music and more.
The whole race is a fantastic celebration, with live music along the way, delicious organic food, great local coffee, the best brews, and tons more. It's a celebration for the whole community, something people of all ages can enjoy.
Do you have any last thoughts or comments you would like to share with our readers today?
We love the opportunity to host a fundraiser that not only raises money to support healthy kids and healthy schools, but also is a fun way for businesses, organizations and the whole community to have a great time getting healthy and enjoying the beauty of this amazing place where we get to live. We are extremely grateful to all of the sponsors and volunteers who make it all possible.The deadline for sponsoring is March 2, so businesses that want to jump in can, and otherwise, we can't wait to have them join us next year!
Learn More:
Rogue Valley Farm to School
P.O. Box 898, Ashland, OR 97520
www.rvfarm2school.org
www.siskiyouchallenge.com
(541) 778-7356