Articles
A Fall Afternoon of Traditional Indian Ragas
Enjoy an afternoon concert of traditional Indian ragas with Peter van Gelder on sitar and Indranil Mallick on tabla. Saturday, October 11 at 2:00 pm on the lawn at Grizzly Peak Winery in Ashland. Gates open at 1:00 pm. Picnics are encouraged, and a food truck will be available. A benefit concert for Ashland Zen Center.
—-
One of the first American disciples of India's great Maestro Ali Akbar Khan, Peter van Gelder first appeared on the San Francisco music scene playing bass guitar and soprano sax in the seminal Great Society rock band with then unknown Grace Slick.
He began his study of sitar with Maestro Ali Akbar Khan in California and later in India where he spent years learning from the Khan family, notably Smt. Annapurna Devi (sister of Maestro Ali Akbar Khan.) Returning to California he resumed his study with Maestro Khan and became an instructor at the newly formed Ali Akbar College of Music in San Rafael, California.
In 1989 he was awarded the prestigious A.I.I.S. Performance Fellowship from University of Chicago. He was Artist in Residence at Allauddin School of Music in Canada, and in 1991 he initiated a Music of India course at World College West. He continues to give sitar instruction at Ali Akbar College of Music.
A well-known figure to San Francisco Bay Area concertgoers, he has performed with world famous musicians including Zakir Hussain, Chitresh Das, and Lalgudi Krishnan. He has composed and collaborated on music for films and dance dramas, and his lucid sitar style has won praise from audiences around the world, from Europe to the Fiji Islands as well as India and China. He has given concerts and lectures in universities throughout America.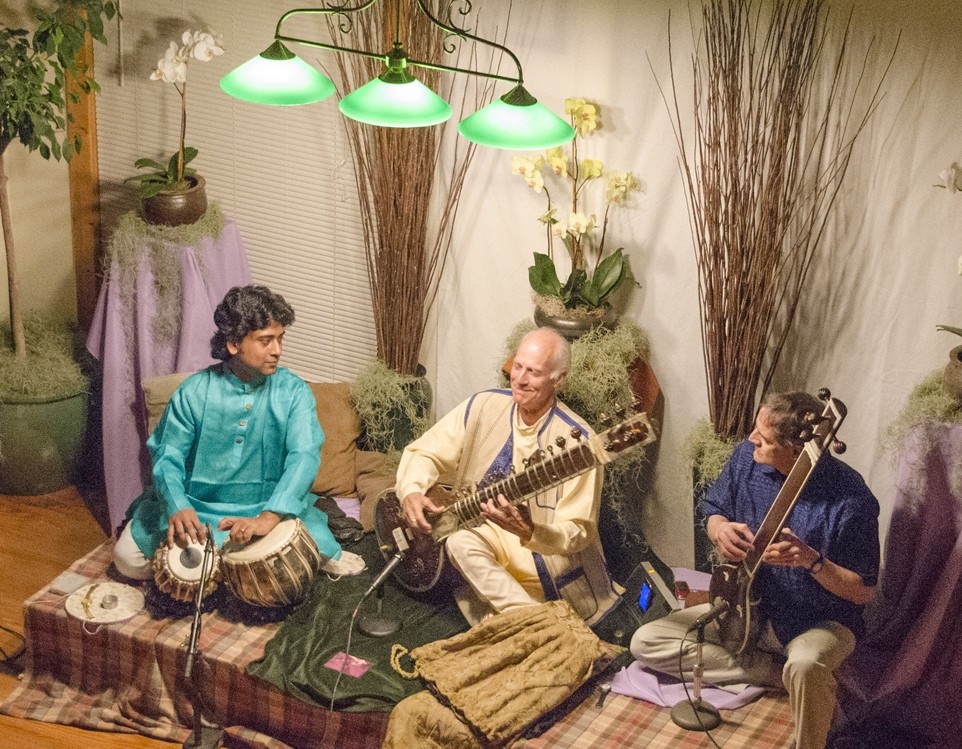 Indranil Mallick, a promising tabla player of rare skill, has already established himself both as a soloist and accompanist. Born to a family of genuine music connoisseurs, he received his initial training in tabla when he was only five from his uncle, Sri Montu Mallick. Later he was trained by Prof. Dhabol Bandyapadhaya. Indranil belongs to Luckhnow Gharana style of tabla. He has received numerous awards and distinctions for his playing.
Keeping a rigorous performance schedule, Indranil continues to perform with renowned artists in various music conferences in India and abroad. In 2002 Indranil began international touring with performances in Europe, USA, Canada, UK, Germany, Switzerland, Ukraine, Estonia, Russia, Austria and Holland. During these tours he represented India in many world renowned festivals.