Articles
A Special Evening with Hakomi founder, Ron Kurtz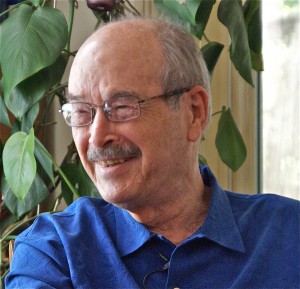 ASHLAND GATHERS FOR AN INTIMATE EVENING WITH
DR. RON KURTZ, FOUNDING FATHER OF HAKOMI
Dr. Ron Kurtz introduces his Legacy Teachings and the opening of
The Ron Kurtz Center in Ashland Oregon
ASHLAND, OR – The newly established Ron Kurtz Center will host an intimate evening with Dr. Ron Kurtz, Lifetime Achievement Award recipient and founder of the Internationally respected Hakomi Method, A Benefit for the Ron Kurtz Center Legacy Project, the event will be held at Havurah Shir Hadash on Thursday, December 2, 2010, at 7p.m. This is a rare opportunity to spend the evening with one of the most influential and revered master psychotherapists of our time. The evening includes a lively talk and demonstration by Dr. Kurtz with volunteers from the audience of the Refined Hakomi Method. Trained Hakomi teachers will be available at the end of the evening to answer questions about the Legacy Teachings offered at the new Ron Kurtz Center.
"I have witnessed firsthand the power and beauty of Ron Kurtz and his Refined Hakomi Method to ease suffering and transform the lives of countless souls, including my own." says Marina McDonald, Executive Director of The Ron Kurtz Center. "It is a great honor to assist others in accessing this deeply healing body of work."
After decades of traveling and teaching his Hakomi method internationally, Dr. Kurtz — together with his personally trained staff of facilitators, will begin offering his Legacy Teachings at the newly established Ron Kurtz Center in Ashland. The center offers certification trainings for helping professions who want to further develop their therapeutic skills, as well as individuals seeking to heal wounds from the past and begin living their lives in loving presence. For more information visit www.RonKurtzCenter.com or call: 541-482-1714
Suggested donation for the event is $10-20 and can be made at the door. The event, at Havurah Shir Hadash, is located at 185 North Mountain Ave, Ashland.
About Hakomi: Borrowed from a Hopi Indian word meaning "who are you?" Hakomi is a ground-breaking method of body-centered psychotherapy that encourages the therapist's loving presence as the most supportive state of mind for the client. It's seeds took root during the 1960's and 70's, at a radical time when pioneers like Fritz Perls, Moshe Feldenkrais and Carl Rodgers were shattering the boundaries of traditional therapeutic approaches and Humanistic Psychology and the Human Potential Movements were gaining in popularity. The body was given much more credit for possessing its own wisdom and as a result, patients were having rapid breakthroughs with lasting positive change. Deeply affected by his experiences at Esalen and explorations into Gestalt, Rolfing, Bioenergetics, Group Dynamics, Transpersonal/Interpersonal Counseling, Yoga and Buddhism, Dr. Kurtz formally began offering his new somatic psychotherapy called Hakomi in 1979. It has since evolved into what is now known as The Refined Hakomi Method and The Ron Kurtz Legacy Teachings.
About Ron Kurtz, DHL (Doctor of Humane Letters): Dr. Kurtz developed the Hakomi Method over a period of thirty-nine years. He has been leading workshops and trainings internationally for decades. He founded the Hakomi Institute in 1981; Ron Kurtz Trainings, Inc. in 1990; and with several colleagues, the Hakomi Educational Network (International), and in 2010 he formed the new Ron Kurtz Center in Ashland, OR. Dr. Kurtz has written or co-authored three books: The Body Reveals, Body-Centered Psychotherapy, and Grace Unfolding. Ron and his daughter Lily are currently at work on a collaborative revision of his title: Body-Centered Psychotherapy. In 2008 Dr. Kurtz received a Lifetime Achievement Award from the U.S. Association for Body Psychotherapy as well as an honorary doctorate from the Santa Barbara Graduate Institute.
Dr. Kurtz is also available for phone interviews and limited in-person interviews.
#####