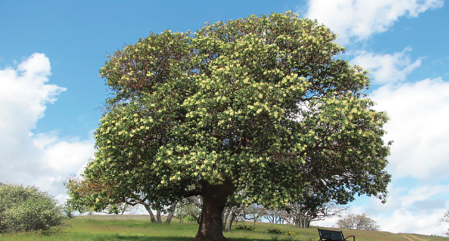 We are fortunate to have so many magnificent trees within local driving/hiking distance. Two more for your bucket list would be "Sugar Mama" and "The Big Tree."
Let's start with "Sugar Mama," a truly GIANT sugar pine up near Prospect. Driving up Hwy. 62 just past the quaint little town of Prospect you will swing into the parking lot of the Prospect ranger station on your left. Park your rig and look east. You will see a monolithic column of wood rising a couple hundred feet topped by a huge double forked crown. This tree is best viewed from underneath, just be careful playing "chicken" whilst crossing the road. Just north of 8 feet in diameter, it seems to have absolutely no taper for at least 100 feet! What looks like coffee can sized limbs are actually 5 gallon bucket sized limbs, it is just that the tree is so big, you lose scale when looking up! She has been hit by lightning at least a half dozen times over the last 600 years or so but has shrugged off the multi million volt direct hits with impunity. Don't ask how I know, but the view from the top is unreal, you are looking down on every other tree for miles! This tree is a MUST see, and it's location puts you in the Upper Rogue area, one of the coolest places around, enjoy! Next up is the largest diameter Douglas fir in the state known simply as "The Big Tree" at Oregon Caves Natl. Monument. This will be about a 3 mile hike on the big tree loop trail. Follow the signs from the visitor center and an hour or so up the trail, you will find her! You can't miss this tree as it simply DWARFS all the old growth trees you just walked past. The lightning strikes havent been so kind to this old girl but after viewing at least 219,000 sunsets she hasn't cried "UNCLE" just yet. At about 13 (yes, thirteen) feet in diameter, this old bird will leave you speechless… This tree has dead limbs in it that have been dead longer than anyone on Earth has been alive! Think about that for a moment, or two, or three… The moss and lichen in both of these trees are older than anyone you have ever known. How many owls have landed in either one? How many ants have schlepped their way up the trunk to the very top for the view?  Viewing either one has led me to ponder questions such as this, and the questions never cease. 
A visit to both of these beauties can be done in a day, and you can stop by and visit the giant perfect Madrone at Valley of the Rogue State Park at the halfway mark in your journey and hit the perfect trifecta! Enjoy the day and as always, plant high and often.