Articles
art inspires ashland 2015 MIXES PRESENTATIONS AND WORKSHOPS ON PAINTING, SCULPTING AND LIVING A CREATIVE LIFE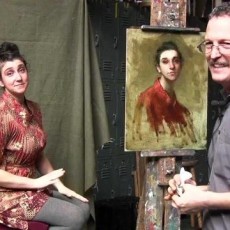 On November 12th – 15th Art Inspires Ashland will bring together some of the most creative minds from vari-
ous schools of artistic expression for a weekend of presentations, discussions and workshops. This event has
been designed to inspire people from all walks of life. The highlight of the weekend: three featured artists will
talk about their skills, inspirations, and accomplishments in 20-minute TED Talk type presentations held at the
Historic Ashland Armory on Thursday, November 12th. Doors open at 6p.m. for catered appetizers and no-host
bar reception. Presentations start at 7:30p.m. Tickets are $30 pre-sale, $35 after Nov. 1st. These same three art-
ists will lead workshops on Friday, Saturday and Sunday aimed at inspiring artists and art enthusiasts by work-
ing closely with these high-caliber artists and creators.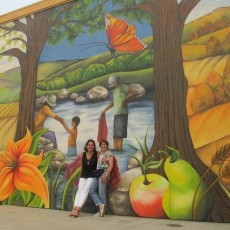 This year's artist presenters are painter, Gregg Kreutz, sculptor, Kevin Christman, and artist/entrepre-
neur, Denise Baxter. Gregg Kreutz is an award winning painter and author of the classic artist's guide, "Prob-
lem Solving for Oil Painters." Gregg has won numerous awards and has had one man shows at Grand Central
Galleries, The Fanny Garver Gallery, the Newport Art Association, and the Hilligoss Gallery in Chicago. Kevin
Christman studied fine art at The Art Center in Pasadena and has been a professional artist for the past 25 years.
Kevin's work is exhibited worldwide. He is a member of the National Sculpture Society and the Portrait Soci-
ety. He is currently working on a five year monumental commission creating the artwork for St. Mary's Chapel
in Medford, Oregon. Many recognize his sculpture "Tree of Transmutation" created for Burning Man in 2012.
Denise Baxter, Executive Director and Founder of Ashland Art Center, has experience working with many art
mediums such as photography, printing, sculpture, watercolors, computer aided design, murals, and oil painting.
She acquired her masters degrees in International Business Management and Business Administration. Denise
worked for a Fortune 500 corporation followed by working on two startup organizations. Her interest in com-
bining her art expertise with her business acumen has become a reality with the Ashland Art Center.
Purchase tickets for the Evening Presentations and register for the workshops online now at www.artin-
spiresashland.org or at the Ashland Art Center, 357 E Main Street, Ashland. There is also an early bird discount
until November 1st on the presentation tickets and there are discounts on the workshops for Art Center mem-
bers.
The proceeds from this event go to Ashland Art Center's children's classes, education programs, and
professional artist services. The Art Center is a 501(c)(3) non-profit organization dedicated to serving the visual
artist community of southern Oregon and supporting local artists.
For more information about Art Inspires Ashland, visti to www.artinspiresashland.org.