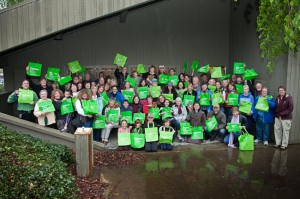 About a year ago, a group of Ashlanders began working on a project designed to provide a regular supply of food to the Ashland Emergency Food Bank (AEFB). "We knew that a lot of our neighbors wanted to donate food, but for one reason or another, never got around to it," explains the group's co-founder, Paul Giancarlo. "So we decided to put together a door-to-door food collection system to make it easy for them." They called it the Ashland Food Project. (AFP).
The system is very simple: Volunteers (called Neighborhood Coordinators) go door-to-door in their neighborhoods, asking neighbors if they're interested in donating food. "When a neighbor says yes, our volunteer gives them a green AFP  bag and asks them to buy one extra nonperishable food item each week." says Mark Jaynes, who trains AFP volunteers. "Then every two months, our volunteer picks up the bag of food and takes it to the Ashland Emergency Food Bank. That's all there is to it." People at the food bank are amazed at how well it works, and have called it "the most efficient food collection system Ashland has ever had."
The Ashland Food Project has a second goal in mind, too: They want to give people a reason to talk to, and get to know, their neighbors — to help build a stronger sense of community in Ashland. "That's something we just don't have enough of in modern society," says Steve Isser, who has worked on the Project since last May. "The feeling of belonging to something, the affirmation  from people around us that we make a difference, is like food for the soul. We all need it, just like we all need food for our bodies. That's why the AFP considers community-building such an important part of our work."
AN AMAZING SUCCESS!
There was no model for the group to copy — they just made up the program as they went along.  "We created a brochure and hit the streets, knocking on doors to see if the idea was viable," recalls Pam Vavra.  "And it was! Our first official food pickup was June 20, 2009.  We collected  3,800 lbs of food from around 300 Ashland families.  We were astounded. Then two months later, we picked up more than twice as much food — over  8,000 lbs. from 500 families.  And it just kept growing! " By last Feb. Neighborhood Coordinators were regularly picking up over 15,000 lbs. of food from about 1,500 donors.
AFP donors are primarily individuals and families. But they also include community groups, ranging from Rotary Clubs to churches to retail businesses. Other groups have found creative ways to participate, too: The AFP's "neighborhoods" include a dentist's office, a book group, and a Quaker meeting. "So far," says AFP organizer Bob Baumann, "the AFP has collected about 50,000 lbs, of food from our donors.  But the way things are going, by the end of the year we hope that number will be closer to 120,000 lbs.!"
STILL MORE TO DO
It's an amazing collaboration, and everyone in the group is very impressed with Ashland's generosity in making the program such a success. But there's still plenty to do.  "In this down economy, " says food bank president Susan Harris, "more people are using the Ashland Emergency Food Bank than ever before. In February, for example, we provided emergency food supplies to 1,220 residents of Ashland and Talent. That's 25% more people than last year — and it's about 5% of the towns' total population!"
OUR NEW GOAL: "2,010 in 2010"
That's why the Ashland Food Project is announcing a new campaign, with a new goal: It's called "2,010 in 2010." Their goal is to have 2,010 donors by the end of 2010, so that the AFP will be able to supply 50% of the Ashland Emergency Food Bank's needs each month, and the AEFB will be able to provide food to every person in Ashland and Talent who needs it.
Right now the AFP supplies about  1/3 of the food the AEFB needs, and saves them about $4,000 a month. Their donors make up 17% of Ashland households . "This is impressive, but there are plenty of people we haven't reached yet —people who'd love to be part of the AFP if they knew how to get started," suggests Steve Armitage. The group wants to recruit another 500 or so households as regular food donors, so that over 2,000 will be donating food on a regular basis. Will you join them?  Be a part of the solution! The effort is minimal…but the impact is huge. For more info check the AFP's web site at AshlandFoodProject.com. or call 541-488-6976 and leave a message. Help them reach 2,010 in 2010!