Interviews
Ashland Institute of Massage – Laureen Sutton & Bryn McCamley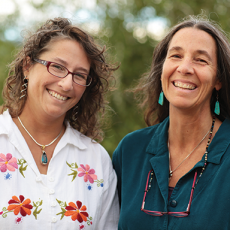 Ashland is known for many things – the co-op, Shakespeare, scenic beauty, eco-friendly-everything… and as a mecca for bodywork and the healing arts. In fact, high quality of living is what draws many people to our region. Ashland Institute of Massage, affectionately known as AIM, is one of the local businesses helping to sustain and enrich the health of our vibrant community. Established in 1988, this small school has trained hundreds of practitioners and earned itself a reputation as one of the most respected massage schools in Oregon. Along with providing an intensive massage training program for students and ongoing continuing education for the region's licensed massage therapists and other health care professionals, AIM plays an important role in Southern Oregon, volunteering its services at numerous community venues, events and fundraisers. Another lesser-known known aspect of AIM is the Chrysalis Clinic: a launching ground for some of AIM's top graduates after they have completed their training and become licensed professionals. At Chrysalis, community members can receive high quality professional massage at community-friendly prices.
I recently spoke with Laureen Sutton and Bryn McCamley, owners of the Ashland Institute of Massage.
Hi Laureen and Bryn, thanks for speaking with me today.
You bet. It is a pleasure to be here today and have the opportunity to share our story.
I'd love to hear more about the history of the Ashland Institute of Massage and your involvement with it.
AIM was founded 25 years ago as the Ashland Massage Institute by Beth Hoffman and Shari Sunshine. It was originally conceived as a part-time evening program taking two years to complete. The school's second owners, Genna Southworth and David Fredrickson, took the helm in our present location in the Hersey St. Business Park (280 East Hersey St. Suite A-8 and B-17, near the Dance Space and Le Cirque Center). Through their vision we became the Ashland Institute of Massage (AIM) with an intensified schedule and rigorous focus on therapeutic training. We are both graduates of that program, Bryn in 2004 and Laureen in 2008, and have been with AIM as assistants and then instructors ever since. The two of us were fortunate enough to become AIM's third owners in January of 2012, and let me tell you, those were some big shoes to step into! AIM has a tremendous reputation in the world of massage education that we have worked hard to uphold. Our focus as owners and directors has been to continue fine-tuning the educational process and to bring the school into a greater involvement with the community. Ashland has supported this school and its students in so many ways over the past decades. We are excited to give back all that we can.
Can you tell us about the certification and training process of the Ashland Institute of Massage?
Massage education is entirely different than when I (Laureen) first trained in 1980 at a small school in California. Massage therapy today is a rapidly expanding profession involving a far higher level of expertise and training than in the past. In order to become licensed to practice massage in Oregon a student needs to complete 500 hours of training and pass both a written exam and a challenging practical exam administered by the Oregon Board of Massage Therapy. Our students have 650 hours of rigorous training and are well prepared to pass both of these exams. Since January 2012 our graduates have achieved a 100% passing rate for the practical exam.

Being a student at AIM is a serious commitment! Our students take college level science courses in anatomy, physiology, pathology and kinesiology, as well as ethics and business development and over 330 hours of very specific massage and bodywork training. Our evening/weekend students are in class Monday through Thursday evenings and about half of their weekends in order to complete the program in ten months. The daytime program is even more intensive. These students put the rest of their life on hold entirely and spend every weekday in class with us for six months. It is a bit like a foreign exchange program: total immersion in the world of the body while being supported by your foreign 'family', which in this case is the school and one's classmates.
Over the past 25 years AIM (Ashland Institute of Massage) has trained hundreds of massage therapists. Where have all these practitioners gone and are you still in touch with many of them today?
The experience students have while in school at AIM is such an intensely personal one that the school feels like a piece of 'home' for years to come. We think of each class as family and like to think that the feeling is mutual, and indeed, we regularly have students coming back to see us and calling with their latest news. It is always inspiring to hear the stories of the diverse directions people have taken their careers. Graduates today are working in such a variety of settings both locally and nationwide: private practice, chiropractic, acupuncture and physical therapy offices, hospitals and hospice, retirement and assisted living communities, spas, cruise ships, for sports teams and at sporting events, with children, families, and pregnant women, and even in other countries. Some of our graduates are now pursuing advanced medical and other degrees in physical therapy, nursing, chiropractic care, pediatrics, naturopathy, herbology, you name it!
Where do most of your students come from? Can you give us a snapshot of your average student?
AIM draws many of its students from Southern Oregon and Northern California but people find us from all across the country. Students come to AIM for the quality of the education and the intimacy of a small school setting in this beautiful location. Fortunately for us, there is no "average" student, as the diversity of the student body lends to the richness of the educational process. We have 18 year olds recently graduated from high school who are clear this is their path in life, people in midlife or older (our oldest recent graduate was 67) seeking a career change to something that feels more authentic and rewarding, and even previously trained massage therapists from other states wanting to enhance their education and skill level. Students vary in their particular massage interests – some heading in very therapeutic assessment and treatment-oriented directions and others desiring a practice of integrative relaxation massage. They also arrive possessing different skill levels with regard to both academics and kinesthetic awareness. While all students proceed through the same curriculum together, each student is supported in their own unique approaches to learning and bodywork. There are no cookie cutter massage therapists or massage routines among AIM graduates! What all have in common, however, is the desire to lead a life of personal and professional integrity while contributing to the health of individuals and communities.
AIM has played an active role in the Ashland community by offering its services during numerous outdoor and special events. Can you please tell us more?
Yes, we would love to! We take our students to volunteer their growing skills at as many events and locations as their school schedule allows. This year our 39 fulltime students offered over 500 free massages to the public. We were present at the Pear Blossom Run, Southern Oregon University's Health and Wellness Week and again during Finals Week, the Ashland High School Senior All Night Event at the YMCA, and giving massages to the staff at RVMC's Behavioral Health Unit. During the nice weather months you can find us with our massage chairs at First Fridays outside of Koko's Bento/Ashland Hardware on "A" Street. The community also comes to the students in the form of our spring Student Clinics, where members of the public come to the school to receive full hour sessions and offer their feedback. This year our students gave almost 800 massages during student clinic days. This interaction with our community is not only a great opportunity for students to gain experience and confidence in a 'real world' setting but it is a way that we as a school can give back what we do best: care for the body and soul.
Can you tell us a little bit more about the values and mission statement of the school?
As a school, we are committed to each student who walks through our door as a whole person with unique talents and needs. We believe that in order to become a mindful, holistic practitioner, one who treats the body, mind and heart as one, a student needs to be educated holistically. We keep our classes intentionally small (22 is our maximum number of students per program) so we can successfully support the individual growth of each student. Classes are a thoughtful balance of kinesthetic training, academic preparation, personal awareness, and fun! Our goal is to not only instill an in-depth understanding of the body and superior bodywork skills, but in addition, to foster a spirit of exploration and curiosity about this work, as well as integrity, respect and compassion for those whom one learns with and works with in the future.
Over the past 50+ years the field of massage has changed significantly. Massage therapists are now participating in a greatly expanded arena of therapeutic and healing services. Please tell us more.
A few decades ago, depending on where one was from, massage was either considered a luxury service, part of the human potential movement, or slightly taboo! Fortunately things have changed significantly in recent years as research continues to support the incredible benefits to health and well-being that touch has to offer. Pure simple touch alone activates hormonal releases that are vital to our health. Babies' brains do not develop properly in the absence of touch and elders who live alone are at risk of depression without regular physical contact. Massage addresses this basic human need, and much more. Therapeutic massage treatments are used for everything from injury rehabilitation and athletic conditioning to stress reduction and chronic pain management. Health practitioners of all sorts, both allopathic and alternative, now refer patients to massage therapists: the 'soft tissue' experts. The field is rapidly expanding into more and more venues, many insurance companies are now covering therapeutic treatments, and massage therapy is taking its place as a recognized part of health and wellness care.
Although the school is well known in Oregon it still remains a sort of Local Secret to Ashlanders. Can you say more about this?
The school is in a somewhat unlikely location inside the Hersey Street Business Park. However, as our students will attest, we are actually only minutes away from the Ashland Food Co-op or Noble Coffee on foot. We are a perfect example of not judging a book by its cover! Walking inside the door always takes people by surprise – the atmosphere is incredibly warm, friendly and inviting. It is unlike any other school setting, but then, massage therapy is not like any other subject!
Laureen, can you introduce us to your staff and give us a little overview of what they each do?
Ah yes, our staff! We are fortunate to have such an amazing group of people working with us. All of our instructors are active practitioners in their fields and therefore bring relevancy and up-to-date clinical skills and information into the classroom. We are all very deliberate about our teaching, engaging as many different learning styles as possible and teaching HOW to learn as well as WHAT to learn. Humor is also an important teaching element; it would be challenging to get through a program this intensive without having lots of fun along the way!

Let me speak briefly about our specific instructors. We have two very talented local naturopathic physicians teaching the majority of the science curriculum: Dr. Geoff Houghton, ND and Dr. Chris Chlebowski, DC, ND. I teach kinesiology as well as myofascial release.  Bryn does an amazing job with the students as the Swedish massage instructor and student clinic organizer. Joseph Micketti, LMT, Philip Whitmore, LMT and Matthew Schulman, LMT, all exceptionally skilled bodyworkers, teach the advanced massage and bodywork portions of the curriculum. Kelly Vittoria, LMT brings passion to teaching our structural anatomy, ethics and professional development classes as well as supervising the student clinic. We have additional instruction in smaller segments from Taffy Clark Pelton, MA, LMFT, LPC (psychiatric disorders), Sheryl Grunde, LMT (pregnancy massage) and Kalesh Weaver, LMT (chair massage) as well as the assistance of numerous educational assistants and tutors from our pool of enthusiastic graduates. Jazzmin Glover, Admissions Coordinator, and Trout America, Chrysalis Clinic manager, are both amazingly dedicated presences in the office that we couldn't do without.
Bryn, what have you enjoyed or admired the most in your 9 years of being involved with the school?
My favorite piece of involvement with AIM, hands down, is watching the students transform themselves personally. Frequently people are drawn to our program without a clear reason, just a feeling that it is the right thing in their lives at this point. Or they might choose our school because they are attracted to the holistic education we offer. Once the program is underway, and the unfolding of their particular journey begins, their growth turns into new potential. Students often find themselves totally surprised at what directions they may take. It is not always an easy journey, but neither is life. This experience is like a reflection of human connection starting with the self. I have felt honored and humbled at witnessing this happening again and again. It is a lot like gardening, like cultivating hope.

Not far behind the intensity of the student experience, and definitely essential to it, are the absolutely beautiful relationships we have built with the student clinic clients who support our educational process by "donating their bodies to science", as many of them like to say! Some of these folks have been a part of the school's history longer than me or other staff members, and are backbones (very important elements of structure – just ask our students!) of the learning that happens. Sure, they bring in their bodies – a wide variety, thank you – and more importantly, their authentic selves. Establishing relationships and human connection is crucial in this work, and navigating the river of diversity is a helpful skill to build. The clinics we hold with these clients are the very best laboratories we could develop to grow successful practitioners and confident individuals.

What draws me to this field of work, both as a practitioner and as an educator, is the undeniable understanding that we are in "this" together, that we all share a common element that can be experienced through touch, the most basic form of communication. Because of this, we develop intimate relationships with all of our students and clients, and have a huge extended AIM family. Many of us refer to the school as home – a testament to how much we love it as well as how much time we spend there!
Laureen, tell us about the Chrysalis Clinic. 
The Chrysalis Massage Clinic is the professional clinic we operate in partnership with the school. We have three lovely treatment rooms in which to offer high-quality massage at community-friendly prices. All the therapists working at Chrysalis are hand-selected graduates of AIM who are trained in a variety of modalities. They offer Swedish relaxation massage, myofascial release, neuromuscular therapy and deep tissue therapies, and other therapeutic assessment and treatment modalities. We have both male and female therapists that work with all ages, conditions, sizes, and shapes of bodies. Our mission is to both offer affordable massage options to the community and also to help our graduates build their own practices.
How does one go about setting up an appointment with the clinic? 
We have recently added online booking for the Chrysalis Massage Clinic through both our website chrysalismassageclinic.com or on our Facebook page (Ashland Institute of Massage). Appointments can also be made the traditional route: by picking up the phone and calling us at 541-482-5134. Either way, we will be happy to tell you about our package discounts, gift certificates, and periodic specials. Chrysalis Massage Clinic is located in the same complex as our school but has its own separate entrance and lobby at Suite B-17.
What are some of your goals for the Ashland Institute of Massage over the next five years?
We anticipate continuing to hone the educational process of the school and adjusting as needed to meet the changes and growth in the field of massage therapy. We are also excited about expanding our role as a resource for advanced training opportunities in our region. Our continuing education program brings a number of high-level international instructors to the school every year in addition to the advanced classes offered by members of our extremely talented local community.  We are planning to carry a greater variety of massage-related retail supplies available for purchase at the school and continue to be a networking center for the regional bodywork community. We would like to build more collaborative relationships with other local businesses, work to increase public awareness of the benefits of massage, and continue helping our graduates build their careers.
Any final comments or thoughts you would like to share with our readers?
Just to thank the community for being such an amazing support to this school for so many years. We invite you to come take a tour of the school, pick up the phone or computer and schedule yourself a great session at the Chrysalis Massage Clinic, come meet our new graduates at First Friday, or simply stop by and say hello.
Learn More:
Ashland Institute of Massage & Chrysalis Massage Clinic


Schedule a Massage at the Clinic