Interviews
Ashland Outdoor Store – 22 Years of Excellence
For the past 22 years locals and visitors to Ashland have relied upon and trusted The Ashland Outdoor Store as their go-to source for outdoor clothing, equipment and local guide information. Looking for the best local hike, backcountry ski report, wildflowers on Mt. Ashland or wondering how the new line of Marmot, Patagonia and Arc'teryx jackets compare? The Ashland Outdoor Store staff are connected and engaged and are your highly knowledgeable local adventure enthusiasts who care. There is a reason why customers keep coming back year after year. We headed down to 37 North Third street to meet with one of the new owners, Steve Rice, to learn about his long history in Ashland and with The Ashland Outdoor Store, as well as to hear about exciting new plans of things to come. 
Tell me about your background. How did you get into the business of retail outdoor clothing and gear?
I was lucky enough to grow up in a family that was committed to the outdoors. My father was a sports journalist specializing in fishing. 

He was involved at the ground level with the development of the bass fishing tournament circuits in the 60s and 70s, and my family traveled to fishing tournaments all over the United States. In the 80s my parents started a fishing show. It ended up being the highest-rated fishing show on cable TV in the United States for most of the decade. Because of that show I had the opportunity to participate in adventures such as horse packing in the High Sierras and river rafting on the middle fork of the Salmon River in Idaho, as well as many others. Because of the sense of adventure that was instilled in me by my parents, I became a traveler and outdoor enthusiast. 

I worked as a summer fishing guide in Alaska in the late 80s and worked at Adventure 16, an outdoor store in Southern California, while attending university. When I lived in Portland, it was only natural that I work at REI. Then we moved to Ashland in 1993, and I ended up becoming the first hourly employee at The Ashland Outdoor Store (AOS). 

For the first 4 years of The Ashland Outdoor Store's existence, I taught rock climbing, mountaineering, and snow camping and was the hard goods buyer and de-facto IT guy. During this time my wife and I became rock climbing enthusiasts and spent many weekends climbing at Smith Rock State Park in Bend.  We are now teaching our three boys the ropes (pun intended) in sport and traditional climbing. I also taught myself to snowboard and tele ski during my time at AOS, which I continue to love to this day. I left the Outdoor Store because my wife and I got the opportunity to travel around the US and the world for 10 months. We traveled and climbed across the US and then on to China, Thailand, Ireland, France, Spain, Peru, and Chile. When we came back to Ashland I worked for Travel Essentials, a retail travel store, for eight years, before establishing Dotcomjungle, Inc., a consulting business I own and run with partners Evan Petersen and Stephen Sendar.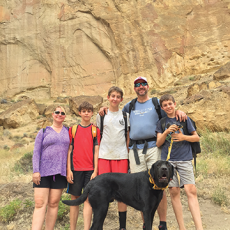 What inspired you to buy the store?
I have always had a soft place in my heart for The Ashland Outdoor Store, and I have actually tried to buy it several times prior to this. But it always seemed that the timing wasn't quite right for either Steve Rowe, who founded the store, or for me. When we learned that it was up for sale this time, my partners in Dotcomjungle were ready to invest in something exciting like this. We were looking for a flagship store in Ashland that had a tremendous community and a set of products that we could be passionate about. My fond memories of my earlier adventures at the store as well as my own passion for awesome gear made it a perfect fit.
What's the biggest benefit The Ashland Outdoor Store delivers?
In a world where many things are being manufactured with less durable and cheaper materials, products don't last as long. I think it's actually refreshing to have a place like The Ashland Outdoor Store that is committed to carrying the best quality gear at multiple price points. For me the best way you can recycle, the best way you can be green, is to buy something that lasts forever. And it sends our guests a continual reminder through the decades that we care about them and the world in which we live every time they put on the jacket they purchased at the Outdoor Store, or go for a hike in their incredibly comfortable boots.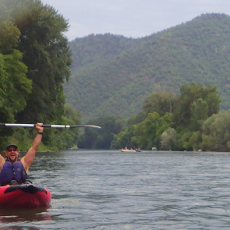 Personally, I still have a North Face jacket I purchased in 1998. It's a bit torn up… but the quality is second to none.
(Laughing) Exactly. I still have and use plenty of gear and clothing that bought at the store in the 90s. My Telemark boots are from 1997. My ski bibs are from 1995. My tent is 22 years old. 

The return on my investment in these purchases has been lasting both to my wallet and in meeting my interest to limit my trash burden by using products that have a long shelf-life. Meanwhile, everything I ever bought at Costco or REI I have had to replace several times… In some way, I feel an awful lot like Victor Kiam from the old Norelco Micro Screen Razor commercials: "I loved it so much I bought the company."
What is it about the community in Ashland and particularly the outdoor store that has you so pumped?
Community is important to me and my family, and to Evan and Stephen and their families. It is why we all feel so lucky to be living and working in Ashland. I have devoted over a decade to the Ashland Little League and Ashland Youth Baseball. Last year, I was fortunate enough to travel to Guanajuato as the coach of an Ashland Little League team in a cultural exchange baseball tournament with our sister city of Guanajuato. They are coming to us this July to play some more baseball so that should be fun! I have also had the opportunity to volunteer for many years at the John Muir school, a local public school with a strong outdoor education program. As a rock climber, mountaineer, snowboarder, telemark skier, river-rafter and all-around outdoor person, I love the community The Ashland Outdoor Store has surrounding it. And I love the opportunity to be part of all those communities and bring them together in one place. It is rare to find a retail establishment that has so much community involved in it, and around it, and to be connected to so many good activities, good people and great environmental organizations. It is truly a blessing.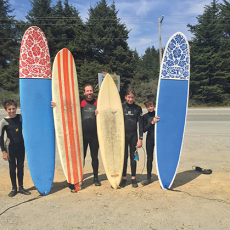 Besides the money, why are you excited about selling outdoor gear?
Once again the three of us love the outdoors, we love retail and the interaction with our guests, and we love selling great stuff because we love buying great stuff. I can't stand going to a big box store in any city and buying something that just doesn't last. So I am proud to own a store that sells only the best gear and equipment and clothing. I know that when a customer buys something at our store, it's going to last a long time. That's the best kind of recycling you could ever possibly do. That's the best value purchase you could ever possibly make. 
Who is your ideal customer or client? Describe that person.
Any person who loves the outdoors and wants stylish, comfortable, and functional clothing and gear is going to be one of our customers. 

Any person who cares about the environment, cares about quality manufacturing, cares about buying products that are going to last a lifetime, is our customer. And any person who simply likes the look of our outdoor wear and shoes is also our customer. We welcome everyone, from day hikers to weekend warriors to hard core enthusiasts looking for serious adventure gear.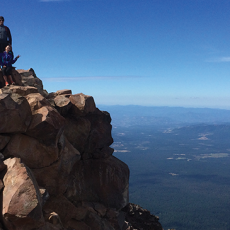 When somebody buys your products and experiences them, how do they react? What do they say?
Our customers get really excited about the gear and clothing we offer. They recognize that what they are buying isn't just a shirt or pair of pants or a tent or a backpack. It's a product that allows them to live a lifestyle in nature, in the woods, on the river. Shopping at our store is a lifestyle choice. Shopping at our store is an environmental choice, a budget choice, and a community choice. Our customers don't just get things – they get access to a world that frankly many people never get to see or experience. And they become part of a community that truly has something important in common. Our guests love the environment, love the outdoors, love their budget, they love spending wisely and they love the community of people that they get to hike with, bike with, trek and travel with, ski with etc.
Who are your biggest competitors and how are you different from them?
Our goal is to be the best outdoor store in the world. We work hard every day to make this goal a reality by selling the the best products available in a variety of price points and by focusing our efforts on consistently surprising and delighting our guests. We believe that being the best outdoor store in the world begins by making our guests feel at home, meeting them in their comfort zone and matching them to the gear and information that will make them feel good about themselves and help them enjoy their outdoor activities more fully. It's what Maya Angelou often said, that people don't always remember what you do or say but they "never forget how you made them feel." In the end, we don't think about other outdoor gear retailers as our competitors because we know that if we can make our guests feel seen and heard and appreciated as they are, and help them get what they need and desire, we will build an extended community of friends and loyal guests for whom The Ashland Outdoor Store will always be the best outdoor store in the world.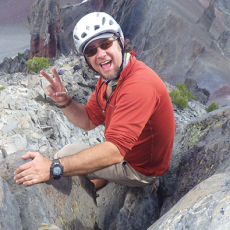 I heard you are reinstating an unconditional return policy, what is that all about?
We never want anyone who shops in our store to worry about how they will be treated when something goes wrong or they are dissatisfied with their purchases. That is why we went back to a "Yes!" return policy which is simple and clear. If something isn't to your liking or is defective, bring it back and we will refund your money, replace the item or offer you a store credit.   

I think sometimes the idea of customer service gets lost in a lot of rules. Our idea of retail is that there should never be a psychological impediment to someone buying your products. If they have any experience that is negative, then that is just poor marketing. In other words, our best marketing is to meet the guests where they need to be met and provide them with the best service and products; and if that means accepting returns without hassle or sending them to another local store to get something that suits them better, then we'll do it. Stephen's friend Thommy reminds us often that how you do anything is how you do everything. Which means that we will happily embrace our core value that serving guests is about helping them get what they need and desire even when something goes wrong or when another store has better merchandise to suit their needs. 
Learn More:
The Ashland Outdoor Store
37 N. 3rd St., Ashland
10am – 6pm, Sunday 11am – 5pm
(541) 488-1202
Check out their website here