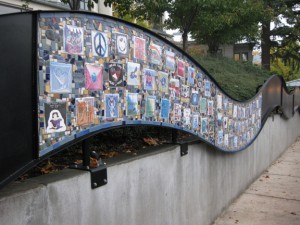 Interview with Nancy Parker
Driving into downtown Ashland, you'll notice a long, wave-shaped structure in front of the Library – the Peace Wall, an approved public art project slated for completion and dedication in a ceremony coinciding with the U.N. International Day of Peace, September 21st, at 5:30 PM in front of the Ashland Public Library. The public is invited.
The Peace Wall evolved over three-plus years. It began as the Peace Fence, dream child of artist Jean Bakewell, who envisioned an unsightly chain link fence along Ashland's railroad tracks as a place where people could hang banners expressing hopes for peace and the planet's well-being. On Mothers' Day, 2007, 67 fabric panels were strung up on the fence. It eventually grew to over 200 panels as varied as the artists who created them. People of all ages and walks of life contributed work including 170 Ashland school children and SOU students.
How did a grassroots Peace Fence morph into the Peace Wall?
The seven original Peace Fence volunteers – Jean Bakewell, Nancy Bardos, Kay Cutter, Kate Geary, Marta Gomez, Nancy Parker, and Jan Rice – kept the Peace Fence up for over a year. In June, 2008, vandals tore down all the panels, shredding many beyond repair. But excellent photos of every panel had been taken, and we discovered we could have tiles made from the photos, and create a mosaic wall of these tiles.
Who designed the Peace Wall?
Sue Springer of Illahe Gallery in Ashland designed the Peace Wall. Darrell Boldt (D.A. Boldt Construction), along with Marty Jacobson and Bruce Smith of Ashland Fabrication, worked with Sue to design and fabricate the metal framework. The wall consists of six 8-foot-long sections and two 3-foot-long end pieces – 54 feet in all.
How did you decide on the Library as home for the Peace Wall?
Ashland has ordinances regulating both public artwork and signage. We worked with the Public Art Commission to choose a site and gain approval for Sue's design. Ann Seltzer, the city's liaison to the Public Art Commission, and Dana Bussell, President of the Art Commission, helped shepherd the project through the approval process. Ashland Library Manager Amy Blossom also helped.
Who's footing the bill?
The total cost of the Peace Wall is $25,000, not one dime of which has come from public coffers. Almost all the money has been raised from private donors contributing sums from a few dollars to a few hundred dollars. Medford's Carpenter Foundation gave us a $1,000 grant. Recently, an anonymous donor began matching every amount contributed starting July, 2010, until the $25,000 is raised. We're very close. Peace House has acted as our umbrella organization to funnel donations through their non-profit status, so that all money raised is tax deductible. We're very grateful to these donors, the Carpenter Foundation, Peace House, and our anonymous matching funds benefactor.
How have you raised $25,000 for a public art project in the middle of a recession?
The Peace Wall organizers are a multi-faceted bunch. Tia Hatch handles publicity. Marta Gomez handles myriad financial details. Pam Derby, Sally McKirgan, Kay Cutter, and Nancy Bardos have worn many hats to organize fundraising efforts. Nancy Parker has written grant proposals and created and maintains the web site (http://www.peacefence.org). Jean Bakewell has been our "CEO". The group meets weekly. All our time and materials are donated.
Our most successful fundraisers have been the monthly First Friday Soup Nights. These evenings were the brainchild of local restaurateur Tom Beam (Pasta Piatti), who obtained the permits and provided and served delicious soup. Tom has footed the bill for these events, from which we've raised thousands of dollars.
We've received "in-kind" as well as cash donations. Darrell Boldt and Sue Springer both donated hours and materials costs on the metalwork and mosaic.
Who's doing the mosaic work?
Each section of the wall consists of several tiles surrounded by intricate mosaic. Around 200 volunteers have done the work under the tutelage and supervision of Sue Springer.
When will the Peace Wall be finished?
The last four sections will be finished and installed by September 21st, in time for the dedication on U.N. International Peace Day.
Tell us about the September 21st event.
Mayor John Stromberg will say a few words. We'll formally hand over the completed Peace Wall to the City of Ashland along with a check to help with the cost of maintaining the Wall. There will be blessings. The Peace Choir Ensemble will sing. Tami Marston will sing. Jean Bakewell will say a few words. Short and sweet. It's an opportunity to thank the hundreds of people who have created the Ashland Peace Wall. It is truly a labor of love by many hearts and hands.