Interviews
Ashland Supportive Housing- Serving People with Developmental Disabilities Since 1981
Formed in 1981 by a small group of local parents looking for a better life for their adult children with intellectual and developmental disabilities (I/DD), Ashland Supportive Housing and Community Outreach (ASH) has always been based on the principles of respect, dignity, and compassion for all people regardless of their abilities.  ASH operates three residences, a weekend B&B-style respite home, and a variety of day support services, all serving I/DD adults in Ashland and the Rogue Valley.
I recently spoke with Executive Director Sue Crader and Community Programs Manager Brooks Eakett to learn more about this unique Ashland resource and the very special people that it serves. 
Hi Sue. Thanks for taking the time to speak with us today. 
You are welcome. I have looked forward to this interview ever since our last one. I had many community members mention that they saw us in the LocalsGuide and they didn't realize that ASH offers so many important services to the I/DD community.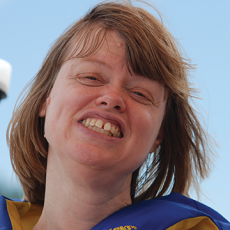 It's been a year since that last interview. Tell us what's new with Ashland Supportive Housing.
The most exciting news was that the City of Ashland's Community Development Block Grant provided us with funds to remodel the Lindley House, one of our group homes. The residents and staff took a vacation while the home was being remodeled, and when they returned the house was transformed: it was like being on a home makeover show! Our residents love the paved walking path around the house, the new laundry room, and the new skylights. Also, with 750 square feet of additional living space, our residents who use wheelchairs can move more freely throughout the home.

The other big news is that we received almost $6,000 worth of donated produce from the Ashland Growers and Crafters Market last year.  Each Tuesday during the season, our staff and residents collect fresh produce from our generous local farmers to provide healthy food options to our homes.  We collect so much food that we donate the surplus to the Ashland Emergency Food Bank.  Because we are a charitable organization we are able to give growers receipts for their donations.  Last year we donated a total of 1,505 lbs of fresh produce to the Food Bank!
Sue, please give us an overview of Ashland Supportive Housing and Community Outreach. What's the big picture?
Through our three residential homes, the Ashwood Inn (our B&B-style weekend respite home), and our community-based support services, ASH provides a wide array of services to Ashland residents and to the greater Rogue Valley that allows our clientele to live, work, and recreate in their communities. Some key examples: providing residential homes for people who need 24/7 support, including specialized medical monitoring; helping clients navigate and enjoy their community; and giving support to families by providing respite services.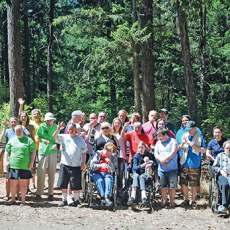 Many of your staff have been with you of years. Please say more.
Compared to the statewide averages for agencies in this field we have a low turnover rate, which we attribute to the support we provide for our staff. This includes fully covered medical, dental, and vision insurance that includes naturopathic care, and paid sick and vacation leave. Each staff member is thoroughly vetted through our interview process.  We look for highly qualified, competent, and caring people who do this work because of their deep commitment to people with I/DD.  They receive extensive training and we ensure that direct-support professionals are placed in positions that are the best fit for them. We work together not just as a team, but as a family, creating a harmonious work environment that maintains dignity and respect for each other as well as for the people we help support.  I'm also proud that ASH has repeatedly made the list of the "100 Best Nonprofits to Work for in Oregon."
Please describe the difference between the residential and community programs you offer.
ASH was formed to provide homes for adults with I/DD as an alternative to life inside a big institution.  We have three, five-bedroom residential homes.  Each is a single-family residential home that looks no different from the outside than any other home in the neighborhood.  We work hard to keep our homes well landscaped and as inviting on the outside as they are on the inside. Each home is set up for the residents to age in place with ramps, grab bars, and other modifications to help people maintain their mobility and independence.   We view our homes as homes for life, not as rooms to fill. Each person has their own bedroom in which they decorate to fit their personality.  Some people choose to bring a little of their own meaningful items and creativity to the common areas of the house as well, which are set up as the family living areas. 

Our community based programming provides supports to people who live with their families, caregivers, or on their own.  Support services are designed to help people maintain their independence and improve their quality of life.  Supports include community inclusion, skills training and help with activities of daily living.  The Ashwood Inn is designed to provide people with a break from their caregivers, and their caregivers respite from caregiving.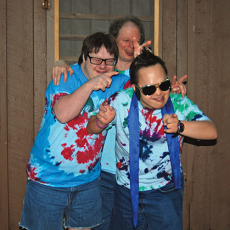 Tell us more about the Ashwood Inn and the unique service it offers.

The Ashwood Inn is a caring, cozy, and cheerful B&B for adults with developmental disabilities.  We specialize in providing memorable weekend vacations that give families a welcome respite from caregiving. We are the first B&B to serve people age 18 or older with I/DD in Southern Oregon and one of three in the entire country. The Ashwood Inn is a registered provider of Relief Care with the State of Oregon.  Staying at the Ashwood Inn may be covered by Support Service Funds. All services and activities are designed to encourage and develop independence and are delivered in a manner that promotes dignity and respect. Guests receive three healthy and hearty meals per day and they enjoy many fun activities like arts and crafts, dancing, karaoke, laptop play, bowling, puzzles, concerts, and community events. Tours are available for guests, families, and caregivers (call 541-488-9301).
What transformations do your guests experience?
Often the guests arrive a little shy and it takes some time for them to adjust to their new surroundings.  They are given as much time as they need to feel comfortable; however, in almost every case, within an hour the guest begins to join a fun activity. We often have repeat guests and they make an effort to include the new person because they remember their initial moments during their first visit.  By the end of the stay, guests usually say they wish they could spend another week with their new friends. Happily, the friendships often continue after the weekend.
This is an exciting opportunity for many of your guests. Please say more.
This is often the first time the guest is away from home, and even though they are initially hesitant, they are there because they chose to be at the Inn.  Guests and families are required to tour the Inn prior to staying, so the guest has a good idea of what to expect.  We have heard many stories from parents thanking us for creating a great experience for their children and for improving their confidence. One mom said the time away from the family was excellent for her daughter and that it improved her attitude at home, especially with her brother.
What are key concerns of family members who have loved ones involved with Ashland Supportive Housing?
Parents want their children to be happy. When a child has special needs, parents are understandably protective. At ASH, we make sure that everyone involved is treated with respect and dignity, and that our clients receive high-quality personalized care. We have strong systems that ensure our residents and guests are safe and protected.  At the same time, they are encouraged to be independent and to interact within the Ashland community.
Please talk about the job and responsibilities to the clients and families.
Our job responsibilities go beyond the day-to-day interactions: our deeply committed staff teach our clients how to make good decisions and how to connect with others. Families are always welcome to ask questions, make suggestions, and to visit their loved ones. The clients have the right to determine what services they want and who their caregiver will be.
Tell me about your community programs.

One important service we provide is the ASH Community Outreach Program for people with I/DD living in their own homes. Services are designed to help people maintain their independence and improve their quality of life.  Support includes meal planning, grocery shopping, budgeting, medication management, and community inclusion.  Many of the people just need minimal assistance to lead a fulfilling life.  This program has been a huge success.
Your work truly changes lives. Will you share a recent success story with us?

We recently heard a heartwarming story from a woman whose brother has been staying at one of our group homes. She told us upon his arrival last year, he had challenging issues like fear, physical pain, and food insecurities.  Over the year, the staff worked tirelessly, helping him feel safe and respected.  They were also persistent with their proven methodologies in caregiving. His sister told us he feels safer and he trusts his caregivers will be kind to him.  Our group home is the most loving home he has lived since he was eight years old and was first institutionalized. He smiles now and makes happy sounds.  She said that the caregivers have transformed her brother's life into one of comfort and ease. 
Sue, would you like to share any last thoughts or comments with our readers?

I want your readers to know that ASH is a great resource for people with I/DD and their families, as well as for our community.  Even if readers do not have someone in their family that needs our services, there are plenty of opportunities to get involved.  Serving on our board of directors is a great way to help shape the organization's direction. People can also support and attend our many events that fund additional activities. Donations and fundraising help our residents participate in outings like our summer camps and community happenings. Through this generous support, our clients get to do things they never thought possible, like swimming, making a five-course meal, or parasailing over the ocean.  
Learn More:
Ashland Supportive Housing and Community Outreach, Inc.
693B Washington Street, Ashland, OR 97520
(541) 488-2870
Check out their website here