Banyan Tree has spread roots in Ashland and is showing up across town, leaving behind their signature of high-quality craftsmanship blended with a level of artistry that is few and far between. A premier landscape and masonry business here in Ashland, Banyan Tree specializes in jobs from commercial to residential from fine stone masonry, decorative concrete and complete landscape and irrigation services, to recently-added tree service. We went out on-site to meet with local owner Andrew Markham to learn more about the exciting growth of his company.  
Andrew, thanks so much for doing this interview with us today. I am seeing you guys everywhere around town!
Yes, we have had 3 years of solid growth that has allowed for us to develop a highly-skilled and diverse crew.  We feel fortunate to have worked on several visible jobs, from the addition on the employee area at the Ashland Food Coop to recent improvements to Ashland Plaza and the corner of Winburn Way near Lithia Park main entrance. We have taken steps in our growth to not exclude ourselves from smaller projects, while remaining available to complete larger-scale installs in a timely manner.
I'd love for you to elaborate more into the scope of work you are doing.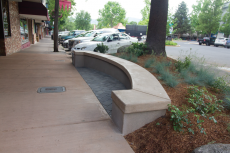 We are probably best known for our stone masonry.  My partners Carlos Garcia and Mario Cortes have developed relationships with several local quarries to hand pick much of the stone we use in our projects.  We have a total of 7 master masons on our team.  These men can build anything from stone, block, concrete, pavers and more.  They sure make us look good, and it's a treat to watch this level of mastery.

This year we brought in Justin Fleming and his diverse skills and experience as an additional landscape contractor and partner.  Several of his crew members have really added expertise in the world of planting, irrigation, and metal work.  Justin is spending much of his time managing our larger projects and working close with clients along the way to completion.

Lucretia Weems has been a part of our team for almost ten years providing plant design for Banyan Tree.  This year she has expanded her scope, and in addition to planting plans she is doing project follow-up to help ensure our landscapes have the opportunity to reach full fruition.  This is an invaluable service that our growth has allowed for, ensuring we maintain an active and positive relationship with our clients and landscapes for years into the future.

Jesus Vasquez runs the maintenance team and works closely with Lucretia on recently completed projects.  We have been maintaining Billing's Ranch HOA for our second year, and recently signed on with Callahan's Lodge.

Starting in June, we are finally adding our Tree Service.  It's been long awaited and made possible by merging with All-American Tree Service.  Sean Gallagher will be managing the tree and we look forward to providing this service to our community.

I must say we love completing architecturally-designed projects.  We have completed numerous projects designed by KenCairn Landscape Architecture in the last years, including Ashland Food Coop and Winburn Way, and are in the middle of a lovely project design by Sager and Associates Landscape Architecture.  It is a real pleasure to work with both of these design firms and I can't say enough about the role of Landscape Architecture in our success.
Andrew, you personally have been involved in the field for more than 30 years but your crew also has years of experience. Please say more.
I have being doing this my whole life.  I have fond memories of raking leaves with my grandpa, and as I got older, mowing the neighborhood yards when I was 10 years old.  I worked in a plant nursery through high school and studied soil and water in college.  I became a licensed landscape contractor in 2006 and started my company that year.

As for the crew, we have several second and third generation masons on board.  It's a treat to watch the father and son team of Joaquin and Antonio work together, and on a special occasion Joaquin Jr. will join us… three generations on one job. Then you have Mario and his three brothers often working side by side. Wow, talk about a family operation.

A most recent addition is Jon Siewert who also is a second generation plant master.  His father Steve Siewert has been an invaluable resource for me over the years with his knowledge of local plants, health, maintenance, and long-term performance of landscapes.  Though Steve turned down numerous requests to be part of our team, we are so excited to have his son on board.  I can't say enough for the wisdom that he carries passed from his father.

Jeremy Huhtala also brings over a decade of experience to full landscape installs from water features, lights, to irrigation and planting.  Jeremy has been with us the last 10 years and his dedication and wide range of skill sets makes my life easy.
The craftsmanship and quality of work that Banyan Tree is able to provide for its clients is exceptional. Will you please say more?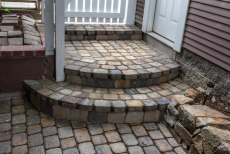 The answer to this question really is a result of the experience mentioned above.  It's really in the small details that make our work stand out.  Smooth curves, details in the corners, fine finish grades, and planting plans with year-round interest.
Concrete and stone masonry is not something you learn in a year, or even two.  It takes time, practice, and really what it requires is mentorship. Our newest crew members are eager to learn, as these are skill sets that will provide a lifetime of employment.
What do you see as some of the signature stamps of the work your company has done?
We have a few quarries that we exclusively harvest stone for our projects.  One is a brown, red, gold-modeled basalt we call "Marianna Stone," named after Carlos' daughter.  Another stone we are loving to work with and fits well with the local landscapes we call "Copper Granite."

Another signature this year has been refurbishing and repurposing existing materials.  I love when we can reuse existing blocks, pavers, stepping stones, or rocks on projects.  It provides cost savings and a smaller environmental footprint, and really shows off how a good design and craftsmanship can turn around a landscape.
You customers have been thrilled with the level of quality that you are able to provide. Please share more.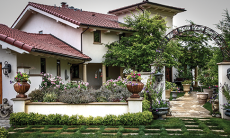 Here's what a few recent customers had to say about our work:

"Highly recommend Banyan Tree. I hired them to install a fence, a gate, shade garden plantings, a stone wall and pavers/steps to replace a poorly draining concrete breezeway. I could not be more pleased with the team and the final result. Andrew and his whole team are extremely professional, knowledgeable, creative, focused on quality and willing to work within my budget."

– Eileen Piker

"We were really satisfied with our masonry project! Turned out fantastic and the crews were very polite and diligent. We would hire them again."

– Dan Comins

"Banyan installed pavers and a cedar fence for us. I designed the steel gate (a sun) and the fence. Justin really listened to me and helped my ideas become reality. Justin actually fabricated the fence! I am an avid gardener and not only did the crew do an excellent job, they were very careful not to damage my plants. This is a wonderfully creative company and their workmanship is outstanding."

– Marguerite Schellentrager
As you guys do more and more commercial jobs, what advantages do you see that you are able to bring to your clients?
We are more and more looking at commercial and municipal projects.  We have a large workforce with a broad range of services that allows us to complete most projects in-house and at a competitive price point and on-time.  Large scale commercial work is a whole different animal from our cute Ashland cottage landscapes, but we feel we are poised to be very competitive and effective in this market.
What are some of the new services you are offering to customers?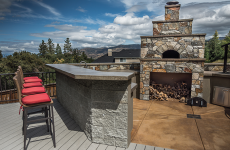 The tree service has been long-awaited and finally I can answer the question, "Do you do tree work?" with a positive "Yes we do!"

Concrete masonry is a newer service, and though we have been doing it on our projects for some years, we are now confident to put ourselves out as a concrete contractor.  We are focusing on patios, pathways, retaining walls, and countertops, though we will likely add foundation work in the future.

Landscape and Commercial Maintenance is a rapidly growing division of our work; we are likely already working near your home.  We are really interested in maintaining commercial properties and HOA's as well as residential sites.
I would love to hear more about where you see Banyan Tree really excelling.
We love working with the local landscape architects, it really is the next level of landscapes.  These are typically larger-scale projects integrating all the elements of landscapes into a cohesive and well-thought-out design.  It's always fun to show off our mastery in stone work, and more and more we are doing the same with detailed concrete finishes.

On the other side of the spectrum, we are able to create a design that achieves goals on a tighter budget.  For example, refurbishing existing pavers, or creating clean defined pathways from steel edging and decomposed granite for a fraction of the cost of pavers or stone.
Your customers have a great appreciation for the craftsmanship and artistry that Banyan Tree is able to provide. Please say more.
This appreciation really makes what we do worth it.  It takes no small effort to keep a team of 30 people working, or to complete a $100,000 plus project on time and budget, but really what keeps me going is the appreciation of our clients.  I love having client involvement, I love seeing their amazement as the stone masons meticulously chip tiny pieces of stone away to make the perfect fit.  I love to share my passion for peonies, or dogwoods, or the smell of Korean Spice Viburnum with clients.  I really attest our success to our capacity to relate to our clients, enjoy our work, and leave behind something in many cases will be there for centuries if not more.
Andrew, what are some things we have to look forward to this year with Banyan Tree?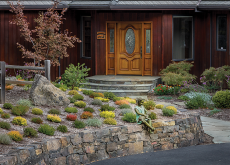 We are in progress on completing a large scale project on the Mt. Ashland ski road.  It is the old log home bed and breakfast that is now a private residence.  The project designed by KenCairn Landscape integrates a desire for the homeowner to be sustainable through greenhouse food production, functional with respect to snow management, and natural by blending into the native landscape.

We are starting a project in upcoming weeks collaborating with Solid Ground Landscape where we will be doing our finest stone masonry at a new home near the old granite quarry on Granite Street.
Finally, are there any last thoughts or comments you would like to share with our readers?
We feel fortunate to be so well received in the Rogue Valley.  It is really a testament to our community and their desire to leave a lasting imprint through the creation of beauty and functionality of their landscapes.  My wife once said, "You can't always make it happy but you can make it beautiful."
Learn More:
Banyan Tree Landscape Construction llc.
303 Mowetza Dr.
Ashland, Oregon
541.944.0943