Have you ever considered a career as a massage therapist? Here's your chance!  Ashland Institute of Massage has opened 2017 – 18 enrollment for new students with big changes to their program hours and schedule . As they enter their thirtieth year, this innovative massage school continues to enhance their students' experience and success.
With massage job growth rate projected at 22% through 2022, now is the moment to dive in. I headed over to the Ashland Institute of Massage to speak with Laureen Sutton and Bryn McCamley, owner/directors, to learn more about these expanded opportunities.
Hi Bryn and Laureen! Thank you very much for speaking with us today and congratulations on another great year at Ashland Institute of Massage.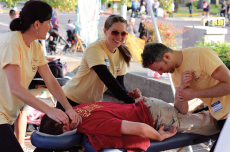 Thank you Shields! We are feeling super fortunate to have ended another great school year with fantastic graduates entering the work force. Now we are gearing up for our 30th anniversary, and starting this year with some exciting changes and perspectives for our school.
I understand you have been working hard to institute many new changes with this new 2017 program. Please tell us about it.
There are quite a few! To start, we have increased our program hours to 725 hrs. per program. We have expanded some of our hands-on classes into those hours so students will have maximum opportunity to train their body awareness with instructional support.

As a part of that change, we were able to modify the academic calendar to include weekends off for both our Evening and Day programs. This is a change we feel really good about, as we have been aiming toward this goal for a while. This new schedule will allow students more time to integrate the subtleties and nuances of the curriculum while also staying connected to core pieces of their lives outside of school. This gives us an opportunity to model the lives we are supporting students to achieve.

Our teaching team and staff have grown this year as well. There is new inspiration and innovation in both the classroom and the office!

We have! We are in process of annexing the neighboring suite in our business park. This new space will provide another classroom, administrative office, student kitchen and lounge. We are excited for our students to have a beautiful new space for studying and relaxing.

The other physical change is the expansion of our professional clinic space. We will soon boast seven unique and lovely treatment rooms, in addition to the kitchen, beautiful lobby, and other on-site resources. Check in with us if you are a practitioner looking for professional rental space.
Bryn, Ashland Institute of Massage is really a one of a kind school. Please tell us what sets you apart from the rest?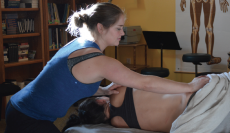 Well, Shields, we are a dying breed! AIM is a small, private school, refusing to sell out to the growing nation-wide massage school chains. We believe the best massage therapists are cultivated in an intimate, personally supportive atmosphere that acknowledges every individual's strengths and challenges.
Competent, confident practitioners are grown within competent curriculum, responding to each individual's growing edges with integrity. We maintain small class sizes so that we can know each of our students fully and support them in their education as completely as possible. AIM encourages each student to find their own niche within massage, to shine a light on what makes them stand out with their work. We know that everyone has something special to offer.
We are told that students seek us out over other schools for our personal involvement with each student, and our philosophy of educating the whole person. People are drawn to our warmth and caring, which is palpable through our publications and in our classroom. They feel seen and heard, which is important! Thorough, cutting edge curriculum with happy, enthusiastic instructors who genuinely love teaching in a bright cheery classroom – it's just a great place to study and learn. This work is our life's passion, and I think prospective students can feel that contagion. We love what we do and it shows. We're proud of that!
Laureen, can you please give us an overview of your student body? Where are your students coming from, and what they are seeking to achieve in coming to your school?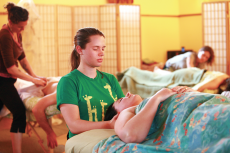 Our student body is seeded from all over the country, with the bulk often grown locally in southern Oregon. As varied as their locations of origin, so are their personal trajectories. Our students are all ages, 18-64 so far, and from all manner of backgrounds. What they all have in common is a strong desire to serve people in a personal and meaningful way, to become part of the growing and respected alternative health care community, and to achieve meaningful work that gives them some autonomy over where and when they work.
Ashland Institute of Massage has a very strong reputation for job placement with its graduates. Please say more.
AIM has had a reputation of excellence for many years. We continually examine what we teach and how we teach it, so we can provide the newest information to our students in this rapidly advancing field of study. The rate at which research is discovering "aha's" about the human body is astounding right now! We live in a very exciting time in terms of biomedical research and awareness. As instructors, it is important that we deliver the most current information. This keeps us on our toes! Our students graduate with up-to-date awareness of health and healing, ready to engage with sophisticated employment opportunities.

Our graduates' success in the workplace still astounds me. Employers from near and far away call us regularly looking for graduates from our program to hire. We have to tell them to wait until next graduation, as all of our grads are already working as much as they desire! This is a reflection of AIM's reputation for producing highly knowledgeable and skilled therapists right out of the gate.

Our students' test scores on national exams also reflect that standard of excellence. This past year, we were informed by a representative of the national examining board that our school scored top in the state for the national written exam, and that Oregon was top in the nation.

Can't get much better than that!
Laureen, I'd love for you to give us an industry update.
The field of massage therapy has been growing for years, and is forecasted to continue that trend for some time to come!

Dept. of Labor statistics show a 22% increase in employment opportunity for massage therapy nationwide through 2024. Employment is available state-wide and the opportunities for job placement are vast. AIM graduates are choosing to work in hospitals, medical clinics, spas, wellness centers, chiropractic offices, for major sports teams, overseas, you name it.

A point we like to emphasize in our training is the relevance of massage therapy for traditional western medicine. Insurance agencies are covering massage as preventative and rehabilitative treatment, hospice covers it as palliative care, and physicians are prescribing massage for soft tissue repair and pain management. Mental health care practitioners are partnering with massage therapists to treat the body-mind connection for all sorts of ailments, from PTSD and other traumas to anxiety and body image issues. There are a lot of new advancements available for job opportunities in massage therapy, and they are growing! A bonus – this is a career that cannot be usurped by technology. Massage therapy will always be a human profession.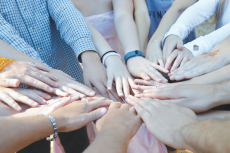 Bryn, can you please tell us more about the opportunities available at Ashland Institute of Massage?
Indeed! While professional massage training is our main focus, AIM has a few other things going on! A big piece of what we do is offer continuing education (CE) for licensed massage therapists and other professionals. This is a year round offering, bringing in nationally acclaimed instructors. We love to keep learning, and the bountiful community of sophisticated bodyworkers in our area deserves great continuing education courses. We are even moving out to the Oregon coast to serve that community of practitioners! Our CE offerings are listed online at www.aimashland.com.

Probably our busiest endeavor on a daily basis (outside of classes) is our on-site professional massage clinic, Chrysalis Massage Clinic. Our clinic employs stellar graduates of our massage program and offers massages daily. Online booking has added an easeful dimension for our clinic clients. Our pricing makes massage affordable for folks who otherwise find massage prohibitive, and the quality is unmatched.

We are having fun growing our retail store, too. Surprisingly, AIM boasts the only massage supply retail store in southern Oregon. We carry products for students, therapists, and clients looking for quality items to use in practice, personally, or to give as gifts.

Our Student Massage Clinic is one of our most popular "extras" of the year! This is when our students interact with our community, offering massages for greatly reduced rates at a point in their studies when they are ready to integrate all of their skills. We can't thank you all enough for your support throughout the years. This is a total win-win situation for AIM students and the local community. Due to our program expansion, we have the luxury of offering more student clinic days this year! Yahoo

Students across the board say this is their favorite part of the curriculum. It enables them to see themselves actually owning their skills, and grows their confidence immensely. The feedback they receive from you, the clients, is an integral part of their learning. This is their chance to truly get a feel for what it means to work in the field, and to practice all of the subtleties that go into making a seamless session.

We have student clinic days offered sporadically from February through June, with both 60 minute and 90 minute massages available. Online booking makes signing up for our student clinic easy. To receive an email or post card with information about the student clinic schedule, call our office with contact information. Mailings go out in January or February each year.
Please talk more about the duration and structure of your trainings.

AIM has two professional massage training programs, identical in curriculum, but different in style. Our ten-month Evening Program offers classes four weeknights and one full weekday. This schedule is ideal for students who must work during school, who prefer an extended time frame to integrate their studies, or who are striving for a definite balance of life and work. We started this year's Evening Program at the beginning of September, and it will graduate in June 2018.

Our Day Program is an eight-month commitment, with classes four full days per week. The three day weekends are a time for study and personal engagement – this schedule does not allow for significant work of any kind, if at all! The Day Program is more intensive in nature, like an immersion program, and perfect for people who thrive in the steady pace of living and breathing massage! Our next Day Program begins this November 6 and will graduate alongside the Evening Program in June.
Ashland Institute of Massage is all about finding the right fit. Please say more!
AIM is committed to providing an exceptional massage education experience. This means we care deeply about all who enter our program, and the experience they have while attending school. Our thorough admissions process aims at helping prospective students get a clear understanding of who we are and what we offer so they can truly feel if they resonate with our philosophy. That allows us to get to know those who are interested in us as well, and make sure each incoming student has a place with us that will set them up for success. We open our doors to those who want to participate with a deeply bonding group experience, are willing and able to be present for the academic and personal workload, and are able to balance their current life circumstances with our demanding curriculum. This program is not set up for people in heavy personal transition moments or unstable personal spaces. Those folks would find our program overwhelming, and that ultimately is not in anyone's best interests. We are very up front with that, so we can help each individual find the right timing for them to attend school and achieve their dreams as easefully as possible.
This is very insightful and I appreciate you taking the time to share these thoughts. To expand upon this further how do you both define success for the students of AIM?
Our hope is that every one of our students leaves AIM feeling super excited about entering into this new career, confident that they each have something unique to offer, knowing they are well-equipped to begin and will keep learning forever; that they were well supported in their learning with us, have grown new family, and always have home with us. We have an annual Homecoming event when all grads are invited to come back to roost and check in with us and each other. It is one of our most heart happy moments! Success for us is that our graduates know they have grown family, that their time and money was well-spent, and that they see massage school as a pivotal moment in their lives.

For more on that, we refer to how the students and graduates of our program define success for themselves!

"Massage school is much more than I ever expected.  I crave going to school.  The instructors leave you wanting to know what comes next.  They balance the studies between book time and body time to perfection.  These people know what they are doing!" Shannon Payne Night 16-17

"Attending AIM I have found my place in the world of education.  I feel fully supported and inspired to learn through the exquisite styles each teacher encompasses.

I wasn't a great student in my attempt at community college and being at AIM has made me understand I am because of their tailored, direct, hands on teaching methods.

This program is by far the most successful endeavor I've experienced in life, I highly recommend this school!"  Kelsey Otteni Night 16-17

"AIM is absolutely great on a few levels.  The teaching staff is very talented, engaging, and they really care about your progress.  The personal development portions of class are fantastic, and their comprehensive teaching style makes retaining the material much easier." Ben Hicks Night 16-17
Are there any events or opportunities you recommend for perspective individuals wanting to learn more and potentially enroll in Ashland Institute of Massage?
If becoming a student of massage therapy is exciting to you, come to our Open House this month, Thursday October 12, 3-6 pm. Stop by at any point during that time to get a tour of our school and professional clinic and talk with instructors, graduates, and staff. Our address is 280 E. Hersey St., Suite A8. We'd love to see you there!
Thanks again for doing this interview with us.
Thank you Shields. It's always nice to catch up with you and our community.
Learn More:
Ashland Institute of Massage
280 E. Hersey St, Ste A-8,
Ashland, OR 97520
www.aimashland.com
541.482.5134