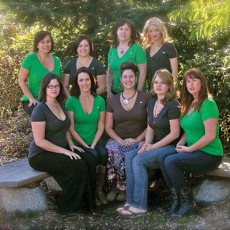 Susan Zastoupil is the owner and founder of Be Cherished in Ashland, OR, a full service salon and retail store. Be Cherished opened its doors September 2010 and hosts a variety of different services.
We decided to catch up with Susan to find out more about her business as well as to get the inside scoop for this local holiday season.
Susan, thanks so much for taking time to speak with us. Can you begin with giving us a little bit of a story behind how you created Be Cherished?
Be Cherished was created out of a desire for growth both personally and professionally. Also, the more I learned about AVEDA, its products and its mission to care for the world we live in, the more connected and excited I became. It feels good to add my little bit to something larger that is having a positive impact on the planet.

My first call was to Aveda corporate headquarters to determine the criteria for opening a salon in a community like Ashland. Aveda also recognized the potential for growth and my journey began. Actually, there was a lot of support and guidance not only from Aveda corporate but also from our local Peoples Bank and SOREDI, creating jobs is encouraged! Be cherished employs nine amazing people.
I understand you work with a great staff, will you take a moment to introduce us?
Overall I truly believe that people who are drawn to work in the "beauty industry" are very caring and creative people. One of the things that makes us unique is the wonderful camaraderie that we share. This groups energy is so positive and fun, we all went to Disneyland together last month, just us 9 staff members and we had an absolute blast. This particular group of women has an energizing chemistry.

When you walk into be cherished you are greeted with a warm friendly smile from either Joy Gosson, Jessica Carrico or Darci Baize.

These three women have been working with Aveda for the last 7-10 years and are very knowledgeable about our products and services.

Darci, our salon manager, has a degree business administration from SOU and keeps us on point at all times. Darci is also our "Green Mentor", our success as a business in the Southern Oregon Sustainable Business Network's Green Biz Challenge's is due in part to her continued efforts to build sustainable practices that reduce costs, energy use and be cherished's carbon footprint .

Joy Gosson moves fluidly between her two roles as Aesthetician and Assistant Manager. As assistant manager, Joy takes care of all the small but important day to day details while still having the big picture in clear view. As an aesthetician Joy's gentle thorough skin care and waxing are her area of expertise.

Jessica Carrico is also a licensed aesthetician, however her area of expertise is make-up artistry. Jessica keeps a watchful eye on all current trends and the latest techniques, which she then combines with Aveda's cosmetics made from organic flower petals and nourishing minerals. Jessica is also a whiz at scheduling appointments and helping our guests select the right products for their skin, body and hair care needs.

Our manicurist Kristi Owens is a long time Ashland resident. Kristi, is well known for her tender loving care for fingers and toes. Kristi is very knowledgeable and somehow manages to make even the most tired old water-logged hands look beautiful.

Tiana Bramson is our licensed aesthetician. Tiana's touch and attention has given her a devoted following in our community. Tiana is also pursuing a license in nail technology and we are looking forward to her attention to detail in the area as well.

We have three hair stylists at be cherished.
Carrie Delanty came to Ashland from Southern California. Carrie developed her skills at a very busy, high profile salon, and has quite the range, delivering very edgy avante garde looks and hair color to natural "only your hair dresser knows for sure" styles and colors.

Britta Lobsitz joined us this summer via Portland. Britta has been an "Aveda baby" from day one, highly trained and knowledgeable in all things Aveda. Britta is building a local following at record speed and continues to impress us with gorgeous hair color and fantastic haircuts.

I, Susan Zastoupil confess my favorite work is to create pretty hair, edgy avante garde hair is also a lot of fun but my passion is to help a person harmonize their lifestyle, their features and their preference to create a comfortable, maintainable style that feels attractive to that individual.

My favorite part of this whole business is the people. For me it's about creating an opportunity for success. Having a beautiful space and allowing people to do what they love, I think that's what truly makes us successful.
How did you decide to use the name Be Cherished?
When it came time to register a business name everything was sounding too cutesy or too full of myself. As it happened my husband and I were traveling to the coast for a friend's wedding. As we were getting in the car I said to him "I'm going to find the inspiration for the business name". During our trip we went over a bridge that had the word "cherish" carved into it. Immediately I knew that was it!

A call to action to be kind to yourself, treat yourself as you would your friend.
Tell us a little bit about the services you provide?
Because we don't have showers or baths, I would describe be cherished as a salon with spa like services. Not only do we provide services such as haircuts and color, re-texturizing hair, including perms and amazing reconditioning treatments. We also provide excellent skin care from problematic skin to maintaining beautiful healthy skin as well as specialized care for fine lines, wrinkles and hyper-pigmentation. Aveda's skin care products were endorsed by Allure magazines readers as a natural skin care product line that actually works!

Also we now offer Shellac Manicures. This is a gell polish that is UV light cured. Not only is it long wearing, two weeks is average, but at the end of the manicure your nails are dry and ready for anything! No need to worry about smudges.
Today more than ever people simply need to relax give us your top ten tips?
Well, what would you tell your best friend? Slow down, breath deep and take care of yourself. Go somewhere friendly, have a cup of tea, put yourself in caring hands, a scalp massage a hand massage, aroma therapy… these all sound wonderful right? A little piece of bliss right here on Main St.

If you had a magic wand what would you wish the community would really realize about Be Cherished? What would be the big… "Ah Ha"!
Be Cherished is a call to action.

Ultimately everyone is responsible for taking care of themselves and we are here to make it easy.

Our goal is to be a soothing getaway while receiving a little self-maintenance. Everyone needs a haircut, we perform an aromatherapy scalp massage with every designer haircut, it's simply wonderful! Aveda hair color has the scent of organic lavender. Complimentary hand massages are an everyday occurrence. I would invite you to come see how pleasant a salon experience can really be.

We've developed our service menu around a "level" system to make it easy to care for yourself. We always recommend level three for the first time to allow for the most time to thoroughly care for your unique situation and create a maintenance program. After that your technician and you can discuss a program for optimal results. For instance the first time you have a pedicure, we'd recommend our Indulgent Pedicure, which allows for more time to work on callouses, rough spots and neglected cuticles, but the next time you come in you may only need a polish change. We've created lots of opportunities to easily feel cherished.
This Holiday season what would be the ultimate gift pack we could put together for mom? And Dad?
This year we have eight Holiday gift packages for under fifty dollars! Add to that a gift certificate for any dollar amount or service and you've got a fantastic gift for Mom or Dad or anyone!
Any last words for our readers?
Please don't hesitate to call:

541.482.4900
www.BeCherishedashland.com