Interviews
Beyond The Ordinary Bella Terra Fine Jewelry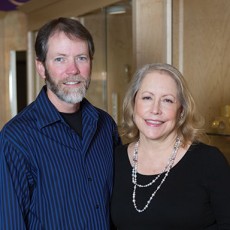 Bella Terra translates to "beautiful earth." Owners Rex and Tobe Thompson bring to Ashland unique treasures from the earth in jewelry and craft to fit any budget. Fair Trade gem sourcing and recycled precious metals are used to help sustain the planet while the artful hand transforms these treasures into beautiful wearable jewelry and crafted art pieces to enhance the home. With the knowledge and experience gained over more than 30 years of business in Alaska, California, and now in Ashland, Rex and Tobe can assist customers with their varied jewelry and craft needs. Stop in and prepare to be inspired!
Rex and Tobe thanks for speaking with us today and thank you for opening your new store in Ashland! Can you begin by telling us a little bit about your own stories and how you became involved with gems and jewelry? 
Of course, Shields.  And thanks for asking about Bella Terra Fine Jewelry.  From a very early age, rock hammer in hand, I was enamored with the mineral world.   After receiving my undergraduate degree in physical geography from California State University, Chico in 1981, my options for employment were limited to teaching, cartography, or being a weatherman for a local news channel.  None of those options resonated with me.  Inspired by a local goldsmith and his operation, I inquired about the best school to learn more about gems and jewelry design and manufacturing, which led to me to the Gemological Institute of America (GIA) in Santa Monica, California.  I enrolled in the first Jewelry Arts Manufacturing course offered there and followed up with the Graduate Gemologist program.  It was there at the GIA that I met Tobe.  She supervised the student services office.  Before graduating, I was hired by a local custom jewelry business as manager and goldsmith.  Three years later, Tobe and I moved to Chico where I worked as a custom jeweler, then as an assistant manager for a regional retail jewelry chain, a wholesale jewelry manufacturer as a gem buyer and setter, helped to open and was the jeweler for an upscale jewelry boutique before running my own trade shop doing work for several local retailers.  After seven years there learning literally every facet of the jewelry industry, we were ready to open our own retail jewelry business.  After travelling to southeast Alaska to look into opportunities there, we decided on Juneau and its tourist based market.  We filled a 40 foot container with all our things and off we went.  At first, we were hidden away on the second floor of the Historical Senate Building and eventually into a new 1800 square foot street level location across from the cruise ship dock.  We spent 15 wonderful years there before purchasing a large retail jewelry boutique and gallery in Santa Cruz, CA in 2008.       
Rex, you mentioned that you were born with a rock hammer in your hand. How did you first get introduced to the craft?
As far back as I can remember, my family did a lot of camping and fishing and in those places there were always an abundance of rocks, minerals, fossils and crystals.  I was fascinated with all of them.  With a rock hammer that my dad gave me, I became an avid collector, or as my parents called me, a rock hoarder.  Eventually, I found myself designing and making jewelry for my friends using a variety of gem materials, metals and even wood.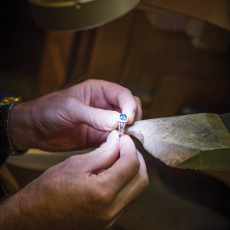 Tobe, this will be your third jewelry store that you both have owned. Can you please introduce us to what you have brought to Ashland?
Bella Terra is a small family-owned store offering an eclectic mix of fine jewelry, high quality silver jewelry, American craft and art.  Experience, expertise, enthusiasm and a desire to be engaged with our customers and the community are the keystones of what we bring to Ashland.  Rex's thirty years of jewelry and gemology experience and our twenty years of working together as business partners has prepared us well for this new venture.   For Bella Terra I envisioned a small intimate shop with moderately priced artisan jewelry, glass, pottery, and gift items.  Rex also envisioned an intimate shop but with an amazing selection of colored gems and pearls from all over the world and jewelry presenting the highest level of craftsmanship.  In the end we both got want we wanted as Bella Terra is all that and more.  Obviously, there are already a couple great jewelers in town.  We didn't open to compete, but rather to add more diversity to the market and help strengthen Ashland as a fine jewelry destination.

Prior to our move to Ashland, we lived in Santa Cruz, CA for over five years where we owned and operated The Vault Gallery, a jewelry and craft gallery somewhat like Bella Terra but on a much, much larger scale.  The downturn in the economy hit Santa Cruz hard and in 2011, after much soul searching, we decided to close that business.  In 2012 we kept busy working in the wholesale end of the industry but by year's end we were ready for a change.  Rex's sister was living in Medford and his brother was in the process of relocating there as well.  In January of this year we spent some time in the Rogue Valley and specifically in Ashland.  Here we saw the mix of community, business opportunity and nearness to family we were seeking.  Santa Cruz always felt temporary for some reason.  Ashland, on the other hand, feels like our "forever" place.  
Rex, how have you gone about choosing the different lines of jewelry you sell in your store?
I have known most of the designers and jewelers we carry here at Bella Terra for many years.  They are small independent jewelers that we know on a first name basis and share the same desire for the best quality gems and craftsmanship in any given price range.  In fact, I consider them to be good personal friends as well and spend time with many of them outside the confines of their professions. Here at Bella Terra, all our gems are natural, not man made or laboratory grown.  We are happy to share our knowledge regarding any enhancements or for that matter, any concerns that customers may have regarding gems and jewelry.
Rex, can you say a little bit about your own work as a jeweler?
I enjoy working and creating new designs in my studio above the showroom, as well as collaborating with other jewelers to set my gemstones into their designs.  Currently, I'm working on some new designs that combine silver and pure 24 karat gold, which I plan to display for the holiday season.
Tobe, any comment?
One of the reasons Rex is a great jeweler is that he has an amazing ability to concentrate and become immersed in the task at hand.  When he is working at the bench he is completely absorbed in what he is doing and is able to tune out all distractions. I'm one of those people who can watch TV, read a magazine, talk on the phone and eat a sandwich all at once.  Not Rex.  When he is "in the zone" nothing breaks his focus.  In addition, he is a perfectionist.  It doesn't matter if he is creating an exquisite one of a kind piece of jewelry or completing a simple repair, he's not happy until it's perfect.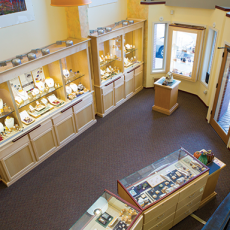 Tobe, you mentioned that Rex has an amazing memory for color. Can you please say more about this?
Seeing a color and remembering it with high accuracy at a later time isn't something everyone can do.  When buying colored gemstones, even when size, cutting quality and overall characteristics are held equal, the slightest variation in color can greatly affect value.  For example, an un-mounted, faceted one carat blue sapphire can easily range from $400 to $4,000 in price.  Due to both experience and to his great eye for color and fine tuned color memory, Rex can look at a gem and know where on the price continuum it falls without any other visual frame of reference.  This is critical when he is selecting gems for our designs since only by buying right can we offer the best value to our customers.  Rex has an innate ability to find the best priced gems available across every range of quality and color.
Rex, are you currently available for any custom work and what are some opportunities you offer your clients?
I enjoy working with clients to design custom pieces to fit their design style and needs.  We also welcome jewelry repair, pearl and bead stringing, as well as buying gold and diamonds from clients who wish to turn their old jewelry into cash or use its value as a credit toward custom work.  We'll also be offering insurance and estate appraisals beginning in January.
Tobe can you highlight three your favorite products for this holiday season?
We have many wonderful gift options but, I admit, I do have some favorites. Two of our cases display beautiful silver jewelry that is hand created by the Ed Levin family.  The earring, bracelet and necklace styles are innovative yet timeless and are a joy to wear.  Many designs feature colored gems or pearls or two-tone metals and all are available in 14 karat yellow gold by special order.  The designs we carry by German designer Bernd Wolf are also in my top three.  He works in sterling silver and 23 karat heavy gold vermeil and integrates faceted and polished gem beads into his creations.  His designs utilizing shimmering black Spinel beads are extremely popular.  Pearls are another wonderful holiday gift option.  We carry a wide range of varieties and colors and have everything from classic styles to updated looks.  For me, pearls never go out of style.

Oh, I almost forgot, I love, love, love the art glass pumpkins we carry from Cohn-Stone Studios.  As a gift for the hostess of your holiday dinner or a new addition for the collector on your gift list, Cohn-Stone's glass work is amazing.
What has the feedback been from recent customers discovering Bella Terra? 
Customers have been extremely positive, particularly commenting on our "refreshing" mix of products and jewelry.  We have received tremendous positive feedback about clearly displaying the prices on our jewelry.  Many times a shopper has walked in, taken one look and turned to us and said "Thank you for showing your prices"  The wide variety of colored gems we carry both pleases and intrigues our patrons and we have heard many nice remarks about our range of price and quality offerings, from very affordable to very fine collectible.   There has also been great feedback on the environment we have created; folks like the look and feel of our space.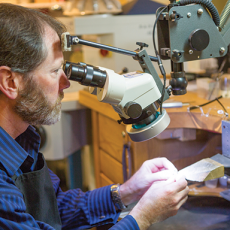 Rex, can you talk about how building trust with your customers has always played an important role in your long term success?
Like the old adage, "honesty is the best policy".  We have always lived our lives this way and so it goes with our business.  As a result, we continue to do business with many of the customers we built relationships with in both Alaska and California and now in Southern Oregon.
Tobe, what are some of the things you help guide customers through in their decision making process?
I like that you use the word "guide" as that's what I believe I do.  Hard sell tactics are very uncomfortable to me, both as a merchant, and as a customer.  I feel that customers recognize the quality and unique styling we offer when they enter our store.  My job is to present options that will fit the individual customer's particular needs and preferences.  Folks come into Bella Terra for a range of reasons; whether a customer is just looking, or is on a mission to find a very specific item, my role is to be sensitive to their experience in our store.  I spend a great deal of time informing and educating. When someone finds that perfect piece of jewelry, or decides to make room in their home for a beautiful art item, I am confident they will love it forever.
You have chosen to have everything clearly priced in your store. This isn't always the case in jewelry stores. Can you please say more about why you did this and the benefits to the customer?
You're right Shields, visibly showing the prices in fine jewelry stores is not always the case, but we are committed to the practice.  As I mentioned before, we are very sensitive to the experience a customer has in our store.  Showing prices allows a customer to "self select" and direct their attention to those items that will work for their individual budgets.

Imagine this scenario. You have been searching high and low for perfect gift for someone.  Finally you see "it" right there in front of you in a jeweler's case.  You are excited and relieved to have found exactly what you were looking for and ask to take a look.  Close up the piece is even more beautiful, more perfect, but now comes the bad news.  You ask the sales associate "how much?" and the price is hundreds, maybe thousands of dollars beyond your price range.  Talk about awkward!   At Bella Terra we show our prices so those uncomfortable situations can be averted.  Besides, we are very confident our pricing is fair and reflects true value.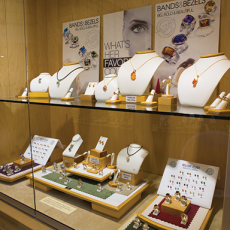 Rex, will you give us a tour of three to four of your favorite pieces that might make gifts this holiday?
That's a hard question, since I feel strongly about all our designs, but for the sake of your asking me, I'll narrow it to three.  First is a blue sapphire and diamond ring in 18 karat white gold.  One of my best friends, Michael Banzhaf, designed and fabricated this piece in his organic, somewhat Etruscan style.  Central to the design is a bezel set cushion shaped Sri Lankan blue sapphire of the most pleasing and intense corn flower blue.  It was artfully cut and polished by another close friend of mine, Vlad Yavorskii, from St. Petersburg, Russia and exhibits tremendous scintillation.  Flanking each side are two extra fine quality diamonds tapering into the three wires that comprise the rest of the ring.  It is truly an heirloom piece.

Next is an Oregon sunstone ring in silver and rose gold.  This beautiful gem was cut in my friend Eric Braunwart's studio and the contemporary design was done by his wife, Kathe Mai Braunwart.  The rose gold bezel setting really complements the soft peach/ pink color of the sunstone.

And last, a rare grape garnet and diamond pendant in 14 karat yellow gold.  As with the sunstone mentioned above it was cut in Eric Braunwart's studio and the contemporary clean lined design was done by my friend David Worcester.  Rare grape garnet is an intense very saturated reddish purple gem.  I've not seen another gem variety quite like it.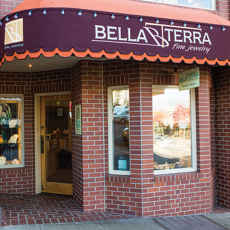 Finally, Bella Terra is located downtown at 60 E. Main Street. What are your current hours and best time to visit?  
Bella Terra is open Tuesday through Saturday from 10:00am to 6:00pm.  Other times are available by appointment.  We welcome shoppers, visitors and lookers any time we are open and encourage anyone who hasn't been by to stop in, say hello, and take some time getting to know us and our offerings.
Learn More:
Bella Terra Fine Jewelry
60 E. Main St. Ashland
541-708-6300