Interviews
Blue Giraffe Day Spa, 15 Years- Thank You Ashland!
Located in downtown Ashland, the Blue Giraffe Spa and Salon is celebrating its 15th year in business. Originally founded by Jimmy and Trisha Kolker and now under the management and co-ownership of JoAnne DeRoo, The Blue Giraffe ranks as one of the top spas for locals and tourists alike to enjoy a variety of services. With a base of more than 30 employees, JoAnne and her staff go above and beyond to always make sure your visit to The Blue Giraffe is the best. This month we spoke with JoAnne to go behind the scenes and explore what has truly positioned the Blue Giraffe among the greats in Ashland. 
JoAnne, thank you very much and congratulations on your acquisition of the Blue Giraffe Spa!
Thank you. I'm proud to carry on the tradition. It's an amazing opportunity to be in partnership with Jimmy and Trisha Kolker.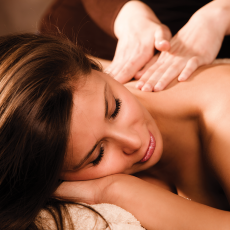 Fifteen years in Ashland is a great accomplishment. If there was one thing that you could attribute to having created such a long-term and successful business, what would you say that has been?
Over the years we have been honored to win several awards, from the Sneak Preview to the Mail Tribune "Best Of." The thing that sticks out the most and the reason we have been given so many awards is because our staff is the best in the Valley. They are an amazing group of people who are really take personal pride in the services they give and are really dedicated to the care of our clients. 
As a spa enthusiast yourself, what are some the key details you pay attention to when getting a spa treatment?
I'm really aware of my surroundings in a spa. I like a warm and cozy place to relax to begin my treatments. I also pay attention to the staff members. Do they have smiles on their faces? Are they willing to engage me, and are they friendly? Do they make me feel at home or like a visitor?
You have mentioned that it's really about all the small changes that we can make in people's lives that make such a big difference. Please say more.
Being in the service industry we have the ability to really change the way someone's day is going. Often our lives are hurried and are about what needs to be done and when. It is great to be able to provide a space where people can relax and get some much needed self time and relaxation. Then they go off into the world and hopefully will make someone else's day with a smile or kind word because they are feeling more grounded and better about themselves.
JoAnne, 2015 was a great year for you guys with many new services offered. 
2015 was a great year for us! We were excited to bring a new line of therapeutic grade oils, doTERRA, which has a big presence in the valley and the top-notch ingredients.
The Blue Giraffe family has a staff of more than 30 employees. Talk about the glue that holds everything together for everyone. 
This is a family organization, with a very high level of professionalism. Everyone is very dedicated to their craft. Most of our employees have been here an average of 3-5 years. 
Not only are your employees highly dedicated to their craft, but your customer services reviews are through the roof. 
Our entire staff is committed to an amazing customer experience. We really love our local clients and pride ourselves on getting to know them by name.
Can you share some of the recent comments you have received?
"I had a bang trim with Montze and the service was exceptional.  I like that I am greeted by the front desk staff with a smile and the use of my name – so personal.  I am having a full hair cut this week and always enjoy starting off with a peaceful ten minutes in the waiting area, with a cup of hot tea." –Carole W.
"What did you enjoy the most?  Both Julie and Marissa are knowledgeable, professional, caring women. They go beyond what is required." –Diana S.

"Terrific. Great front desk staff. Wonderful facilities. Leaf is the most talented massage therapist I've ever met." -Amy M.
I am very curious to learn about your new Intraceuticals treatment. I hear results are immediately noticeable and effective. 
In 2014 The Blue Giraffe began using Intraceuticals skin care. It is UK Ecocert-certified, organic, and non-GMO. The treatment itself is unique because it is done with pressurized oxygen allowing the serums to penetrate more deeply into the skin. 

The results are noticeable and immediate. It is gentle and safe for all skin types.
You guys also just rolled out a new website with online booking. I love it!
When we were looking at building our new site, the most important considerations were that it was user friendly, easy-to-navigate and had a mobile booking platform. Our clients can book their appointments, or find out pricing and general service information day or night, when it is most convenient for them.  
A comment I have heard mentioned frequently is that the Blue Giraffe really has something for everyone.
We pride ourselves on having a price point that everyone can afford, as well as a diverse menu of services. Ideally everyone should be able to experience the services we have to offer.
JoAnne, what are some of your favorite services at the Blue Giraffe? 
I love our spa manicure with gel polish.  It is shiny and strong and we have lots of colors to choose from.
Are there any hidden gems that you would like locals to know more about?
We offer many wonderful spa services and medi spa services. We recently redesigned our website, so clients can view all of the services we offer, pricing options, and even book appointments online.
What are the current spa hours? 
We are open 7 days a week. Monday-Friday 9-8, Saturday 9-7 and Sundays 10-6. 
What's the monthly special for March?
We run monthly specials and contests for give away services every month. You can always find them on our website bluegiraffespa.com or on our Facebook page.   
JoAnne, over the past eight years you have been quietly working beyond the scenes to make sure customer service is top notch. Something in particular I've noticed is the friendly greeting locals receive when entering the spa.
Over the years it has been our pleasure to get to know our local clients. Greeting them by first name and really knowing them is what we are all about.
Tell us about the LOCALS ONLY DEALS.
We have created some services that are just for our local clients to get a little pampering during a busy work week.

45 min. Swedish Massage –  $60

45 min. Essential Facial –  $70 

30 min. Locals Pedicure –  $42 
JoAnne, thanks so much for doing this interview with us today. Would you like to share any last thoughts or comments with our reader?
Thank you LocalsGuide! We look forward to serving our community for many years to come. 

Learn More:
Blue Giraffe Day Spa & Salon
51 Water St, Ashland
(541) 488-3335
Check out their website here