Interviews
BUMP – Fashion Forward Maternity and Infant clothing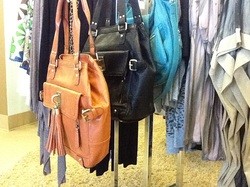 Looking for fashion forward maternity and infant clothing in the Rogue Valley?  Look no farther than B U M P, Southern Oregon's premier maternity and infant boutique, located in Ashland, Oregon.
Owned and operated by Sarah and Jason Esquerra, BUMP offers expectant mothers as well as their friends and family a haven to find stylish maternity, nursing, and infant clothing, as well as accessories.  We were able to catch up with Sarah and Jason and get the inside story.
Sarah and Jason, thanks for taking the time to talk with us today and tell us about your new store B U M P! Can you start by sharing a little bit behind the inspiration in bringing "B U M P" to Ashland?
We were looking to open a business in Ashland, exploring many ideas from restaurants to juice bars.  Sarah had recently sold her partnership of 15 years from the Breadboard, a local restaurant, and Jason was looking to transition out of his private personal training business, My Shadow Fitness.
During this period, our plan to have a baby opened our eyes to the lack of maternity fashion offered in a boutique style atmosphere in Southern Oregon.
There also was a lack of a place that combined stylish maternity/nursing and infant clothing, provided a comfortable relaxing shopping experience,  or that was dedicated to offering the personal service provided by a traditional boutique.
When Sarah became pregnant, we decided that this was the niche we wanted to fill.
What are some of the benefits your customers experience when shopping locally at your store versus shopping online our out of a catalog?
First off, we offer what no one in our area does; a place to find stylish and amazingly comfortable clothes for a woman who is expecting a child. One of our main focuses is an inviting and relaxing atmosphere, matched with personal service. We also focus on meeting special requests, and being a touch-point for the community with regards to other local businesses that serve our clientele.  We want to know our customers on a more personal level, which is not the focus of a larger department store or website.  Ordering maternity clothing on-line is a guessing game.  We wanted to offer a comfortable space for expectant mothers to try on clothing. Especially important for the ever changing physiques of pregnancy are clothing lines that fit each stage.  In the these first two months, we have already been able to adapt to customer needs, such as ordering organic baby lines and providing larger sizes for infant clothing- both in response to customer requests.
You took quite a bit of time to design the ideal maternity store, taking many needs into consideration. From mothers and babies, children, fathers, friends to grandparents, please tell us a little bit about this process and decisions behind creating your store?
Jason and I went on research trips to the San Francisco/Bay Area, Portland and Southern California, and took notes on what we felt worked best for our customers
We researched everything from the music down to the seating arrangements. We also looked at both baby and maternity stores and meshed the two of those together to create what we felt would suit the needs of our customers best.
One of the most important decisions that we had to make involved picking the right colors to serve as a backdrop to our many styles of maternity and infant clothing.  We wanted to create an atmosphere that was both relaxing and inviting.
One of the aspects of design that we found lacking in most of the city boutiques was a comfortable place to sit.  You will find many cozy places to rest while shopping at BUMP.
We took this into consideration when creating the dressing room spaces as well.  They are roomy, with plenty of space for a stroller, diaper bag or friend to sit with you.
BUMP not only specializes in maternity clothing but is also available with great choices of gifts for baby showers and more. Can you give us some ideas of what we might expect to find?
We offer gift certificates, are open to reserving the space for a personalized shower or private fitting. We can create custom gift baskets, have a wide variety of shower gifts, from plush animal rattles, whimsical accessories, swaddles, coordinating outfits, diaper bags, as well as pamper gifts for mom, such as the luxurious Mama Mio skincare line, and lingerie.
Tell us about your mascot Zilla, how has she played a role in the creation of the store?
Zilla is our 8 year old pocket pom who likes to pretty much go wherever we go, which included the remodel of the store.  Before the store was even open, people walking by would come in to see her, so we decided to include her on our website.  Now, some people come in just to see her, so we update her webpage at www. BumpAshland.com on a regular basis.
What are some of the brands that are exclusive to "Bump" in Ashland?
In maternity wear,  we offer amazing lines such as Michael Stars, Olian, Japanese Weekend, Ingrid and Isabel, Maternal America, Nuka and Lilac.  We loved the style, quality and versatility of these lines.  These lines are designed to be worn not only during pregnancy, but can be worn before and after as well.  Also, we are carrying a great yoga line, Zohba,  and many nursing friendly clothes as well.
For our infant clothing, we offer a range of newborn lines, such as Kissy Kissy, Baby Mio, and Beba Bean knit wear.  These are soft, beautiful pieces.  Infant up to two year lines include  Wry baby, Lollybean (fun two piece outfits  and hoodies) and Sckoon organics.
I also understand that Sarah is also a customer of the store. CONGRATULATIONS! When is your baby due, and what has been Sarah's favorite fashion to wear this season?
Baby Nate is due October 27!  Sarah has worn lots of Isabel and Ingrid leggings and tank tops, Michael Stars tunics, Olian dresses and leggings, and the asymetrical Nuka dress currently hanging in the front window!
You are asking for feedback from your customers; tell us a little bit about this?
When you are starting with only two peoples' opinions, the variety can be somewhat limited.  Taking input from customers is a vital part of the process, especially during this all important first year of business.  We feel that being open and flexible to adapting to our customers needs will help us build a strong base and give us an idea of what best serves the community.