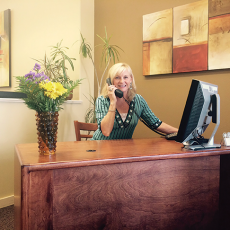 If you have purchased or sold a home in Ashland within the last 30 years then it goes without saying that you have probably heard of Rhonda Lewis. She is one of the town's most recognizable and long term realtors. When it comes to real estate everyone knows to "Call Rhonda". 
In today's interview we caught up with Rhonda to learn more about how she first got started in the business, the challenges she faced, and the creativity she employed in order to become one of Southern Oregon's top producers.  
Rhonda, thanks so much for doing this interview with us today. Please tell us how you first got started in real estate.
It was 1986 and I was raising my daughter and working at Walker School as an aide. My friend Gerald Allen, who was one of the original owners of Gateway Real Estate, told me I should look into selling real estate. I thought, "Oh, I love looking at houses." Little did I know liking houses is only a small part of what being a real estate agent is all about, but it definitely helps. I still find that when I'm showing property I sometimes am more excited to see the houses than the buyers are. I did decide to pursue getting my license, working as an aide in the morning and going to real estate classes in the afternoon.

This was before online classes and you had a book and would listen to tapes for hours.  After many hours of what I considered torture I did get my real estate license and was ready to go. I went to work at Gateway and had the very front desk and would sit and pray that a walk-in would come through the door and want to buy a house. I started realizing there was much more to this business, so I started listening to what other agents that had been in the business for a long time had to say and how they handled situations. I quickly learned that if I wanted to make a living at this business it was going to be a lot of work.
What were some of the biggest challenges you faced when you first started out?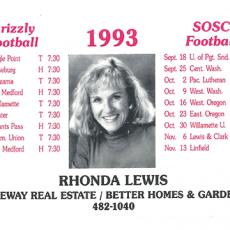 Some of the biggest challenges I found was that there were a lot of realtors in this little town and I wasn't sure how I could compete with all these seasoned agents. I went to an education seminar and I asked the instructor the question: "How do I compete in this business?" He looked at me and said, "DON'T compete. If you do the same thing as everyone else then you are competing, but if you do something different then you aren't." I thought this was brilliant.
We have all always admired all the creative marketing you have come up with, Rhonda. What are some examples from the early days of how you put yourself out there?
I started giving thought to how I could let people know what I did. I didn't have funds to run huge ads so I started doing a newsletter myself. I would theme them. Red for Valentine's Day, green for St. Patrick's Day, etc. These local newsletters would include local town events coming up, real estate information and everyone's favorite: my monthly recipe which I usually got from my aunt who was a fabulous cook. I would either hand deliver these to peoples doorsteps or mail them. The best feedback I got from my newsletter was that everyone was curious about what their neighbors house had sold for and what was happening in the ever changing real estate market. This was the beginning of Rhonda's Real Estate Review. I started running all the pendings and solds for the month and also my own listings and they became so popular I eventually had to have them printed and mailed out in mass.
Tell us about the door to door-to-door visits you did in Ashland. I think some people out there will remember a young Rhonda Lewis coming to visit them.
This was the most uncomfortable task I had to do but was told this was the way to get listings. So my friend Brenda went with me and we would walk the streets of Ashland and go door to door to see if anyone wanted to sell their house. She would wait on the curb and I would go up to the door, ring the bell and pray no one was home. In one instance someone said, "Yes, we were thinking of selling" and I gave them my card and said, "Call Me." Still, I felt like I was intruding on people ringing their bell and I personally don't like when people solicit me so I decided if I was going to "bother" people with my intrusion I should give them something. If you give them something they can't be mad at you, right? I started giving home magazines and one of my favorites were packets of Forget Me Not flower seeds with a note saying, "If you or someone you know might need a realtor don't forget me."  This made it kind of fun to go door to door.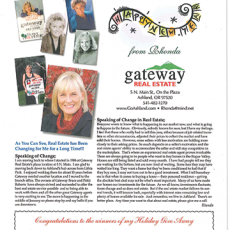 Ha… this is a good story. You then quickly began to achieve high levels of success becoming the Gateway's top producer by 1987.
Yes, I was working hard but also enjoying the business. I found that if you did a good job for people the referrals would come. I always took the business serious. I knew that people were spending a lot of money buying and selling and it was my responsibility to help them through what can be a difficult process.  I also respected the fact that we are in the service business. Treat each client with the same service if they are selling a small or large home. Everyone deserves the same treatment. 
Rhonda, something else you shared with me is that you had asked for advice on how to meet new clients from a real estate mentor. They told you to do something that you loved.
Yes, it was great advice. I told them I love to shop so he said then go shopping but let everyone know what you do for a living. So almost every afternoon I would go to downtown Ashland, wear my name badge, and go in and out of the stores and talk real estate. Everyone got to know me as a realtor and many would say, "How's the market doing?" One day I went into a store and the sales clerk said, " Oh Rhonda… My mom is coming to town and wants to buy a house. Can you help her?" That's when I knew this business was all about getting to know people.
Rhonda, your tagline has always been  "I specialize in people". Tell us more about this and how it connects to your career as a realtor. 
For as long as I can remember I have been a people watcher…  I love paying attention to what people do and what they say. In regards to real estate, when someone walks into a room and says, "Oh what a great view", I make a mental note that they like views. I think as realtors we need to listen more and talk less. If I listen to what they want then I can really put together what they are after so I don't have to waste their time showing them numerous properties that won't fit their criteria. It's exciting because by the time we find the right house we all know it's the right one. I call first showing clients a couple of properties the "education period." It gives me a chance to get to know them but it also gives them the chance to be educated about the market so when they make a decision they feel good about it.
You are like a matchmaker for home owners.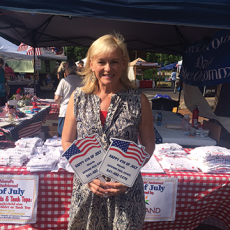 Yes that's a nice way to put it. You don't always have to show a bunch of houses if you and the buyers can figure out pretty quickly what their dreams are and which ones are actually their reality.
Despite your enormous success as a realtor you've always maintained a very community minded and conscientious approach to what you do. 
Well I always looked at real estate as a job but also a huge part of my life. People sometimes forget that we live here also; I raised my daughter here and am always very involved in this community. I feel so grateful that I have had so many great relationships here and have been able to help people through the process. I have dealt with people from all over the world. People dealing with the happiness of a new home and sorrow of loss. I believe everyone deserves the same treatment no matter what their circumstances.
This is great to hear Rhonda. Could you share a recent success story or comment you received that touched you?
I have had people recently say, "I don't know if you remember me but my son went to Walker School when you were an aide and we need to sell our house." I love that. It really touches me that people take the time to call me. But I think the most amazing feedback I get is from my annual holiday give aways. I started years ago putting together gifts or holiday baskets. Then I would have drawings for numerous people to get holiday dinners or toys whatever I was giving that year. Just this last Thanksgiving I had someone remind me of the mother of three that rode the bus from Talent with all of her kids to enter my drawing in hopes of winning the bike I was giving away that year.  Well funny how it worked out but all three of her kids won bikes that year. This is truly the best part of my business. I have the opportunity to try to give back since I've been so fortunate to succeed in this business. 
In this vein of creating very long lasting relationships, you have also been with Gateway Real Estate for your entire career. Tell us about this.
That is easy. Bruce and Pokii Roberts are amazing people, not just in real estate, but in life. Bruce said to me once that he spends more time sometimes at the office than he does at home, so of course he wants the work atmosphere to be a pleasant one. They believe that Gateway is a family. That doesn't mean we eat dinner together every night, but we support each other. We help each other out instead of feeling like the other agents in our office are our competition. Gateway has always been one of the top offices in Ashland and this superb reputation starts from the top and that is Bruce and Pokii. Plus the extra bonus at Gateway is having Karen Fieguth as our office manager. She is amazing. She takes care of everyone.
Shameless self promotion is not necessarily your first nature… but you seem to have excelled so well at it. 
Yes, my shameless self promotion has served me well. I'm actually a private person but again figured out to be successful at real estate you need to be known. It's been a challenge for me but fun as well to push the envelope. One of my most embarrassing moments was when I decided to advertise at the movie theaters. There I sat and on the screen came my HUGE picture. The people in front of me said to each other, "She definitely whitens her teeth". I touched them on the shoulder and said, "I do not." Another time I decided to rent the whole theatre for the opening of the new Star Wars movie that everyone was waiting in line for. I invited my clients to come for the movie and included popcorn!!!  That was really fun. These are the things that make my job so enjoyable.
These days you are running a more relaxed schedule. 
Yes, I'm still working full time but after almost 29 years I've found I don't need or have the energy to have so many listings and clients.

I really enjoy working with good, kind people and  I have figured out how I can still work with my clients in a much more relaxed way and actually have the time to sit and have a conversation with them instead of feeling like I needed to be at my next appointment. It makes the job fun again and I know I can do a good job for people.
So clients both young and old can always "Call Rhonda" for all their real estate needs. 
Absolutely.
Finally, in your expert opinion what is the best thing about living and owning property here in Ashland, Oregon?
That's easy.  A man called me once and said, "Why do you think you realtors can charge so much for houses here?"  I said, "Because you get to live here!" 

Yes, it's a diverse group of people here but also a big family of diversity.  If you ever need support here, people are there for you. It's pretty amazing.
Learn More:
Rhonda Lewis
Gateway Real Estate
5 N. Main Street, On the Plaza
Ashland, OR 97520
541-944-3300