Articles
Case Coffee Roasters Win 2013 Good Food Award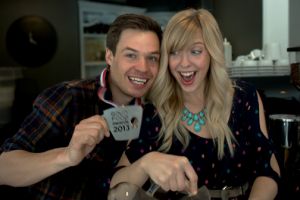 Congratulations to local couple Tim and Kati Case for winning one of the prestigious 2013 Good Food Awards- often referred to as "the Oscars of food"! The small Ashland roasting company has gained national accolades with their "Kenya 'Nyeri Gaturiri" which Tim Case describes as a clean, complex coffee with sweet ruby grapefruit and honey notes. The coffees are first scored based upon flavor, however they must also be sustainably grown to qualify. Due to high National demand and limited supply the winning Kenyan recently sold out, but Kati Case assured me they have plenty of equally amazing coffees on hand.
Case Coffee is located directly across from the University on Siskiyou Boulevard. They are now in their sixth year of business and going stronger than ever. What's the secret to their success? Their philosophy of uncompromising high quality along with a nuanced understanding how to roast and prepare great coffee, all with a smile. I can't count the number of times I have walked into the coffee shop to over hear Tim speaking about a new coffee that just arrived or simply having "coffee geek talk" with his customers. Not only does Case Coffee offer coffee in their shop, but you can also order jars of whole beans online for your friends and family at casecoffeeroasters.com. They also offer a variety of freshly baked local pastries and all natural baguette sandwiches with as many ingredients sourced locally as possible. I caught up with Tim and Kati to ask them about their recent award and 2013 roast schedule.
Oh, did I mention they received their award from Alice Waters, pioneer of the "slow food" movement and co-founder of Chez Panisse restaurant in Berkeley? Now you can either head directly over to Case Coffee and buy a jar of their whole bean coffee, or you can sit here and read the article… My suggestion: Do both, take the LocalsGuide with you head over to Case for a nice cup of coffee now!
Tim and Kati. First of all a big congratulations from all of Ashland to Case Coffee Roasters!
Thank you so much! We really appreciate you taking the time to talk with us.
This is your guys sixth year in business and not only have I watched your coffee shop grow but also your own understandings and passion for choosing and roasting coffee. Can you tell us what you look for when choosing your beans and working with coffee importers?

We simply search for the most phenomenal coffees from the best producers globally. As a small, quality focused roaster we have decided not to pursue big wholesale accounts like grocery stores or large restaurants. We never want to expand just for the sake of expansion. This frees us up to pay premium prices for the highest scoring coffees in the world. This is a win-win for everyone from the coffee farmer to the end consumer. Our coffee farmers make a good wage and are rewarded for producing high quality coffee, and the consumer gets an amazing taste experience. For example, one of our favorite coffee importers has started a new program called 'Aces' where they offer farmers in Colombia a prize of $1,000,000 pesos to to anyone who produces a crop that scores over 90 points by professional 'cuppers' or tasters. Those are the qualities we look for: sustainably and fairly produced but also completely delicious.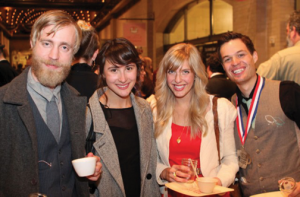 Tim, describe your roasting process for us and what you are looking for in a great coffee?
I feel so lucky to be roasting on my dream roaster- a restored 1950's Otto Swadlo roaster that was hand built in Vienna, Austria. I roast with a precise attention to detail, hand charting each roast profile every 30 seconds. The profile refers to how you control the temperature during the approximately 10-14 minute roast time. There are countless variations of temperature and time, and each lot of coffee is totally different with different size and density. It's always a challenge to bring out as much of the complexities in the bean as possible.
How did you learn so much about coffee and where did you get your nuanced palate for taste and flavor?
Our love and palate for coffee has been rapidly developing over the last few years. Coffee is finally getting the respect it deserves as a highly complex specialty food and it's exciting to be a part of this new movement. Self educating has been essential, and we try to taste as many coffees as possible and stay current and updated on the coffee scene. We do coffee swaps with other roasters around the country. Kati and I really love what we do and our goal is to educate not only ourselves, but our customers. We practice good ol' Southern hospitality here (Southern Oregon that is!) so no one should ever feel intimidated about asking us questions. We like it, I promise!
Can you give us some recent descriptions of a few coffees you are currently offering?

My personal favorite is our new Kenya 'Gatomboya' that is an even higher scoring coffee than our Good Food Award winning Kenyan! It's a coffee gem full of clean, complex, juicy sweetness. We also have a new Bolivia 'Irupana' that reminds us of almond butter, peach jam and milk chocolate; a really drinkable, pleasant cup.
Kati, what were your thoughts when you first received the email that you had won in the coffee category of the Good Food Awards?
Oh my goodness, we were really excited! It was mind blowing that a tiny roasting company like us could compete against all these huge companies that have unlimited resources. Around 160 roasters entered and you could enter up to two coffees so to be named a winner was amazing! I have so much confidence in Tim's roasting and coffee selection skills, so it was really nice to see him be validated and honored on a national scale. He does a lot for our business and our family (we have a sweet 2 year old son, Yonnie) that it made me extremely proud.
This years Good Food Awards was held in the iconic Ferry building in San Francisco. What was it like to meet so many people in the food industry?
It was a red carpet/black tie event, so just being there was a special experience! The best way I've heard the gala described is 'part palace of Versailles, part meeting of the 4-H club'. There were so many amazing people there! Dairy farmers from Wisconson, chocolatiers from Brooklyn, and all the GFA judges who are all 'celebrities' in their respective genres. The 'food-arazzi' were there too, and a picture of our whole team ended up being featured on Sprudge.com, which is a popular third-wave coffee blog.
What was it like to meet Alice Waters and hear her keynote speech?
Alice gave a really moving talk on the importance of supporting a sustainable, local food culture. I learned that in America we spend much less of our paychecks on food than almost all other developed nations. If we can introduce more sustainable and locally grown foods into our homes, we can both help our own local economy and support our earth. Yes, coffee isn't grown locally, but if you purchase high quality coffee that is sustainably grown, fairly purchased and locally roasted you can still feel confident in your choice.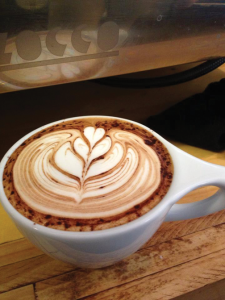 All this National publicity must have been great for your business! Where else can someone find your coffee besides your Ashland store?
It has been overwhelming! Online sales have gone up significantly and we have been busy shipping coffee all over the nation! We have also picked up wholesale accounts in Boston, Eugene and Redding, and have received many requests from all over including some of our favorite coffee bars in Los Angeles and New York. I was even contacted by places in Germany and South Korea wanting to serve our coffee!
Kati, customers who come to your coffee shop really love coffee. What were some of your original goals when you opened Case Coffee and how have they evolved as you have learned more about coffee?
Tim and I met in high school and even in those early years we knew we wanted to save up and start our own business. We were only 21 when we opened up shop, so needless to say it has been a huge crash course for us. A few years after opening we had what we call our coffee 'epiphany'. We tasted one of Stumptown's Ethiopian coffees that claimed to have notes of strawberries, which it did, and that was something we'd never tasted in a cup of coffee before! It was at that point that we realized the product we were serving was a lot more complex and exciting then we had originally thought. We switched to using much higher quality coffees and really worked at 'dialing' them in. Tim and I began 'geeking out' by experimenting with different brew methods and began offering our coffee made by the cup in a pour over system. We changed our philosophy from doing lots of things pretty well to doing a handful of things really well!
Kati, can you tell us a little bit about the new glass jars your are packaging your beans in?
Tim and I were tired of the traditional coffee bags and wanted something really beautiful and sustainable to use for storing whole bean coffee. Our new custom jars are the perfect dark, airtight environment for storing coffee and they look fantastic on your counter too! When your jar is empty simply bring it back and we will clean, sanitize and re-use it. You can grab a new jar of whole beans off the shelf and we give you $2 off for bringing back your old jar. Big discounts for you and zero waste!
Tim, are there any tips or tricks that you teach your employees to keep on you with coffee?
We have two amazing employees that make running our business so fun and simple. They are such skilled baristas that we completely trust them to make all decisions with how to prepare our coffee. Eric Loeffler started for us around last Thanksgiving and has proven to be an awesome manager and sales director. He is one of the best baristas we've encountered and his passion for coffee is completely refreshing. We make a great team and having him and our other wonderful barista Olivia to rely on has given me more time and energy to focus on the roasting side of the business.
Finally, any last words or comments you would like to share with our readers?
Tim and I would like thank everyone in the community who has supported us over the last 6 years. We feel so blessed to live and work here and are so grateful for all our wonderful customers. You make what we do so much fun! To all those who haven't tried us yet, please stop by. We would really love to share our coffee with you!
Learn More:
Case Coffee Roasters
1255 Siskiyou Blvd.
Info@casecoffeeroasters.com
www.CaseCoffeeRoasters.com