Articles
Celebrating New Beginnings for Agave
By Carol Brown
Agave has thrived for ten years in the Ashland restaurant scene, mostly in small quarters on North Main Street.  Now this amazing Mexican restaurant has relocated to a new location on Granite Street. The seating is three times as large as the prior location and there is a great outdoor screened-in patio. Agave's mission statement is "where art meets food." This commitment to great food is demonstrated by all of the food being prepared on the premises daily and fresh, from chips and tortillas, to an incredible coconut ice cream. Agave is open 11:00 am until 10:00 pm seven days a week.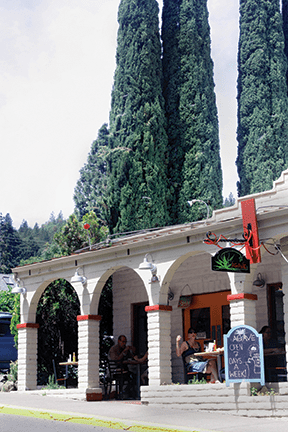 When we walked in we could feel the staff's friendliness and the owner Kathryn's personal presence. Her partner, John Hinkle designed the menu and was the chief chef from Agave's inception and Kathryn was an assistant cook. Previously he had been awarded Chef of the Year in Southern Oregon during the early days of The Black Sheep. John trained three cooks and they have been the heart of Agave's kitchen for 10, 8 and 4 years respectively. John passed away last December just prior to the move to the Granite Street location. Kathryn Golden and Jacob Brown continue the tradition serving freshly prepared Baja-inspired dishes. John's gracious, friendly and energetic presence lives on with the current staff!!
We began our gourmet adventure with fresh guacamole and chips accompanied with pineapple agua fresca. They were great starters. We both abstained from the popular John's B Gone Margarita (voted Best in Southern Oregon) for our early afternoon visit.   We had a chance to enjoy a leisurely pace by coming mid-afternoon, so we could visit with Kathryn.
Next we sampled the baja fish taco and the camerones (shrimp) cocktail  (steamed shrimp, cilantro, lime juice, carrots, onions, cucumber and avocado in a refreshing, cool broth with homemade chips).  This was an amazing appetizer, highly recommended! We also sampled two more tacos – the hearty carne asada (marinated char-grilled flavorful skirt steak), and the Pescado Andrejo, with sautéed tilapia and veggies.  There are eight more types of six-inch tacos, made fresh to order!  We passed on the beans and rice. Instead we decided to try two of their tamales; the pork and red chile sauce tamale was a favorite for us both.  The house salad is mixed greens, tomatoes, red onions, carrots, jicama, pumpkin seeds, cotija cheese and julienne chips topped with house vinaigrette. Add chicken to this salad for a filling lunch! My guest Jerry loved the black bean and corn salad as well, which contained some secret ingredients, making it both a visual and tasty treat.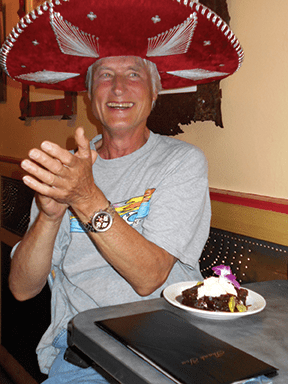 We were too full for any soup, but enjoyed their famous flan (Mexican custard, smooth and cool) and the marvelous homemade coconut ice cream.  There are other great desserts if one can handle dairy including a chocolate kahlua puddle cake.  Oh, to be thin, young, and free of allergies again!
Baja is a narrow peninsula surrounded by the Sea of Cortez and the Pacific Ocean.  If you have never been there (like me), please check out Agave for wonderful service, great food, and a south of the border atmosphere that will leave you a happy camper with a delighted tummy too!