Interviews
Chiropractic Care For Animals – Animal Medical Hospital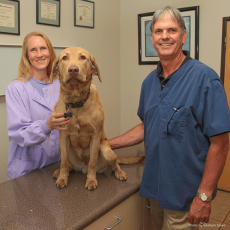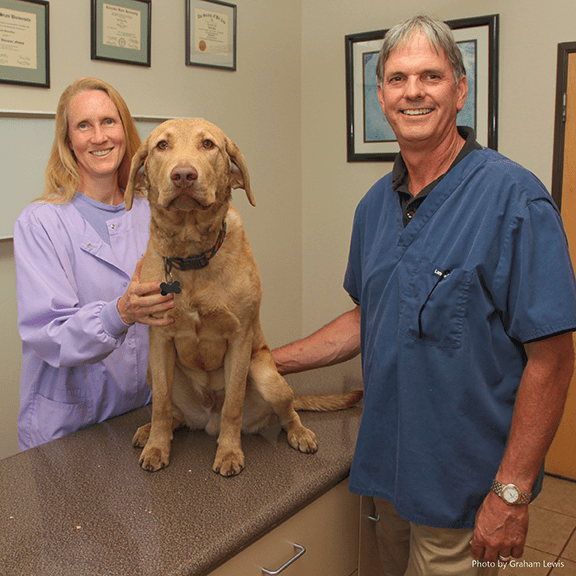 Originally founded in 1958, Animal Medical Hospital is one of Ashland's oldest veterinary clinics. Their claim to fame is that they are now proudly serving the grandchildren of many of their original clients. The clinic was purchased in 1988 by Dr. Scott Knox. In 1992 he was joined by Dr. LeAnn Ahlbrecht and in 2002 by Dr. Tiffany Graeber. The Animal Medical Hospital is located on the north end of town near Anderson Auto Body & Paint and on your way towards Butler Ford. 
Dr. Ahlbrecht recently completed  extensive training in Animal Chiropractic, a new service that is now being offered at the clinic. I spoke with Dr. Ahlbrecht about this exciting new service and her passion for working at the Animal Medical Hospital. 
Hi, Dr. Albrecht. Thanks for taking the time to speak with us today. You have been involved in veterinary medicine now for a long time and decided that you wanted to start offering chiropractic care as another level of service at the Animal Medical Hospital. Can you please tell us how you were first introduced to Animal Chiropractic care?
I have been an active participant in sports with both my dogs and my horses for many years.  I jump my horses and compete in dog agility.  My animals are athletes.  I ask them to compete and in exchange it is my responsibility to keep them in the best working condition  and as comfortable as possible.  I have had chiropractic adjustments on my working dogs for years, but have recently kept up regular treatments with my older dogs, one of which has lost a leg to cancer.  The difference in their day to day ability to move has been amazing to me.  I also have a horse who has broken his neck and a rear leg.  He is now jumping much better due to chiropractics.
After you realized the power of chiropractic care for animals how did you go about getting trained and certified?
I did my research to find the top colleges for animal chiropractics and chose to attend Options For Animals.  It is an intensive course offered only to professionals in the field.
What are the most common applications of chiropractic and then on what types of animals?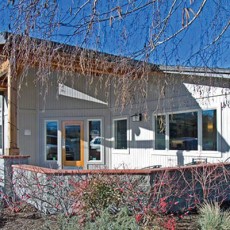 The most common type of patient that I see is the animal who is injured such as the beagle who jumped off the bed and is humped up and shaking, or the old dog with severe arthritis and has trouble getting up.  I have treated other problems like chronic lick granulomas.  I also do regular adjustments on very active animals like working dogs that are active with their owners hiking, playing Frisbee, chasing balls  or just playing hard with other dogs.  Adjusting an animal on a regular basis also helps to prevent major injuries from occurring and  stimulates the animals own immune system to keep itself as healthy as possible.
Are all animals the same in that once you learn how to work on dogs, you can also work on cats?
No,  there are similarities, but there are many differences such as the angles of several of the joints. You need to be intimately familiar with the anatomy of the joints, muscles, tendons and nerves of each of the species.  If you are not knowledgeable, or extrapolating from humans for instance, the adjustment may be ineffectual or could cause injury.
How and why are animals more or less responsive to chiropractic care say versus a human being?
Animals show you how responsive they are to chiropractic work.  They don't generally have the emotional thought processes that can sometimes prevent them from getting better.  They either hurt or they don't.  When they don't hurt they are happy. It makes it very easy to see the results.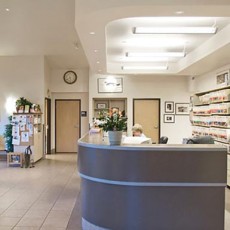 You lead a very active life with your own pets. How have you gone about giving them chiropractic care and what differences have you seen it lead to?
Yes, I really value the ability to adjust my own animals.  As I discussed earlier, they have some pretty significant injuries and illnesses.  Since I began treating them on a regular basis I have noticed a dramatic change in their happiness, health and mobility.

In one of your case studies you described how you had transformed a seven year old dog with crushed back vertebrae into a functional and active dog. The owner essentially told you that you have given him an entirely new dog. Can you please share this story with us? 
Jake is a very sweet dog who has aged way beyond his years due to an injury.   Jake's owners brought him to me because he had lost the use of his tail, had no anal tone (which meant he couldn't control his bowl movements) and had great difficulty getting up.  As a result, he was a bit of a maintenance issue for his family since he lives in the house.  I thankfully was able to restore his anal tone and use of his tail.  He has started doing things that he had not been able to do for years and thankfully, can now control his bowels.

This is the note I received from those clients: 

Jake McGreenie and his friends, the McGuire-Marsh family, are grateful to Leann Albrecht and her colleagues at Animal Medical Hospital.  Jake has severe arthritis due, in part, to an old injury.  We thought we might need to amputate his tail because it was frozen between his legs. Leann used her chiropractic skills not just to get Jake's tail wagging but to restore his vitality and extend his ball chasing career.  To be honest, we thought that chiropractic treatment for animals might be some sort of voodoo.  We are so happy that Leann proved us wrong. 
I get the sense that the at the Animal Medical Hospital that the whole is greater the the sum of it's parts. Can you talk more about your work relationship with both Dr. Knox and Dr. Graeber?
 I have been lucky to be part of a team at Animal Medical Hospital,  working with two other wonderful veterinarians.  We each have our own areas of particular interest but work together as a team rather than as individuals.  It is nice to have the ability to have a second and even a third opinion when needed.  That affords the animals to get the best care that we can give them.
Each of the doctors at the clinic brings a different focus and areas of interest and expertise.  Can you please tell us about each of your areas of focus?
All three of us are general practitioners with a large breadth of knowledge in veterinary medicine and surgery for both cats and dogs, yet each of us has areas of advanced training and interest.  One of mine of course is chiropractic.  Dr. Knox is TPLO (a form of advanced orthopedic surgery for dogs) certified and enjoys orthopedic treatment and surgery.  Dr. Graeber is a cat fanatic and particularly enjoys cat medicine and dog and cat nutrition.
What would you attribute as the secret of your collective success?
We work well together and respect each other.  We offer the clients multiple options on how to deal with a specific problem and try not to cut corners.  We focus on doing the best job that we can.  If we find that an animal has a problem that needs to be referred to a specialist, we will facilitate the transfer as rapidly as possible.
The Animal Medical Hospital of Ashland has now been in business over fifty years and you are helping the grandchildren of many of your original clients. What are some of your favorite local pet stories that you have run across?
There are many stories after so many years in practice that are both joyous and heartbreaking.  I have been here long enough to have followed dogs and cats through entire life cycles from the trials and tribulations of housebreaking to the difficulties encountered later in life and of course the hiccups along the way.  It really is a privilege to be part of a family's life.  I not only see the pets grow up, but watch as clients have families and their children grow up to have families and pets of their own.
Dr. Albrecht, can you give us an overview of the services that the Animal Medical Hospital provides?
We have a very broad base of services.  We offer everything from general health checks with vaccinations  and preventative medicine, to extensive orthopedic surgeries.  Just a short list of services provided include internal medicine, orthopedics, reproduction, ultrasonography, oncology, etc.  We are a full service facility and if we can't accommodate an owner's needs, we will direct them to the appropriate solution.
Back to the new chiropractic care you are providing, how do you you know if your pet needs to come in for an adjustment?  Are there any signs or symptoms that we should watch for?
 Most often people will seek chiropractic care if their pet starts acting stiff, or just "not right."  Also of concern are behavior changes such as not being as active as before, slowing down, or difficulty getting up.  As I tried to stress before,  if you have an animal that leads a very active lifestyle if is a good idea to have them checked to prevent an injury from happening.  Working dogs such as agility dogs, hunting dogs, flyball dogs and tracking dogs, can benefit from regular adjustments to maintain their level of performance and prevent injury.  Just watch your pet closely  when they play.  Observe the acrobatics involved in chasing a ball or even a squirrel in the back yard.  Consider the effort and strain  of the smaller dogs who are jumping on and off the furniture, the bed or going up and down the stairs every day.  Normal daily activity can cause a strain that if left unchecked can progress to something more serious later.
Can you leave us with one last chiropractic success story that changed you from a non-believer into a believer?
Using myself as the example,  I must confess that I was not a believer in chiropractics growing up in a very conservative, no-nonsense family from northern Minnesota.  One day over 20 years ago I bent over to do something and was instantaneously sent to the floor in pain.  I had never experienced anything like this before and was scared.  I had to pull myself across the floor, unable to straighten or stand to get to the phone to call for help.  My friend came over and I asked him to take me to the emergency room.  He carried me to the car and put me in the back.  I rode back there in agony for what seemed like an eternity.  Finally we stopped and when he opened the car I was not at the ER, I was at his chiropractors office.  I will admit I was not happy or congenial.  Mind you, this is a Sunday afternoon and this incredibly nice man has come in on his day off to see me and due to my severe pain, I am not being a nice person, in fact I do recall the word "crackerpracter" coming out of my mouth at one point.  At any rate, he was very patient and kind and asked to just give him ten minutes.  "If you are not better, we will immediately take you to the ER."  I walked out of his office comfortably 20 minutes later.  I now go to Hands on Wellness in Ashland on a fairly regular basis as I lead an active lifestyle myself and would like to prevent injury in my own life.
Finally, do you have any last comments or collective messages from Dr. Knox, Dr. Graeber and yourself that you would like to share with the community?
We would love to have you come see us for any of your pet's medical, surgical or preventative care needs.
Learn More:
 Animal Medical Hospital
1525 Highway 99 N
Ashland, OR 97520

541-482-2786
www.AnimalMedicalHospital.com