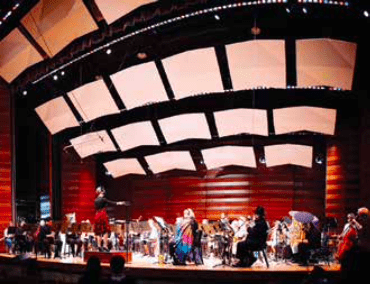 Interviews
Christine Lundahl Rogue Valley Symphonic Band
Introducing Christine Lundahl, the new director of the Rogue Valley Symphonic Band. Originally from Tampa, Florida, Christine has recently relocated to Southern Oregon, where she works full time for SOU as the Director of Bands. She is also actively involved in many local schools' music programs, giving her the unique opportunity to work with musicians from the ages of 8 to 80. As the new Artistic Director of the Rogue Valley Symphonic Band, Christine seeks to expand horizons by introducing and incorporating more diverse genres of Wind Band music. In today's interview, I speak with Christine about Rogue Valley Symphonic Band´s upcoming concert, "Lift Every Voice."
Christine, thank you so much for taking the time to speak with me today, and welcome. 
Thank you, it's absolutely my pleasure!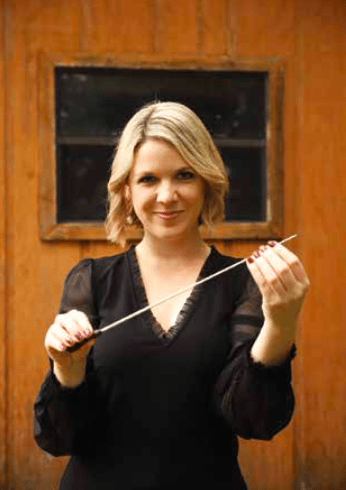 To begin with, please introduce us to yourself by sharing a little bit of your history and involvement in the musical arts.
My dad was a band director and I grew up attending every concert and trip, surrounded by his students, loving every minute of it. I began playing trumpet at the age of ten and really enjoyed my years in middle and high school band. I majored in Music Education at Florida State University and, upon graduating, became a high school band director in Orlando. I lived there for six years and learned an extraordinary amount from my experiences teaching music and performing with local ensembles, then returned to school to get my master's degree in Instrumental Conducting from the University of South Florida. After a particularly inspiring summer symposium, I knew I wanted to be a professional conductor, and continued my education at the University of Michigan. I graduated last year with a Doctorate of Musical Arts in Wind Band Conducting and began my collegiate career here in Ashland as the Director of Bands at SOU. 
Christine, there are very few professional women conductors. Why is this and how would you like to see the world change?
The profession has been predominantly male since its inception, and it is difficult for anyone to picture themselves in a career if there are so few examples. I am very lucky that I have had several fantastic women conductor role models throughout my life in addition to the men who continue to serve as mentors. I'm excited to pay it forward and encourage young women interested in this path to pursue it whole-heartedly.
What do you enjoy most about the work you do?
It is such a rush to be on the podium, in front of a group of fantastic musicians, all creating art in the same space.
You seem to have a knack for working with all different groups and types of musicians, how is that?
I've had a wide variety of experiences, from teaching beginners with their first honks and squeaks, all the way to conducting a professional orchestra, and everything in between. No matter the level of ensemble I work with, I maintain high expectations and strive to create a collaborative, enjoyable, and brave environment for the musicians.
Your upcoming concert "Lift Every Voice" pulls together musicians and musical scores originating from underrepresented segments of society. Please talk more about your vision for putting together this concert and what it represents to you.
My first job was at a Title 1 school, meaning that more than 75% of my students were on the free and reduced lunch program. The majority of the population were students of color and I regularly tried to show them examples of professional instrumentalists and play music by composers that looked like them. At the University of Michigan, I got to meet the composer of one of the pieces we'll be performing at our "Lift Every Voice" concert, Omar Thomas, and our discussion regarding underrepresented composers in the field of classical music moved me deeply. There is so much incredible music written by the diverse voices that make up the beautiful and complex tapestry of our world and I believe whole-heartedly that art should reflect life in a meaningful way. I'm incredibly excited to get to expose these new voices, and true rock stars in our profession, to our audience in the Rogue Valley.
Working with so many people on a daily basis must be truly interesting. Are there any recent comments or happenings that you have particularly enjoyed?
I love that I get to meet so many wonderful people! There are many interactions I could talk about, but the one that sticks out to me at the moment took place after our holiday concert in December. A mom and her young daughter found me and were so excited to talk to me about the music we had just played. The mom told me that her daughter had been conducting gleefully in her seat throughout, then her daughter told me that she "had never seen a girl conductor before," and was so excited that it was something she could do.
Christine, how do you see the world of music and band performance changing over the next twenty to thirty years?
We are all working towards connecting to a wider audience!
What would you like your contribution to be to this change?
As a conductor, I take the responsibility I have as curator of our players' and audience's musical experience very seriously. When I choose music, I try to find excellent works that are representative of a diversity of lived experiences.
Tell us about some of your favorite musical scores or moments that had a particularly deep impact on your life.
There are too many to count; I am inspired daily by my wonderful students, moved to tears all the time by the powerful music I come in contact with, and am firmly convinced that I have the best job in the world! One experience that sticks out took place in 2011. I played cornet in the Brass Band of Central Florida, and we won a national competition and got to tour and perform all over England as a result. We did a recording session in a 1000-year-old abbey, and I remember playing Alfred Reed's Russian Christmas Music and being completely mesmerized by both the reverberations and the sacred atmosphere of that stunning space.
Moving into the future with Rogue Valley Symphonic Band, what are your own hopes and dreams?
It has been a real pleasure getting to know each of the members of the band and I've been so grateful for the opportunity to work with such a high caliber of musicians! I'd love to travel and perform with the ensemble, provide outreach for young instrumentalists, and regularly offer artistically moving and culturally relevant musical events for our local community.
I know that a lot of hard work and effort has gone into your upcoming show. Will you please tell us about the dates and times?
We will be performing "Lift Every Voice" on Saturday, March 12th at 7:30pm in the SOU Music Recital Hall. Tickets can be purchased in-person at Paddington Station in downtown Ashland or online at RogueValleySymphonicBand.org.
Are there any special acknowledgments or announcements you would also like to make now?
This concert is funded in part by the Jackson County Cultural Coalition and the Oregon Cultural Trust, and we are extremely grateful to them. Donors who are interested in contributing to the mission of our ensemble can visit our website!
Finally, do you have any last thoughts or comments you would like to share with our readers today?
These last two years have been incredibly difficult for the arts, and I will never take our ability to make music together in person for granted again. I am so excited to showcase this incredible music and hope you'll join us!
Concert Name: Lift Every Voice
Time: 7:30pm
Date(s): Saturday, March 12th
Location: SOU Music Recital Hall
Learn More: