Interviews
Daniel Flood Toastmasters International – Where Leaders are Made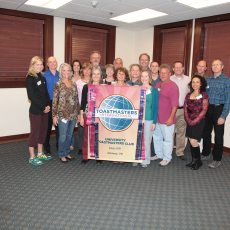 What's your biggest fear?  Bugs? Snakes? Death?  Believe it or not, for most people it is actually the fear of public speaking!  The good news is there is a solution!  Celebrating its 90th anniversary this October, Toastmasters International has helped more than 4 million people become more confident speaking in front of groups.  Here in Southern Oregon there are eight clubs from Ashland to Grants Pass offering weekly meetings designed to not only help members overcome a fear of public speaking but also to develop leadership skills useful in a wide variety of circumstances.  Daniel Flood became a member in 2010 and spoke with us recently to explain the Toastmasters program and how it can be of service to the community.
Thanks for speaking with us today, Daniel.  With such a long history it's no wonder Toastmasters has reached such a wide range of people over the years.  How do you attribute this success?
It's a pleasure to talk with you today Shields. In a word: Value. The overall experience Toastmasters provides is a valuable life skill. Think back; as young children we were often told to be quiet, don't make noise, don't yell, shush, speak when spoken to and so forth. We sought love and approval of our parents so we learned to obey them (to a degree). But conforming to our parent's demands was just the beginning. Soon we were bundled off to school.  When we spoke before class and didn't get the answer right, our classmates laughed at us. We witnessed the same thing happen to other kids too.  We wanted approval and acceptance of our peers and what we got was ridicule.  We learned that to avoid humiliation we always had to have the right answer or we needed to shut up. Most of us shut up. Those early formative lessons can stay and haunt us through the rest of our lives.  When it comes time to have a job interview, present our ideas, sell or communicate effectively with others, we know our skill set is weak. Better to say nothing than to humiliate ourselves. That is where Toastmasters comes in.
Since 1924 Toastmasters has provided a safe and constructive place for members to practice their communication and leadership skills. Everyone in a club wants to see you succeed. Everyone has been where you are now and understands what it's like. It might be scary at first but you can do.   It takes practice. It takes time. It takes feedback on how you are doing. These skills are valuable to everyone and available to learn at your local Toastmasters club.
What are some of the top reasons for people to join?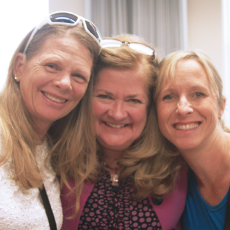 The reasons to join are as unique as the people who join. I can give you some obvious examples:
Entrepreneurs seeking to promote their ideas or competing for venture capital.
Interviewing skills for those in the job market.
New salespeople looking to develop their self-confidence.
Human Resources managers seeking to be better communicators with staff.
First time manages in need of leadership skills.
New business owners needing to promote their services.
Authors who know they will be interviewed about their book.
Those who want to be motivational speakers, counselors or coaches.
Individuals who want to get over their fear of public speaking.
People that love to tell stories or speak in front of an audience.
Technicians who need communication skills at work.
Software and product trainers that help train new clients about their product or service.

All these folks and more are in need of a place to practice and learn. Toastmasters provides the place and the solution to meet their needs.
Being able to have clear and effective communication is key.  Tell us more about the Toastmasters approach to crafting great communication.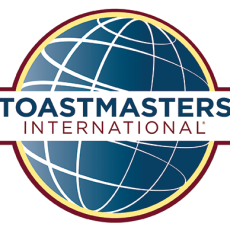 First is stage time. The more time you spend speaking, the easier it gets. Just like riding a bike. This is where the speaking and leadership workbooks help. Learn by doing.  Another important communication skill is impromptu speaking. Knowing how to speak on your feet on any kind of subject at a given moment. This is especially useful if you have to explain where babies come from to a five year old or why you didn't come home last night. Greatly improved listening skills. Again, you learn by doing. We practice by listening to different aspects of presentations and reporting our findings back to the membership.
Toastmasters has put together some very specific and useful manuals that take communication beyond the simple elevator speech.  What are some examples of these opportunities?
Everyone starts with the basics: The Competent Communicator and the Competent Leadership manuals. Each manual has 10 projects to complete. The projects start small and build on each other to ease members into developing their skills. By the time you finish each manual, which takes about a year, you can plan meetings, organize people, lead the team, effectively evaluate and speak confidently in front of most audiences relatively well. If you want to specialize in a type of presentation there are 15 advanced manuals available on anything from sales, humorous speaking, professional speaking, technical presentations and more. You can polish your presentation skills to fit exactly your specific needs.
Practice makes perfect… please say more.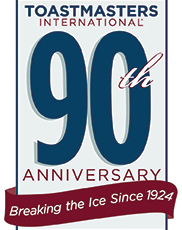 Practice does not make perfect, it makes permanent. Toastmasters is a great place to practice. Also a great place to stretch, try new things and keep your skills sharp as a speaker.  If you have ever learned to ride a bike, play chess, cook or even just walk when you were a baby, you kept practicing until you got it. Practice makes your skill set permanent, not perfect. Perfect doesn't exist in public speaking, excellence does.
What are some of the greatest benefits available to those looking to overcome their fear of public speaking? 
First is the sense of self-confidence you get out of being in control of your fear. Once your fear of public speaking is under control you feel you can take on other challenges, perhaps lion taming.
Improved listening skills. When your ear is trained to listen for the message in the speaker's content and if the speaker actually accomplished the goal of their presentation, you end up getting much more out of a speech than you would in the past.
Loss of your "pause filler words." Those ahhhs, ummms, and things you say when you are trying to think of something to say. What is interesting is that your content doesn't change, only your image to the audience. You go from sounding like you don't know what you are talking about to highly intelligent in the blink of an eye by simply learning to pause.
Toastmasters will also help your grammar.  If you run certain words together and haven't noticed it, someone else will and let you know about it so you can fix it. For example some people say "ta" instead of "to" conversationally and don't even know it. "I went-ta the store," instead of "I went to the store." Notice how one sounds more intelligent than the other?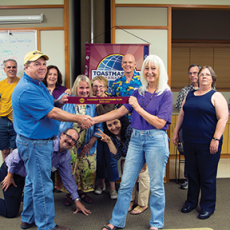 Congratulations are in order to local members who have worked hard and achieved great successes. Would you like to recognize any of these individuals right now?
Okay, here are just a couple:

Roanna Rosewood, prominent local business owner and best-selling author of Cut, Stapled and Mended, who utilized her Toastmasters skills into becoming a motivational and inspirational speaker on the subject of natural birthing and mother's rights.

Jo Anna Shaw started Toastmasters back in the 80s when her boss recommended joining to overcome severe stage fright. Since then she was employed by Fred Pryor/Career Track where she was a top trainer presenting over 400 seminars. After Fred Pryor she started her own coaching company and provides personal development and leadership training to businesses and individuals on the west coast and online.
How about a few testimonials from individuals who have benefited from being involved in Toastmasters?
While I am one of the few people in the world who can honestly say if it were not for Toastmasters, I wouldn't even exist, that's a story for another time. For now, here are the thoughts of some of our local members:
Toastmasters has helped me grow in my personal and professional life by giving me added confidence, advanced communication skills and the opportunity to lead. 

–Jeff Haug (Hozt.com)
Toastmasters is a safe and nurturing place to stretch your comfort zone and grow your leadership skills. I highly recommend it. 

– Roanna Rosewood, International speaker and bestselling author (roannarosewood.com)
Recently, I embarked on the journey of self-employment and realized that I quickly needed to improve my social, public speaking and networking skills. Toastmasters has been a great environment for self-development. Meetings are great, everyone is supportive and we have a lot of fun! It's so great to be surrounded by like-minded people! 

–Alyssa Craft, Business owner (brightmindmarketing.com)
Toastmasters has given me presentation skills, great confidence and a sense of self worth. This is true for my clients as well. My success as a Business Coach I owe in great part to Toastmasters.

—Gary Einhorn, Business Consulting Services
Toastmasters has provided me with a perfect arena to discover, live, and participate in the many facets of my character, yet unknown. A safe and supportive environment committed to personal growth. 

–Sal Cresci, Retired contractor
I have been a member of Jefferson State Toastmasters since March 2012. I feel as though I have greatly improved my speaking skills, although I have a long ways to go. It is a great place to improve your skills because everyone is supportive, helpful and friendly! 

–Susie Kensinger, Sales Consultant
Toastmasters has helped me to be comfortable being myself. I used to be afraid of what people thought of me but now I am finally free to shine my light! 

–Salina Claggett, Systems Manager
Toastmasters is great for people who are terrified of public speaking and is terrific for people who are comfortable there. I am not afraid, but appreciate the benefits of TM for the practice in fluent speech, and the lessons in critical and careful listening are invaluable. 

-Becky Holm, Newspaper editor and publisher (douglascountynews.info)
I joined University Toastmasters to overcome my fear of public speaking. I've learned so much and I continue to improve as a person and a professional. I credit Toastmasters for supporting me in my goals! 

–Tanya Way, Independent consultant (NYRoregon.com)
Toastmasters is an essential tool that has enabled me to find my voice and to successfully launch and grow my own business after supporting my corporate career. Better yet is the community of professionals cheering me on. –Jo Anna Shaw, Business, Mind/Body Coach (joannashaw.net)
I really appreciate the experience that Toastmasters has offered. Self-Improvement is the key and it shows in my family, work and play. 

– Craig Fronek, host of the Sunrise Show, KCMX News Radio 880
Toastmasters has helped me to organize my thoughts and express them in a clear and succinct manner; to prepare for and organize meetings and events; and to listen to how people speak and how effective they are in their communication. 

– Scott Fraser, Interface Analyst
Toastmasters has given me a safe and supportive place to grow as a speaker, a leader and sociable person. I learn things about the world and fellow members and laugh out loud. Plus, it looks great on a resume.  

-Alice Miles, Professional Trainer
I have been a member of Toastmasters for almost 2 years and the experience has been great. I have learned so many things that benefit both my professional and personal life. Not only the benefits of learning to speak and present more effectively but also becoming a better leader through the Toastmaster program. 

–Tom Crowley, Senior operations control analyst
Toastmasters has provided me with the most accessible personal development tools I've ever found. I'm a better listener, speaker and more authentic communicator, which has proven to be priceless both professionally and personally. 

– John Contreras, Healthcare Business Analyst
Toastmasters chose to do this interview in the LocalsGuide as way of reaching out into the community and inviting new members to participate. Please say more.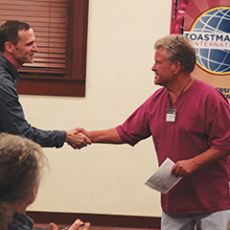 Toastmasters is one of the best kept secrets out there. It is up to the local clubs to reach out to their community. The local clubs have little money for advertising. Because of this, we rely on word of mouth, personal invitations, and short notices in community calendars and the occasional open house meetings.
Clubs function best with about 20 members. Sometimes members move, their schedules change or their needs change, which leave us looking for new members on a regular basis. While we welcome and encourage everyone to visit and learn more about us, we are seriously interested in finding and helping new members who need the skill set we provide. This interview with the LocalsGuide is the perfect way to reach out to many who have heard little or nothing about Toastmasters and want to know more.
What is the next step for learning more about Toastmasters?
This interview is great but don't stop here. Do your own research. Go visit a club. It's free. If you keep coming back, the VP of membership will recommend that you join so you can get even more value from the experience. Guests are limited to listening and participating in Table Topics. Now for the big question: How much does it cost?  Club dues are about $100 a year (an extremely good value for what you get) and it gets less expensive the following year. Dues fluctuate a little from club to club. Half of the yearly dues are paid every six months so you only pay for what you need.
Anyone can visit the Toastmasters International website for additional general information at www.toastmasters.org or contact me, Daniel Flood at 541-468-8995 for more detailed local information. People can email me at: dms1@d7toastmasters.org.
Should you want to go visit a local club, here is what you need to know: Arrive early.
University Toastmasters meets in Ashland on Tuesdays at 7 PM, Ashland Library. Back door.
Southern Oregon Speechmasters meets in Medford on Wednesdays at 7 PM, Medford Library.
Jefferson State Toastmasters meets in Talent on Thursdays at 6:30 PM, Talent Library.
Please arrive 15 minutes early. Meetings start exactly on time. Be sure and tell them you learned about the meeting from the LocalsGuide.
Any last words of advice or wisdom you would like to share?
Not long ago a woman confided in me that she decided to join Toastmasters eight years ago. She finally made it to a meeting this past September and loves it. We hear that a lot. Gather your courage and just do it. You'll be happy you did.
Learn More: 
Toastmasters International
541-468-8995