Interviews
Dan's Shoe Repair – Shoes that Last A Lifetime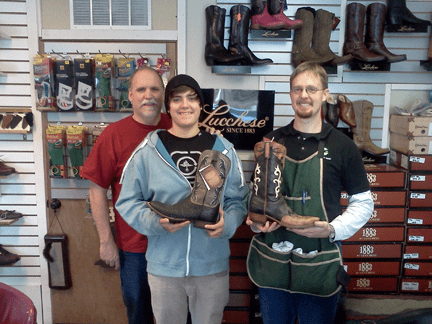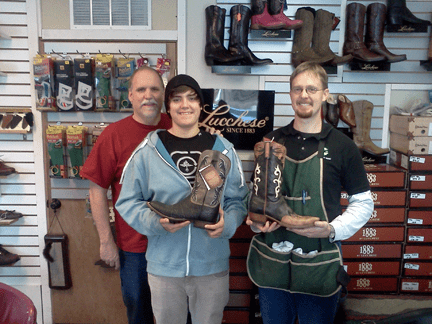 Less than fifty years ago having a good quality pair of shoes was the norm in America. Most shoes owners went to great lengths to keep shoes cleaned and maintained. Very rarely was a shoe ever thrown away.
That all began to change around 1957 with the explosive growth of the tennis shoe. This year alone saw more than six hundred million pairs of shoes sold. By the 1980's tennis shoes where EVERYWHERE including the landfill. Millions of sneakers now rotting.
So.. why when we talk about sustainablity are we not talking about shoes that actually last a life time.
I decide to speak with Dan Shulters to learn more.
Dan, thanks for doing this interview with us today. Can you start by telling me a little bit
about your business. I understand that shoes have been a way of life for you and your family for a very long time?
My  Father was a farmer, in the late 30's he moved his family to Southern California, Just before  wwII he worked for Food Machinery corporation as a welder, the company switched to making tanks during WW II, and he welded tanks.  After the war he went to shoe repair school and the rest is history.  We moved to Oregon in 1971 and my family bought a shoe repair shop in forest Grove Or, just west of Portland.  My dad's name was Hal, and there was already a Hal's shoe repair in Oregon, and the other shop in town was named Dave's, so he bought my name for a hot fudge sundae and Dan's shoe repair was born.  In 1975 they added to the shoe repair shop a licensed vocational school which taught shoe repair, the student had become the teacher.  I worked in the shop during high school and helped teach during the summers while I was in college.  I became a Police Officer and ended up in Corvallis, Or.  In 1986 they sold the Forest Grove shop and moved to Corvallis and opened up business, both the shop and the school.  I helped out when I wasn't writing tickets.  In 1997 just in time for the Ashland flood my family moved to Ashland.  I spent a few years deciding what to do, and it wasn't starting over working graveyard as a cop.  I decided to start a pick up location, shoe repair model, and one day decided to stop by the cobblers bench in Ashland.  I introduced myself to the owner, Joe Nab, told him what I was going to do, to which he replied "you should just buy my shop".  I did and Dan's shoe repair came to Ashland.   We have been here now 8 ½ years
You have raised your family in Ashland and actively volunteer with the Mt. Ashland Youth Ski Program. Will you tell us a bit about this?
When we arrived in Ashland, my oldest son Cory was in 3rd grade,  my second boy, Mike was in second, Christina was a kinder and Nicole wasn't in school yet.  All the children attended Helman, AMS, and Nicole is currently co-student body president and a senior at AHS.
All the children have helped at the shop at one time or another.  Nicole currently works here when she has time.
When the children were at Helman they participated in the after school ski program.  We stayed involved and eventually become leaders in the program.  Along with Donna Jones I coordinate what is now called Ashlandski.org.  This program works with Mnt. Ashland and provides a five week educational skiing and snowboarding experiences for children from the4th to there 8th grade.
When you think of shopping for shoes what comes to mind for you?
Quality.  Unless you plan to destroy your boots or shoes for a project, buying quality may be more money up front, but will show savings down the road.  Quality shoes fit better thus they are more comfortable and support and protect your feet better.  They last longer, they can be repaired, and keep more shoes out of the landfill.
We see a fair amount of customers buying boots and shoes, then coming to us to modify them so they will work for them, sometimes spending as much on the custom modification as they did the footwear.  In most cases they could have purchased footwear from us that would have work upon arrival.
Dan's Shoe Repair provides a few lines of shoes and boots available only available in your store., and what about shoes for women?   Will you tell us more?
We offer several varieties of handmade Artisan shoes and boots.
Lucchese hand made cowboy boots for men and women, have been artfully creating boots in El Paso TX by hand since 1883.  They are made from premium leathers and exotics. Lucchese offers stock models in the 1883 line, or more options through the cowboy/cowgirl line, or complete customization available in the Classic line.  Lucchese also offers a western themed fashion line called Charlie 1 horse.  This line is designed and owned by Lucchese but made by Cole Haan.
Viberg Boots is a line of work, logging and safety boots made by hand in Victoria Canada.  It is a third generation family business which has be making quality boots since 1935.  They select their leather carefully from all over the globe only accepting the very best. Viberg boots can be customized or ordered as stock selections, they are tools befit for the most demanding of users.
Tauer & Johnson offer made to order / custom fine men's and women's footwear.  Offering a wide variety of styles and leathers to choose from.  The customer selects a style, type of leather, color or combination, makes a sole preference, and is then sized in the shop for a perfect fit.  Fit is always guaranteed.  There are casual, dress, dress boot and golf options.  For women there is a selection of four different styles with different leather and color option.  These shoe are rebuildable and can last a lifetime. They are made by hand for that customer in León, Mexico. The L. A. Times says, "Shoes are to this industrial city, what cars are to Detroit."
All American boot company offers hand made fire, police, motor boots and equestrian boots.  Created in Southern California all boots and available as stock options or as custom creations. Equestrian boots offer custom leg sections or foot and leg assuring the finest fit, quite often pricing very close to a off the shelf Chinese brand name boot.
I also work with Gene Nawrocki, and offer custom made leather belts, wrist bands and barrettes for sale.  You may have seen Gene in the Artisan's market this summer and we share a booth at the 4th of July.  Gene or I can make almost anything you might desire.  We cut these belts from the hide ourselves and they could last a lifetime.
You guys have a t-shirt which says "Dan's Shoe Repair – The Original Recyclers". Will you share a little bit about this and the mentality behind a disposable shoe culture?
People are concerned about what is going into the landfills, but I don't think they stop to consider how many running type shoes, made of mainly made materials, are ending up in the landfills.
We can repair almost anything.  We prefer and believe it is wiser to buy quality and repair quality.  We often have customers come in and when quoted the price for repair, they respond, "a new pair is only a little more" and leave to buy a new pair.  What they don't realize is the repaired shoe would most likely be better because of the replacement material used, but it would also keep those shoes out of the landfill. And wouldn't support another being made on the back of a underpaid worker.
Will you tell me about the sole to soul program you are a part of and how people in the community can participate?
Soles4Souls is a Nashville-based charity that collects shoes from the warehouses of footwear companies and the closets of people like you. The charity distributes these shoes to people in need, regardless of race, religion, class, or any other criteria. Since 2005, Soles4Souls has delivered over 16 million pairs of new and gently worn shoes. The shoes have been distributed to people in over 127 countries, including Kenya, Thailand, Nepal and the United States. Soles4Souls has been featured in Runner's World, Ladies' Home Journal, National Geographic's Green Guide, and The New York Times. It has appeared on CBS, ABC, NBC, FOX, BBC, CNN and thousands of regional news outlets across North America. Soles4Souls is a 501(c)(3) recognized by the IRS and donating parties are eligible for tax advantages. Anyone can join our cause, and we need your help.  Dan's is a drop off point for gently used shoes of any type.  Don't worry about the style there is need for everything.  You can drop off you shoes, or if you want to sponsor the shipment of a box, you may, and would receive recognition from Soles for Souls for the value of the shoes and shipping.
What's one of your favorite shoe repair stories?
A few years ago a young man in his late 20's happened to park in front of the shop.  He came in and told me the he worked in the tree trimming arena and had a pair of $300.00 boots which were worn out and was happy he had to buy a new pair.  He inquired can something like this be repaired.  After I told him what we could do and the price, he literally jumped for joy around the shop.  No one had ever told him boots could be repaired.

So, why are people throwing their shoes up onto telephone wire lines?
You can see this all around the world.
I don't know.  It is called Shoe flinging or "shoefiti"  There are a lot of reasons why people think it is done, but I think every flinger has their own reason.
You mentioned on the phone that your shop is repairing shoes from all round the country?
Because of the internet we receive repair work from all over the country.  Through our website www.repairmyfootwear.com we receive inquiries from people who don't have a shoe repair shop in their area, or don't care for their local service.  While I haven't recorded all of the states we have received repair work from Maryland, New York state, Arizona, California, Virginia and Florida to name a few.

What would be a great holiday gift someone could pick up this season from you?
Quality boots and shoes always make a great gift.  Check us out at www.ashlandboots.com for a direct look at boots, you can also visit out manufacturers through their links for a look through their collections.  Anything you see online is available through Dan's.
We also have shine kits, shoe horns, shine boxes and other quality items which make great gifts.
Any last thoughts or comments for our readers?
We welcome you to stop it and say hi.  You will most likely be greeted by David, who will make your visit most enjoyable. We offer quality shoe and boot care items, leather, insoles, foot care needs, and the world's best shoe wax and polishes.  Thank you for supporting us now and in the future, we hope Ashland always has a fine shoe/boot shop to provide service to the community.
Contact:
Dan's Shoe Repair
27 S. 2nd St.
Ashland, OR 97520
541.482.4656
http://www.repairmyfootwear.com/