Interviews
DeAnna Sickler & Dyan Lane – Living in Southern Oregon
You see their monthly real estate listings in the LocalsGuide, follow their monthly column and read the monthly real estate stats. Now let's go behind the scenes with DeAnna Sickler and Dyan Lane to learn more about their award winning process that has put them in the top 1% of all John L. Scott Real Estate Brokers in all of Oregon and Washington.
Last year the team's sales exceeded $25 million positioning them as the go-to agents of choice for either selling or buying a home in Southern Oregon. And though the numbers might seem high don't let this distract you… as there is a reason behind their success and it all boils down to the personalized and individual care that they give to each and every one of their clients. "We pride ourselves on making our clients feel as though they are the only Buyer or Seller we are working with at any given time. We value the relationships we create when helping people to buy and sell homes and it's important to us that they always feel as though they are a priority."
Dyan and DeAnna thank you so much for speaking with us today. Give us the update on how 2014 closed out for you all.
Jackson County as a whole has seen some great improvements in the real estate market. In 2014 we closed over $25 million which was a personal best for us. The market in general still feels more balanced than it did 10 years ago which keeps it both rewarding and challenging at the same time.
Wow!! Congratulations on your great year. What are some of your secrets in accomplishing this?
Each year we sit down and set our goals for the coming year. Surprisingly enough, those goals don't typically center on money or volume of sales. Sure, our competitive sides like to see us improve on our production each year but our focus has really been more geared toward finding balance. As we get older and more mature, we realize that true success isn't measured by how much money we make or how many homes we sell but rather about the difference we are making in our families and our communities. Our primary goal for 2014 was to find a way to spend more quality time with our little ones, balancing our roles as mothers while still providing the level of service in our business that our clients have grown accustomed to. Somehow, we were each able to find some more focused down time while managing to sell more real estate. We don't keep track of our volume throughout the year so to learn we closed more in 2014 than we did in 2013 was a really pleasant surprise.
How do you work with each other in striving for a good work / life balance?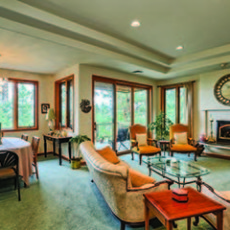 Our friendship extends far beyond our business relationship so it's easy to find balance… the other one forces us to do it. Both of us are perfectionists and really enjoy what we do so it's easy to find a reason to pop into the office, "just for a second." By each of us designating one day off in the week and alternating the weekends, we are able to schedule outings with our families and have some much needed personal time that's not devoted to being mommy, wife or Realtor and that seems like the perfect recipe for recharging our batteries.
DeAnna, I am curious to hear how you think you have changed over the past sixteen years in your career.
Interestingly enough, I don't think I have changed all that much. I would venture to say this is probably why our business continues to grow. When the market gets really good and things aren't as hard to come by, many get more casual about their follow up, etc. I am just not wired that way. To this day, I still send out hand written Thank You notes, return phone calls and emails promptly and make sure our clients are updated regularly even if I don't have much to update them about. I have definitely learned to juggle things a bit better but it goes without saying that two little boys will force anyone to learn that skill.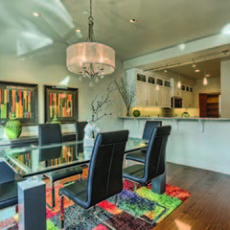 Dyan, what do you see are some of your top qualities that are most appreciated by your clients?
Amongst the top of the list, I would say clients appreciate our availability. This is super important to a buyer or seller. We have been fortunate to figure out a system that keeps us quite available to people. People are surprised that even on short notice, we can almost always accommodate their request.

Second is honesty. We are in a fortunate position to not need to work with every single client. We aren't ones to sugar coat a value because it's what a seller wants to hear. We are very candid and in some cases, we might even lose a client because they do not like the price we gave them. We have had sellers not list with us because they think our price is too low and another agent thinks their home is worth more. It's not always easy to be the bearer of bad news but we feel it's our responsibility to be honest with our client and provide them with a professional assessment of their property value and give them information they can rely on. It's definitely not fun to drop a bomb on people and tell them their home isn't worth near what they are expecting but we would rather them know before it hits the open market than to list it with the false illusion it will sell and it never does.
DeAnna you are responsive and waste little time in taking action. Tell us about this.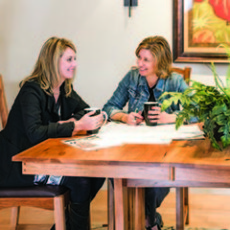 In this day and age (i.e. emailing, texting, etc.) you never are truly unplugged unless you leave your phone in the glove box of your car. I think a lot of our clients are often surprised at how reachable we are, even during non-conventional business hours. Sure, with small kids at home, if you call us in the evening it's more likely you will get a text or email vs. a phone call but that's only because you probably wouldn't be able to hear us over the kids screaming for more dinner. People assume we are too busy for more clients or they'll have to wait longer because we are successful, but that's just not the case. We really pride ourselves on top notch service and we have mastered a system that seems to be working. We share our voicemail at the office and we cc: one another on every email so if I have dinner plans and won't be available for the evening, Dyan is all over it. I think what I love most about our business is it truly is a service. Whether you get Dyan or me, the information will be the same. Many times, we have received an email from a client asking a question and unbeknownst to the other, we are both responding to the email at the same time. When each message comes in, they are practically verbatim. We laugh but are not all that surprised. We are genuine in our responses and the answer will always be truthful. We never have to worry what "version of the truth" the other person is sharing because there is just one.
Honesty and transparency have been key to your success. From the stand point of a commissioned sales person how does this come into play?
People forget and often assume that because we are commissioned sales people, we would be motivated by whatever benefits us. This is not true… We have talked people out of making decisions. We sway people away from decisions that might otherwise have been in our favor. For us it seems like a no brainer.
We love your real estate column that you write for the LocalsGuide and I even hear you have a huge local following with fellow agents.
I will be the first to admit, when you first approached us about it we were both very skeptical. It's a double edged sword to have a business in a small town while also letting people know that you have a life outside of the business. I can honestly say it was one of the best things we have ever done. We don't always write about real estate and I think people appreciate that. Dyan and I have a special friendship and through our column we have been able to share that. We have also gotten some great feedback from other agents in our area. I think because I tend to say what's on my mind and forget to filter it, I have been able to relay some information, squash some myths, etc. about our industry. When other agents call and thank me for saying some of the things they don't have the courage to say it really feels good. Our realtor community in this area is like no other. Many communities have a very cut-throat, dog-eat-dog world of sales but it's not that way around here. We don't always see eye to eye but for the most part we have each other's backs. What more could you want?
Tell us about one of your recent real estate adventures.
I am not sure you would even believe me if I told you…. but I have never been so glad to have Dyan with me because I was pretty sure someone was intending to chop us up into a million pieces and leave us in the back woods. In a nutshell, we were called to a rural home to do a market analysis for some people who lived out of state and were thinking they'd like to sell their home. We had the distinct impression the home was unoccupied so when we arrived to find the equivalent to the character played by Kathy Bates in the '87 movie Misery, we armed ourselves with whatever we could construe as weapons and we went in. Dyan had a ballpoint pen in her bra (no joke) and I had keys in every nook and cranny of my person, fully prepared to gouge eyes and run like hell. There was only one way in/out and as we attempted to leave, I kid you not, the bridge looked like it was going to collapse. It was not like that when we arrived so we were sure it was a set-up. As we pretended to calmly exit the property, we both started praying and after we hit the open road on our way home, I don't think either of us said a word for a full 10 minutes. It was such a weird experience and if I really concentrate, I can still hear the banjo (or chainsaw) in the distance.
What was one of the best compliments you received this year?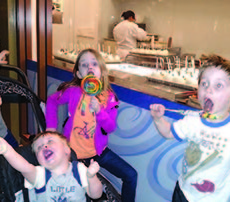 One of our biggest compliments for our business this year was being approached by Mahar Homes to represent their luxury condo project in downtown Ashland. Working with such a well-respected company such as theirs is something you hope for but don't always have the opportunity. On a more personal note (but still somewhat related to business) was having some clients stop in the middle of our listing interview and say, "Wow, you two really love each other. We can feel it. We would be honored to have you list our home." That was a really special moment for us. In so many ways we feel we are cut from the same cloth but it's hard for people to really get that about us. When someone does see it, it's very special.
DeAnna if we could take you undercover with us on a secret mission to choose a great realtor, what qualities would you look for in a real estate agent?
Without hesitation, a great realtor has integrity and I mean in every single situation. It's tempting to have situational ethics and twist things to make them seem justified but I firmly believe there is a right way and a not-right way to do things. The right way isn't always the easiest but it's the best way. I had the pleasure of knowing Dyan outside of real estate and I had seen her face many challenges in her life. She always acted with dignity and grace and never let the outside world influence her moral compass. That was a huge deciding factor when I approached her over five years ago and asked her to join my business. Single-handedly, it was the best business decision I have ever made.
Dyan, attention to detail in any real estate transaction is key. What are some of the biggest mistakes you see made time and time again?
We have contracts for a reason so when agents miss deadlines or disregard the importance of them, they are doing a huge disservice to their clients and our industry. We are paid to represent buyers and sellers in one of the most important decisions of their lives so to not take every aspect of that seriously is just not acceptable.
Every so often you might have a client who will not like the price you quote them and because of this they choose to work with another agent who has given them a higher price. Tell us about this.
As we touched upon, we think it's important to give clients information they can really count on. After all, they are making some big decisions based on the information we are providing. If a seller really feels passionately about their home being worth far more than we can justify, we support their decision to list it with someone else who believes in that value. It doesn't do any of us any good if we are marketing a home that we feel is overpriced. On occasion, they do sell their home for more and we are the first to congratulate them. We aren't perfect but we do strive to do our best and offer a fair and reliable service. More often than not, we actually price our listings alongside our clients. We also feel it is imperative to present the facts about value but also listen to the reasons why a seller feels they can justify more.
DeAnna what types of properties are you currently representing?
We love having a variety of listings and don't really target any niche per se. Over the last few years we have listed more and more rural properties and we really enjoy that but overall, we really don't like to focus on just one certain type of property. We love working with great people who appreciate the service we provide and are looking to work together toward the common goal. Some of these opportunities are priced at $80k and some are price at $2 million. It's never the same which is what keeps it exciting for us.
Any predictions for 2015?
Hmmm. We predict there is a new Sheriff in town but you already know that. We expect 2015 to be another strong year for real estate in Jackson County. We are hopeful we will have more inventory to choose from but that remains to be seen.
Last but not least… how can one go about getting started in working with you?
We meet with people at various stages in selling and buying. Some are just considering the idea and others are prepared to sign papers today. If you'd like to learn more about us and about the market specifically to what you need, we would love an opportunity to meet with you and share what we know. You can read testimonials online, Zillow reviews, etc. but when it really comes down to it, a good ol' fashioned conversation is sometimes the best way to get a feel for whether we are the right fit.
Learn More:
Deanna Sickler & Dyan Lane
John L. Scott Real Estate
http://www.livinginsouthernoregon.com/
320 E. Main Street, Ashland
541-482-1311