Interviews
Drs. Kimberly & Michael Hoyt Artisans Eyeworks
Dr. Kimberly & Michael Hoyt combine more than 20 years of optometry experience in the Rogue Valley with a boutique eye care setting in Ashland's Historic Railroad District. Artisans Eyeworks offers artisanal eyeglass lines, where patients can find pieces uniquely suited to their personality and style rather than having to conform to the generic design of the day. Now celebrating their second year in Ashland we stopped by the store to catch up with Dr. Kimberly & Michael Hoyt.
Hi Drs. Kimberly and Michael. Congratulations on your second year of Artisans Eyeworks here in Ashland! 
Thanks. It's been a very enjoyable journey so far.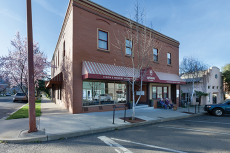 When setting up your practice here in Ashland you intentionally structured your practice in a way that you would be able to spend more time with your PATIENTS… thus developing more personalized relationships. Please say more.
To be honest, this was sort of selfish. It's more fun for us to get to know patients by more than just their diagnosis and treatment plan. That's what was missing when we were seeing so many patients at our previous practice. As a bonus, it seems to be resonating with our patients too. Not only do we have the time to fully explain their medical and vision issues, we can chat about life. 
Not only is your personalized eye care attention unique, but the quality and selection of eyeglasses are outstanding.
First, I wouldn't say seeing fewer patients in a more personalized fashion is unique per se. That's long been the purview of optometry. What we've tried to do is to parlay our residency training and years of experience in an ophthalmology practice along with technology into a low volume practice. That really is unique in this region. As for the glasses lines we've brought in, everything is becoming the same. More than 80% of all glasses sold are manufactured by one company, mostly in China. We wanted to do something different.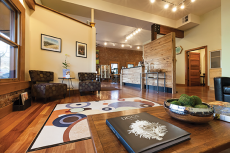 How are you going about choosing the eyeglass lines that you carry, what qualities or characteristics are you looking for?
We have several litmus tests for lines to be included in our shop. Above all, the quality has to be high.  We want them to be comfortable, to fit properly and to last. Next, we look to tell diverse stories with the frame lines we carry. We don't want to have all of the same thing based on the look of the day, but rather a diverse selection to match the broad range of what our patients are wanting to express. Whether is be classic French, Americana, minimalist, color pop or whimsical, we try to cover a broad range without significant duplication across lines. We also consider price points. We have multiple American made lines under $200. Finally, we carry frame lines that are glasses solely for glasses sake. There are no licensed "designer" lines in our practice. Glasses named after purses, shoes, clothing designers, jewelry, even tractors really have nothing to do with that name other than the added cost to affix the "brand" on the side. The companies that make the frames that we carry do one thing: make high quality glasses. 
You have received some great testimonials from your patients. Would you mind sharing a few with us today?
Happily. Here's a few:

"Best selection of frames in the Rogue Valley. Very different and unique. People stop me everyday to compliment me on my glasses. The service is awesome and the eye exam is very thorough. The Hoyts are great to work with."

"Kim and Mike have been in charge of my vision for almost 10 years, and Kate has kept me stylish in great frames. Love their new office, and selection of frames is the best around!"

"Artisan Eyeworks is truly a gem in the valley. Their facility is gorgeous. You feel like you're in a fine art gallery. The staff is great. Michael and Kim are super nice, but also very professional. Great service—they get you in and out in a timely manner. They have the latest technology. They have a unique selection of frames. What more do you want?"

"The Hoyts and their staff are amazing! I'm thrilled to have Artisan Eyeworks in the neighborhood. They are friendly, attentive, and fun… I feel safe, cared for, and…well, stylish!

"Best ever experience getting a thorough eye exam, accurate prescription and stylish eyeglasses frames plus comfy fitting from a great team, whose knowledge, caring, and great sense of humor (did I mention those kick in' stylish shoes?). Tricky to get this much satisfaction for my detailed Rx and added prism."

"We moved to the Rogue Valley in 1993, the same year that the Hoyts established practice here, and except for a few years in between, we've been with them ever since. As an engineer, I can appreciate dispassionate, objective, efficient healthcare but as a *person* I appreciate personality, professional excellence with depth and richness, and a more personal and expressive experience. I feel like I receive the best of both worlds with these practitioners. Visit Artisan, meet the people, expect the best."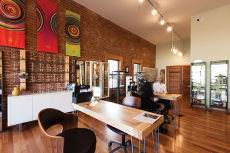 I also love your Instagram client photos and immediately recognized a handful of friends. 

That's been fun! Nearly all advertising we see now shows perfect people. We are not perfect. In fact, neither are the models. They are frequently photoshopped. We wanted to show that you don't have to be "perfect" to be amazing…and so began a cataloging of typical people looking awesome in their new eyewear. 
Many of your eyeglasses are still hand made. Please talk about some of the process and craftsmanship that going into make a great pair of glasses.
The cheapest glasses are injection molded petroleum plastic. Squirt some plastic in, out pops a frame. It's pretty automated. All of our lines have a substantial amount of hand labor involved, from making the raw shape to affixing nose pads to the final polish. Typically the process can be as few as 60 steps and as many as 200. They are made from high quality metals like stainless steel and titanium and plant based plastics called acetate.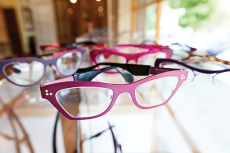 You then recently had an opportunity to visit one of your vendors down in the bay area. Rather than walking into an enormous factory you were invited into a very unique workshop. Please tell us about this experience.
Daniel, the owner of Kala Eyewear in the Bay Area really tried to set our expectations. He said "It isn't GM. It's more like a chop shop." I laughed, but it wasn't much of a stretch. His factory is in a small warehouse development not unlike those we have on Hersey Street. It has a single door and a roll up garage door. Inside it's fairly packed with machines that are run by about 10 employees. They start with raw sheets of Japanese or Italian acetate and magically turn them into fine eyewear. It's very gratifying to know that we can sell such a high quality, labor intensive product that's made in the USA for just over $200.
Another unique quality of your eyewear is that it is truly international.
Yes, we have frame lines that are produced all over the world. We have lines from France, Germany, Italy, Belgium, Poland, Spain, Japan and the United States. Interestingly Kate, our optician with more than 25 years of experience, wasn't aware that there were any US manufacturers left. We now carry four!
Often times after exiting a very busy and stressful career individuals move on to do completely new and different things yet this seems to have become your encore career.
By moving from an office that utilized a team driven approach in order to see a very high volume of patients to our intentionally very low volume, very doctor driven approach now, we've really gone to the complete polar opposite end of the profession. We are now able to check our own prescriptions rather than rely on technicians to do that and to be involved in all the aspects of the optical end of the profession. The newness makes it fresh and enjoyable. Couple that with the entrepreneur aspects of starting a business venture from scratch, and it really feels like a completely new career. 
What has been some each of your favorite memories over the past year of running your business in Ashland?
Oh, that's tough. There are so many, but two things pop right to the top as of today. We've owned a house in the Railroad District for almost ten years. We moved in about a month ago and now have a strenuous commute…about 800 feet. It's wonderful to walk everywhere. The other memorable event is that we were honored by Invision Magazine. Every year they hold a competition to name America's Finest Optical Retailers. We were a finalist for 2016, making the top twelve. It's a huge honor and especially humbling considering we've been open less than two years.
Any particular customers or eyeglass frames that stand out to either of you?
There are so many that it would really be impossible to list them all. One bit of patient verbiage has stuck like glue though. Theo, a very whimsical Belgian line has a series that are two tone where the inner color that faces the skin is a wildly bright, neon green, pink or orange. Our first patient to buy one coined the saying we all use now when showing them to other patients…"These are party on the inside!" 
How about personal favorites in eyeglass lines?
We are very particular on what we bring in, so we like all of the frames we have. Anne et Valentin, Theo, and Masunaga though really rise to the top. Their quality, design and fit are as close to perfect as it gets. 
Does one always require glasses just to wear glasses?

Nope. They can certainly be used just as a fashion accessory. Just ask Russell Westbrook. He doesn't even wear lenses! Plus, there's always sunglasses. We carry several great sunglass lines and any regular frame can be turned into a nonprescription sunglass.
Thanks again for doing this interview with us today. Are there any last thought or comments you would like to share with our readers?
It's been a pleasure. Thanks for inviting us and a special thanks to all of you who've entrusted your eyecare to us. We also would be completely negligent if we didn't mention our staff, Megan, Kate and Amy. Not only do they do the "on stage" things like working up patients and picking frames, but the vast myriad of the behind the scenes operations like scheduling, ordering, billing, book keeping, cleaning, basically anything that keeps us going. They are wonderful. We would not be successful without them. 
Learn More:
Business Name Artisan Eyeworks
Address 215 4th Street, Ashland
Phone 541-708-5350