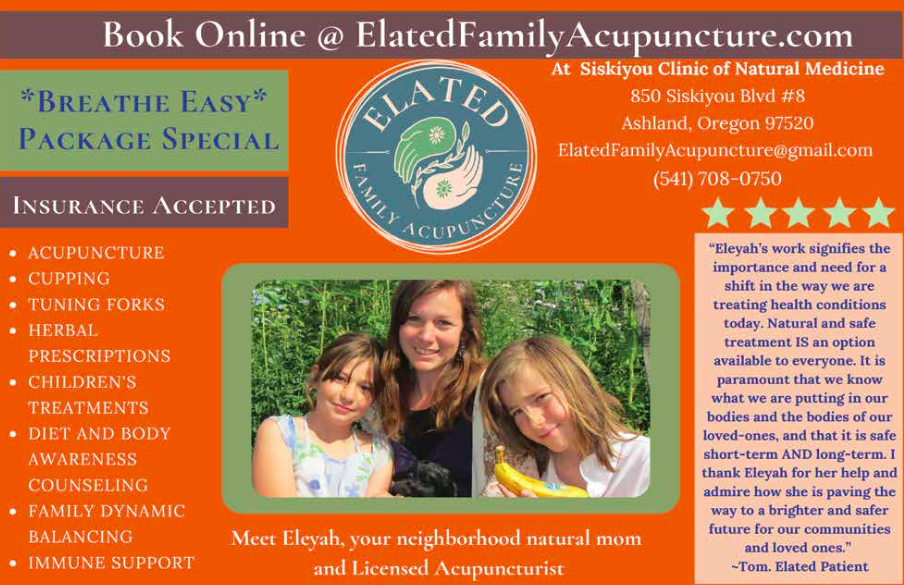 Elated Family Acupuncture is a family practice at Siskiyou Clinic of Natural Medicine located in Ashland, Oregon and owned by Eleyah Knight, L.Ac. Eleyah specializes in holistic Chinese Medicine for the whole family. In today's interview, I speak with Eleyah about her practice and commitment to natural medicine. We discuss her practice and go into detail about the importance of supporting young people with acupuncture and natural medicine. 
Hi Eleyah, thanks so much for speaking with me today. To begin with, please introduce us to yourself.
Yes, thank you as well! I'm very blessed to be a devoted mother of 2 kids, 5 bunnies, 2 chickens, and 1 natural medicine clinic. It's been a mission of mine since childhood to learn and know how to nourish the life around me and in nature. This passion has been the foundation for my work with families, especially youth. 
Eleyah, when did you first become interested in and see the power of acupuncture?
Actually, the first time I had acupuncture I was pregnant and 2 weeks overdue with my daughter. As soon as the needles were inserted, my whole body shifted and she was born without complications the next morning. I knew since the pregnancy with my son 3 years earlier that I had to build trust and resources within myself to be the best caretaker, doctor, and teacher I could be for him during the intense transformations happening in the world around me. This led me to Chinese medicine school, where I learned the vital importance of working in harmony with nature to care for ourselves and our families to the best of our abilities.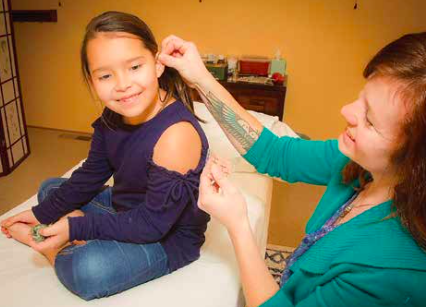 Please tell us more about your specialties in acupuncture.
Throughout my 5 year journey as an acupuncture student, I was able to support my young children and myself with the medicine in ways that empowered and encouraged me to be more self-sufficient and helpful in my community. I took shifts at the community acupuncture and mental health clinics there in Santa Cruz, where I treated many grateful patients of all ages, including a self-destructive teenage girl who became very dear to me. Witnessing how acupuncture and herbs helped her stop cutting, lose excessive weight, and become motivated to care for her body daily was what led me into specializing in helping teens with this medicine and developing classes, tools, and outreach materials for them. Taking extra clinical pediatric classes helped me establish my business around caring for families with children. 
As a parent how have you used acupuncture to support and transform the lives of your own children?
My children have been so blessed to have grown up with Chinese medicine. Preventative care during their early ages through massage, dietary consciousness, acupuncture, and using herbs instead of harsh pharmaceuticals to treat infections, fevers, and other common childhood illnesses has helped them have a very smooth development into their now pre-teen bodies. In fact, I can hardly remember any days that my kids had to stay home sick since they were maybe 3 or 4! Any time they had an illness come to the surface, it was usually gone by the end of the day. 
Eleyah, with your clinic here in Ashland you take a special interest in supporting the entire family. 
Please tell us about your philosophy and approach to offering this type of care.
Supporting the entire family is crucial in having a balanced dynamic. When one member is not receiving the care they need, it affects everyone else in several ways. Having a provider who can look at the whole picture of the individual's life is necessary in order to understand the best treatment plan. It's been so rewarding to see parents and their children have the root of their needs met through treatments that not only relieve their symptoms but also give them the tools they need to care for themselves.
Can you give us an overview of the services you provide?
Acupuncture is such a versatile medicine that it can be done with various sizes of needles or other less intimidating tools. I love using tuning forks, which vibrate on the acupuncture points, moving energy like needles do. Crystals are used for tapping and brushing techniques that help children connect to their body and feel how energy moves and where it's blocked. I also offer cupping with acupuncture treatments, which really helps relax muscles and move out toxins. Herbal prescriptions are available in various forms as well for all ages.
Eleyah, please tell us about your passion for natural medicine.
Medicine that is based in nature and its principles is the foundation of life. Being truly connected to the body and spirit is the foundation of health. My passion for natural medicine is stoked by the disconnection I've been witnessing and experiencing in our society. When I see how distant kids are from their families, how chronically ill most adults and even many children are, and how technology has replaced authentic human connection in our modern lifestyles, I become more driven to share my medical knowledge and techniques.
Please talk about your role as a counselor.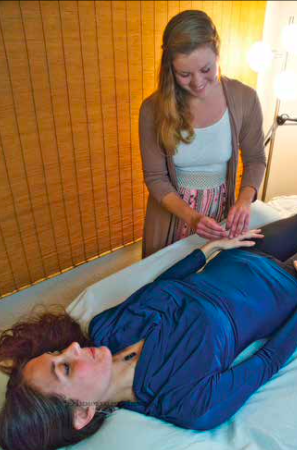 Diet and lifestyle is our real game changer. What we put in our bodies and where we put our bodies determines how effectively our energy flows and even how our hormones are produced. A huge part of the medicine I provide involves meeting patients where they are with their daily habits and care and giving them handouts and recommendations to help them reach their goals. I love having a rich library of resources to share!
What are your goals as a practitioner?
My primary goals are to help families have long-term relief from their concerning conditions while becoming more truly connected to their healing capabilities and to inspire youth to know how powerful they are to heal themselves. 
How do you go above and beyond to treat children?
I develop a relationship with my child patients by intriguing them, playing with them, and giving them tools to take home and remember our time together with. 
Whenever there is a complicated condition I'm treating I always do research to understand it better. I am also a loyal advocate for my patients in any way I can be and will take time outside of our time together to write letters for them or develop protocols that could be helpful. 
What is the average age of your clientele?
3 to 45. 
Please tell us about the benefits of acupuncture.
Acupuncture works with the body to regulate the responses of the central nervous system, hormones, and blood flow. It acts as a guide to help the body remember what balance feels like. After a series of treatments the body can retain this information and regulate itself better. It literally can treat just about any condition, especially if it's habitual. 
Please talk about teenage depression and anxiety.
Sadly, these conditions have only become more prevalent since I was a teen who witnessed the horrors of psychiatric drug abuse and rehab failures among peers. Teens are developing earlier, especially girls, and with the flood of hormones (and hormone disruptors that have become such norms in our culture), earlier body changes, and the chaos and uncertainty in the world around them, depression and anxiety is inevitable and not being addressed effectively. Chinese medicine can rapidly shift the mental health and hormonal balance of developing youth through gentle, simple, and long-lasting ways. The crucial pieces missing from our suffering youth's health is authentic connection with their bodies, trust in adults, and availability of devoted leaders to deliver and model digestible healing concepts to them.
Eleyah, will you please share some recent customer success stories with us?
Sure! Here are some reviews:
"After I lost my home in the 2020 Almeda fire, Eleyah treated me for emotional balance and healing for grief in a series of treatments. This was very helpful as I navigated stress, lack of hunger, inability to sleep, uncertainty, anxiety, grief, and loss in the following weeks. Receiving acupuncture from Eleyah during those first weeks after the fire helped me to stay grounded as I moved through some of the biggest changes I've experienced in my entire life."
"The first time I had acupuncture was with Eleyah and I couldn't have asked for a better experience. She was awesome and took the time to discuss the process as well as my current ailments. After my treatment I was completely relaxed and felt great."
"Having Eleyah treat myself and my family has truly been a light and beautiful blessing in our lives. We have dealt with past traumas and injuries that we avoided healing and so much more. If you are looking for someone who will lovingly and gently help you heal some deep stuff, definitely go to Elated Family Acupuncture!"
"Eleyah worked on my daughter and myself for 6 months. We both had a significant reduction in stress and pain. Eleyah is especially good at addressing common issues among family members to keep the family system strong. She is passionate, deeply intuitive and motivated to do what's best for her clients. Not only is she a highly skilled acupuncturist and TCM practitioner, her authentic presence as a powerful healer of our times is at the center of the work she does, as well as the life of integrity and balance that she chooses to live."
What are the most important lessons you have learned from your work with acupuncture?
1. The body can shift powerfully in a nurturing atmosphere.  
2. Energy and how it moves is the root of EVERYTHING.  3. Kids respond to and heal quickly with natural medicine.
Finally, do you have any last words of advice or thoughts you would like to share with our readers?
Yes: Remember how medicinal your presence can be in the life of your children and community. Anything that disconnects us from our natural selves is a barrier to true health. We need a serious break from devices that come in between our real life experiences so we can BE a part of the co-creation that takes place among us. Children will see our examples and can have more of a chance to live a balanced life as they grow up. May we all learn how to grow and evolve together while seeing the big picture of our purpose, presence, and power!
Learn More: 
Elated Family Acupuncture
@ Siskiyou Clinic of Natural Medicine
850 Siskiyou Blvd Suite #8
ElatedFamilyAcupuncture.com
(541) 708-0750
elatedfamilyacupuncture@gmail.com
@ElatedFamilyAcupuncture (FB and IG)