Escape Ashland is Southern Oregon's unique escape room game located in beautiful and historic downtown, just two blocks from the Oregon Shakespeare Festival. Escape games are live-action entertainment that involve observation, problem solving and teamwork to solve puzzles and challenges to "escape" from the room. Part scavenger hunt, part puzzle solving—total exhilaration! 
Escape Ashland's first room, "The Audition" is a light-hearted theme that is appropriate for all ages and groups. Whether you are visiting Ashland for theater, outdoor recreation or enjoying Ashland's culinary offerings, experiencing "The Audition" will be a perfect complement.
Kerri, thank you for sitting down with us to tell us all about Escape Ashland.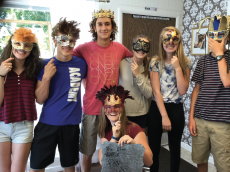 My pleasure!  I enjoy talking about what an escape room is because I rarely meet those who are familiar with this new form of entertainment and there are some common misperceptions, such that it is a panic room or that you are really locked in the room.
Kerri what exactly is an escape game and can you give us a little bit of history behind its origin?
Escape rooms are live-action, team-based games where players discover clues, solve puzzles, and accomplish tasks in order to accomplish a specific goal (usually escaping from the room) in a limited amount of time.  They were inspired by "escape the room" video games which many people still play, and live escape games originated in Japan. The trend grew rapidly in 2012-2013 first in Asia, then across Europe (with Hungary being a significant hub), and then over to Australia, Canada, and the USA.
When did you first discover escape games and what got you hooked?
We found our first escape room on Trip Advisor in Brussels as something to do when the museums were closed, and although my teenage boys initially balked, they loved the Sherlock Holmes themed experience, and it was the highlight of our trip. It was great being focused on one goal and using our strengths to solve the room.  It was nice being able to contribute just using my observation and logic skills, and finally being as skilled as my kids at something for a change!
Is it common that once you do one escape game you want to try another one?
Yes, that is true for most everyone you talk to, and because each room is different, the experience never gets tiresome.  People who seek out escape game experiences are called "Escape Room Enthusiasts" and they are typically trying to get their name on the room's "leader board." In fact, we had three young men visit Escape Ashland who were doing a national tour of escape rooms.
What are some of the favorite type of escape rooms you have experienced?
Some typical themes are crime scenes, prisons, zombies, historical settings. Some of our favorite rooms have been "Pirate Ship"in Whistler set on the bow of a ship which was very immersive, including sounds of the waves crashing and landing on a sandy beach.

Other stand outs are "Escape from Alcatraz" in San Francisco and "Portlandia" at Escape PDX.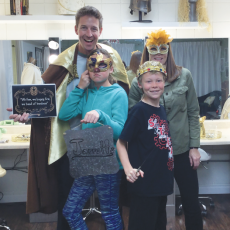 What inspired you to create your own game here in Ashland?
We were talking about our escape game experience on our drive home from Whistler last summer and decided that Ashland was the perfect venue for escape games. We thought Ashland's unique demographic of locals, tourists and sporting enthusiasts who enjoy the arts and openly embrace new experiences would love escape games. We definitely have found that to be true with respect to our first room, "The Audition."
Was this a difficult process to create an escape game? What types of consideration go into the planning a creating?
The first step was to create a theme that was unique to Ashland and would appeal to a wide audience. My 13-year-old came up with a behind-the-stage setting, and our escape room design/consulting team in Bucharest recommended that approach. The Kane family–Kathy, Matt, Bryan and Zack–brought their construction and electronics talent to the process to make the design come to fruition.  The design and build process took about three months, and then we spent another month working out the kinks with friends and family.  Our room is higher on the spectrum in terms of technology as we wanted to avoid a room reliant on padlocks and combinations, but that means a higher potential for snafus. The testing period was critical, and we continue to improve the quality and reliability of our game flow.
What are some of the core qualities that friends, family and colleagues will experience in an escape game?
Many groups leave exclaiming that it is a different experience from anything they have done before. You cannot rely on Google or any other form of technology but rather observation, team work, and communication. Groups of different types, whether multi-generational families, couples or company teams, will find the experience bonding and often makes for great conversation material over dinner.
Please share some recent testimonials you have received.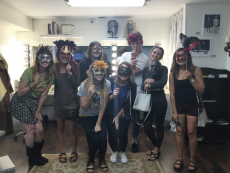 Here are some typical responses:

"that was so much fun."

 "is set up to develop problem solving, team-work, fun and laughter!"

"It was fun to see the teenagers figure out the clues that the adults couldn't solve. We went to ice cream afterward and talked about what a great time we had!"

"What a fun, delightful, and intriguing experience for 10 year old girls!"
Escape Ashland is totally unique. Who is this best suited for? 

All Ages. We have had family groups of grandparents, parents and toddlers, and even though very young children cannot typically solve some of the clues, they enjoy the atmosphere.

Student groups frequently come in as part of their theater experience, and we have had couples come in to celebrate date night and anniversaries. We can hide birthday presents in the room to create a memorable birthday celebration. And of course, it is great option for company team building.
What are some of the rules of the escape room?

No technology or force allowed. Teams have to use wits and teamwork.  Our game masters provide an overview of the rules as well as strategies to be successful.
How do we make reservations?

Groups can book online at escapeashland.com or give us a call at (541) 613-6488
Keri, thanks so much for doing this interview with us here today. Do you have any last thoughts or comments you would like to share with our readers?

Sure, for those who have already solved "The Audition" and looking for some more escape room fun, we will be adding a new experience this winter,"The Ramblin' Rogue Saloon" which will be a frisky and fun wild-west themed room.